E-bike and e-scooter fires have injured at least 190 people in UK, data shows
Fires sparked by faulty e-bikes and e-scooters have injured at least 190 people in the UK and killed eight, the Guardian can reveal, as a surge in public enthusiasm for battery-assisted travel is matched by a more than quadrupling in blazes since 2020.
Overheating lithium-ion batteries create fierce fires releasing toxic smoke and are now occurring at the rate of at least six a week in the UK, according to figures obtained under the Freedom of Information Act. Fire and electrical experts are warning riders against buying batteries in less regulated online marketplaces, particularly from China, and are urging greater precautions when charging.
The number of injuries in London, the worst affected area, is on course to be more than four times higher this year than in 2020. Fires more than quadrupled in Greater Manchester from 2020 to 2022 injuring six people, figures show.
The National Fire Chiefs Council said batteries bought online may breach safety standards. Charlie Pugsley, the lead officer for electrical safety, said: "When these batteries and chargers fail, they do so with ferocity and because the fires develop so rapidly, the situation can quickly become incredibly serious."
In Merseyside in January, Rab Shearer and his son Gary were killed when an e-bike battery set to charge overnight caused a house fire. In South Yorkshire, a dozen fires since the start of 2020 have claimed two lives. Last September, Abdul Jabar Oryakhel, from Afghanistan, died falling from the top floor of a Bristol tower block after an e-bike started a blaze.
With e-bikes allowing riders to zip along at 15mph without pedalling, sales have risen to about 165,000-a-year and account for nearly one in 10 new bikes in the UK, according to industry research. They are widely used by gig economy food couriers, but experts say that cheaper unregulated batteries, people using the wrong chargers and being plugging in unattended overnight means more people are getting hurt.
There have been 50 e-bike and scooter fires recorded in the capital already this year, half of which caused injuries, including two deaths. UK fire brigades have been called out to at least 565 e-bike and e-scooter blazes since the start of 2020, according to Guardian FoI requests answered by 38 brigades. The UK is on course for close to one e-bike or e-scooter fire a day this year, up from just over one a week in 2020.
The Bicycle Association trade body said: "Reputable e-bike suppliers conduct extensive testing to ensure that good quality e-bike batteries are extremely fire-safe and we would reassure users of good quality e-bikes that in normal use these are very safe products."
But it added: "We are aware that some suppliers are placing products on the market which may not meet these high standards."
The Lib Dem peer Don Foster, a former government whip, is calling for a review and update of safety standards. "Some of the batteries that people get online don't conform with UK safety regulations and people are charging them incorrectly," he said. "[With the] large number of fires already, we clearly have a problem."
Insurers have been dealing with substantial claims from e-bike fires. In January, Zurich Insurance said it had recently received a £225,000 property claim, while last year Axa paid out more than £500,000 in just two months on lithium-ion battery fire claims.
Namush Shahadat, 25, who witnessed a battery fire in east London in March as part of an incident, still under investigation, that killed Mizanur Rahman, said neither blankets nor water would extinguish the powerful chemical reaction. He told the Guardian a courier living in the overcrowded two-bedroom flat had put the battery on to charge in a bedroom and at about 2.30am Shahadat heard it spitting. Within seconds, "it was behaving like a rocket", he said, describing "a spurt of white and black smoke".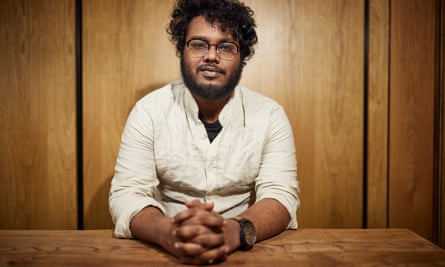 "Soon the whole flat was engulfed," he said. "Smoke was going in all directions. Everything happened in four or five minutes."
Sixteen men escaped but Rahman did not. "The moment we heard there was someone inside it was [awful] for all of us," Shahadat said. "Especially the one whose battery it was. He was crying like crazy. His eyes were red. He was shaking."
Jimmy Rusetm, who runs the specialist company E-Bike Batteries, said batteries could overheat and explode causing rapid fires if the wrong charging device was used and if wires in the battery management systemshorted while the battery was plugged in.
"Lithium-ion is quite an innocent material until you abuse it, but if you abuse it it is going to bite you," he said.
He said it was hard to regulate the "countless" manufacturers, many from China where battery cells cost a fraction of the price of those provided by larger household-name companies in Korea, Germany and Japan.
The government's Office for Product Safety and Standards is understood to be increasing its focus on e-bike batteries through checks at ports and by trading standards. "All goods sold in the UK, whether online or on the high street, must meet some of the strictest safety laws in the world," a government spokesperson said. "Manufacturers must ensure their products, especially the batteries that power them, abide by product safety regulations before being placed on the market."
The NFCC said that on occasion, "batteries can fail catastrophically, they can 'explode' and/or lead to a rapidly developing fire". It warned against charging batteries while asleep, while advising people to always to use a manufacturer-approved charger and to fit smoke and heat alarms where batteries are being charged. In the event of a battery fire, it says, "do not attempt to extinguish the fire. Get out, stay out, call 999."
Why do some e-bike batteries go on fire?
"Lithium-ion batteries are designed to contain a massive amount of energy in a very small space," said Stephen Mackenzie, a fire safety consultant. "Each cell is filled with flammable electrolyte and electrodes that could short if they get damaged or are not properly maintained. This causes the cell to overheat."
He said that if one cell overheated, a process called "thermal runaway" could happen. It is a feedback loop where the cells heat very quickly and ignite neighbouring cells until the whole battery pack goes up in a chemical exothermic reaction, often emitting plumes of toxic smoke. The intense fires are hard to extinguish.
"Lithium-ion batteries can also reignite after they've been put out if moving them causes further damage or new short circuits in the battery," he said.
A crucial component is the battery management system, but if this is faulty or badly designed, problems such as overloading with current from an incompatible charger can trigger overheating, fire and explosion, according to Rusetm of E-Bike Batteries.
Mackenzie stressed that fires from electric vehicle batteries remained far more rare than fires caused by cooking, heating or smoking.