'This is not over': Mikel Arteta insists Arsenal have not given up on title fight
The Arsenal manager, Mikel Arteta, has insisted the title race "is not over", but accepts the destiny of the trophy is "not in our hands" after his side lost 4-1 to Manchester City last week.
Arteta added that his side clearly need to improve if they hope to keep their Premier League title hopes alive, starting with a win over Chelsea on Tuesday. Arsenal have been overtaken by City at the top of the table following a winless run of four games, including draws with Liverpool, West Ham and Southampton.
Asked about his side's title hopes on Monday, Arteta told reporters: "You have to recognise there is still work to do. We have to be humble, recognise what our weaknesses are and work to be better. But we also have many strengths and there are a lot of things we have done well over the last 10 months.
"Now, [the title race] is not in our hands anymore," Arteta admitted. "What is in our hands is to try to win the games we have left, and the rest is down to City. I have not had to pick up the mood of the players, they keep the fire in the belly for tomorrow."
"What we have to do is forget about what happened last week, learn from it and move on to the next game with a full tilt at home, with our people, London derby, and put things right," the 41-year-old added. "I know what we were trying to do, what the objective was … but when I still look at it, this is not over."
Arsenal have already secured a top-four finish and a return to the Champions League, an achievement Arteta said makes him "incredibly proud and thankful to everyone who has contributed … it is something that hasn't happened in over a decade in this football club."
The manager was quick to add, however, that "Champions League [qualification] is not enough, and we want more because this squad is going to demand to get what we want." Arteta confirmed that the centre-back William Saliba is still out with a back injury, adding: "he has not improved this week at all".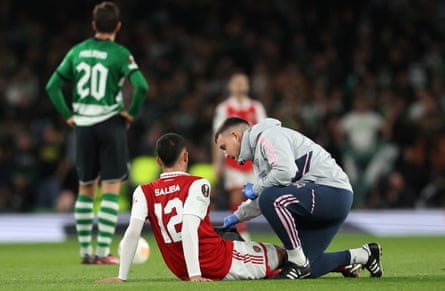 Arsenal can return to the top of the Premier League with a home victory over Chelsea, who are 12th in the table and on their own run of six league games without a win. Anything less for the Gunners would see City stay top, with two games in hand.
Arteta believes that Chelsea's plight this season is proof that a club needs more than just a huge transfer budget to be successful.
"In our model we have very important things," he said. "First of all, is to have the right people and I think we have the right people. Then we have the right players who can compete, they can challenge, they can understand their role within the team.
"You need quality, goal threat, physicality, you need a lot of things in this game and that is extremely difficult to find that thin balance with the players," the Spaniard added. "They have exceptional talent. If they make that work, they can do anything because they have the players, the infrastructure[ and] the history to do it."