Texas governor decried for 'disgusting' rhetoric in wake of mass shooting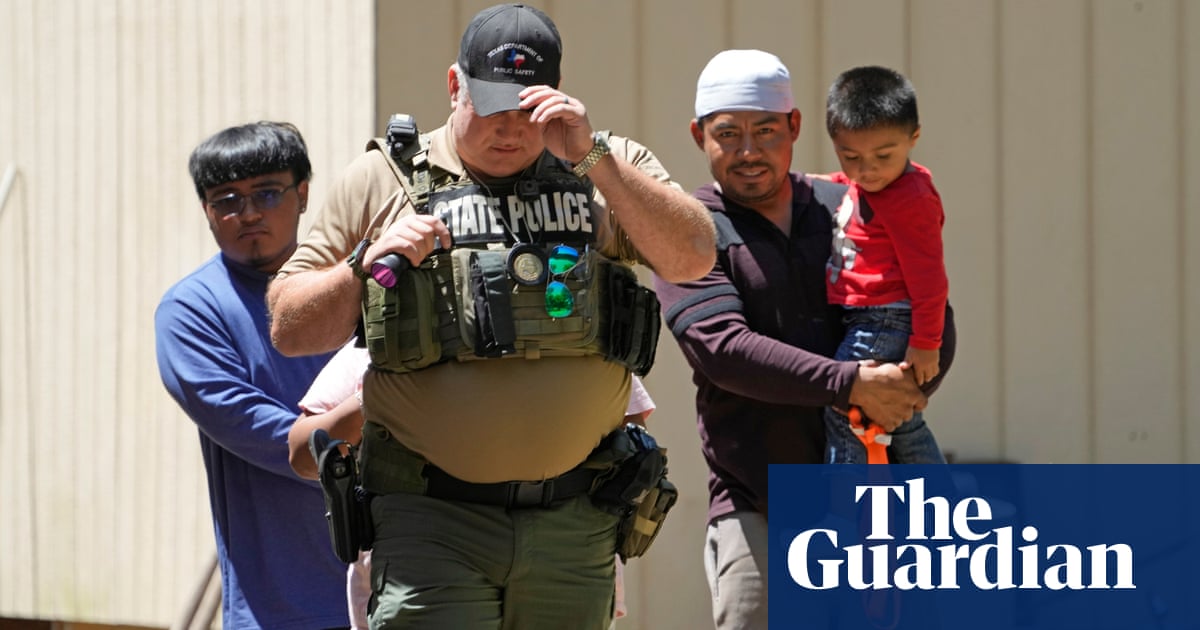 As he announced a reward for the capture of a 38-year-old Texas man accused of fatally shooting five people after some of them complained about his firing a rifle in his yard, the state's governor, Greg Abbott, went out of his way to describe Francisco Oropeza and those he allegedly murdered as "illegal immigrants".
The Republican's words drew ire from immigration advocates, state and federal lawmakers and other politicians as Abbott's words hewed closely with his track record of using anti-immigrant rhetoric in the wake of mass shootings.
They decried Abbott's rhetoric – which appeared on Twitter but not in his office's statement – as dehumanizing and indicative of an attempt to deflect attention from the role Republican lawmakers played in shaping Texas's lax gun laws that Democrats say have created an unsafe environment for residents.
As of Monday, law enforcement authorities had not confirmed the immigration status of the five people killed. The victims, which included a young boy and two women who were shielding children from gunfire, were all from Honduras. Oropeza, who remained at large on Monday morning as federal and local enforcement frantically searched for him, was a Mexican national who had reportedly been previously deported from the US.
Political discussions of those facts prompted the local sheriff, Greg Capers of San Jacinto, to say they were irrelevant to investigators.
"My heart is with this … boy," Capers told reporters. "He was in my county, five people died in my county, and that is where my heart is – in my county, protecting my people to the best of our ability."
In his statements, Abbott also noted that he would tell state officials to "alert Operation Lone Star soldiers and troopers to be on the lookout for the criminal and any attempts to flee the country after taking the lives of five people". The operation, which started in 2021, enabled Abbott to declare a security crisis at Texas's border with Mexico – where crossings have risen in recent years – and deploy the state's national guard there.
Critics have decried how the operation has cost Texas taxpayers millions of dollars weekly while its participants make arrests that are physically distant from the border, not related to crimes there, and involve law enforcement agencies not directly part of Operation Lone Star, according to reporting from the Texas Tribune, ProPublica and the Marshall Project.
Julián Castro, a former mayor of San Antonio who served as secretary for the Department of Housing and Urban Development before he ran for the Democratic presidential nomination in 2020, criticized Abbott for using anti-immigrant rhetoric when "five human beings lost their lives".
State senator Roland Gutierrez – a Democratic lawmaker whose district includes Uvalde, where 19 elementary school students and two of their teachers were shot to death by an intruder last year – went on Twitter to call Abbott's statement a "new low".
Abbott, Gutierrez maintained, continued to "do nothing to keep #Texas safe from #GunViolence".
Gutierrez, who is likely to run against the Republican Ted Cruz for his US Senate seat, told MSNBC's Alicia Menendez on Sunday that the state's GOP members were responsible for loosening gun laws, noting that there were more than 20 pieces of gun control legislation that have not moved.
"They don't get to have an immigration narrative today," Guiterrez said. "They need to own the narrative that they have made this state more dangerous … An undocumented person was able to buy an AR-15 illegally somewhere because of their lax gun laws."
State Republicans have routinely rejected more gun restrictions, including in the wake of a mass shooting at a Walmart in El Paso that killed 23 and at the Uvalde school. Instead, they have loosened them, despite initially signaling they were open to some restrictions.
In 2021, two years after the El Paso shooting, Abbott signed a so-called "constitutional carry" law that allows Texas residents to carry handguns without a license or training.
Texas joins more than half the US in allowing the permitless carrying of firearms. In April, Florida's Republican governor, Ron DeSantis, signed a law making his state the latest to allow the carrying of concealed firearms without a license or training, less than seven years after a gunman killed 49 people and injured 53 others at the Pulse nightclub in Orlando.
Despite calls from the families of Uvalde victims for tougher gun laws, Republican Texas lawmakers have refused to act, and the state's gun laws have gotten looser. Last August, a federal judge struck down a Texas law that raised the legal age for people to carry handguns from 18 to 21.
Those acts came even as a poll commissioned by Fox News, whose viewers are largely Republican, found that American voters favor gun control measures and worry that firearms violence will victimize them.
Police recovered an AR-15-style rifle that they say Oropeza used in Friday's shooting. It is unclear how he obtained it.
The Immigration Legal Resource Center tweeted that Abbott's rhetoric amplified a "specific narrative" rather than focusing on the people involved.
The Congressional Hispanic Caucus tweeted that Abbott, by centering the victims' unconfirmed immigration status, decided to "dehumanize" and "delegitimize" their lives. Congressperson Chuy García of Illinois, one of the caucus's members, added that Abbott would "take every chance he gets to dehumanize migrants. Even if they were murdered in a mass shooting."
Veronica Escobar, who represents El Paso in Congress, called Abbott's rhetoric a "disgusting lack of compassion and humanity".