Salmon, stress and a delicious surprise! Tim Dowling makes readers' favourite quiches
Compared to the super-elaborate swiss-roll-and-amaretti trifle introduced to mark the Queen's platinum jubilee last year, King Charles's coronation quiche seems an underwhelming choice. Its chief innovation – the addition of broad beans – is seasonal but unexciting. And at the end of the day, it's still just a quiche.
Surely, we thought, Guardian readers could do better. An appeal for your own favourite quiche variations was launched. Submissions flooded in. Many refused to enter into the spirit of the exercise – "I hate quiche!" was one, not atypical response. But plenty of variations – from the humble to the exotic to the, frankly, quixotic – were offered up. I was determined to replicate three of them.
I've baked a lot of goods in my time, but I've never made a quiche before, possibly because I never went long enough without being served quiche to develop any kind of hankering. And while it's not a difficult challenge, it does require practice: my last quiche was a lot better than my first.
What readers provided, in the main, were favourite quiche combinations and a bit of advice, rather than full recipes. Quiche veteran Ruth Edwards from Holmfirth only said, "Salmon and asparagus was a delight", before adding that these days she mostly buys her quiches from Lidl. Never mind – I figured I could work this one out.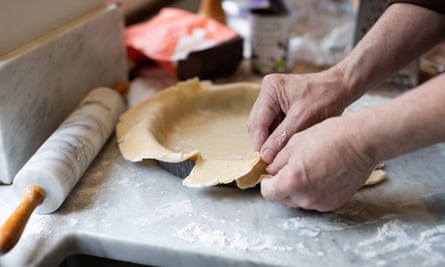 A salmon and asparagus quiche has two obvious ingredients, but the rest had to be extrapolated from other quiche recipes, which can differ considerably in their proportions. My advice, after a certain amount of heartbreak, is to err on the side of generosity. Ignore recipes, like the coronation one, that tell you two eggs is sufficient – to fill most normal tart tins, you'll need three. Better to have too much than not enough.
The same goes for the shortcrust pastry – use at least 200g of flour per quiche (the coronation recipe calls for 250g; others ask for as little as 175g), and then add a bit more than half that weight in fat, either butter or half-butter, half lard. Use a dash of water or milk to make it come together, and leave the resulting dough in the fridge for an hour. Of course, you can also use ready-made shortcrust pastry, but if you're making three quiches like me, the store-bought sort doesn't really save much in the way of time.
The mortar that holds a quiche together is made from eggs beaten with a quantity of cream and milk. Some recipes also call for creme fraiche, which in retrospect seems like a good idea to me. The cheese you use is your choice; when it was not specified, I defaulted to gruyere because that's what goes in a quiche Lorraine (although the traditional version contains no cheese at all).
The pastry is rolled, pressed into a fluted tin and blind-baked. After that, I must decide how to realise Edwards' salmon and asparagus concept. I pre-cooked the chopped-up asparagus, boiling the bases a bit longer than the tips, and added them to the smoked salmon in a single-base layer, topped with slightly less than half the cheese.
As with any quiche, the egg, cheese, cream and milk mixture is then poured over the top, in my case only to leak out through a crack in the pastry. Eventually, after an urgent topping up, the whole thing began to set. Thirty minutes later, it was done.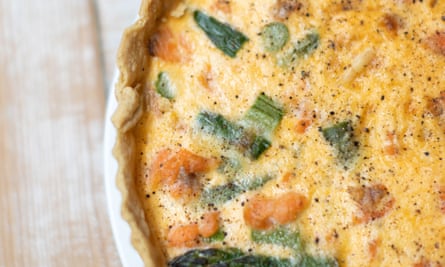 The combination of salmon and asparagus has a nice, summery feel, and anything that went wrong here is definitely my fault, including leakage and slight over-baking. Mostly, I can taste the stress. I can see why Edwards now buys her quiches from Lidl.
Some of our readers' favourite combinations were handed down; others were serendipitously discovered during fridge clear-outs. Writer Caroline Row recommends chickpeas and braised red pepper with onion and garlic. "Sometimes I add feta, or courgettes, or rosemary," she says, "whatever's knocking round."
John Froggat from Derbyshire favours a stilton and walnut quiche, with the walnuts softened first in butter over a low heat. "It's an unusual-looking quiche as the crust on top is usually a dark brown colour," he says. Lisa Ingram, who describes herself as a "Galactic Federation Adviser", tests our incredulity by recommending a quiche filled with old spaghetti. "Mix a few eggs with your tomato spag leftovers, season with Italian herbs, throw into a pastry shell and top with cheese," she writes. "Feels so wrong, tastes so right." I'm going to take her word for it.
Somerset pub landlord Andrew Jones says: "My favourite quiche is a chorizo and potato one I made for the pub I have been helping to run since coming out of hospital." This one has to be worth a go.
The potatoes I chose were some tiny Jersey royals (reduced to clear), lightly boiled and then sliced into pound coin-sized chunks. Likewise, I sliced the chorizo into two-pound coin rounds. Since I didn't know whether there was meant to be any cheese in it, I went in sparingly with a basic cheddar. I topped the whole with a grating of nutmeg, because this is a common denominator of many quiche recipes. This time, my pastry shell was watertight.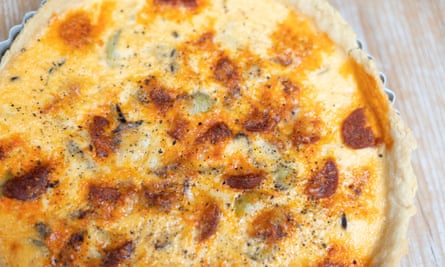 The potato-chorizo pairing is solid, in more ways than one. The flavour is excellent, and more or less what you'd expect, but lumps of chorizo make for a pretty heavy addition to what is essentially a custard tart. Smaller – and fewer chunks – would be my advice.
Finally, I attempted a recipe from Berlin nanny Julia Löwinger, who claims she came up with it only last weekend. "Broccoli and king trumpet mushrooms, pre-seared in a pan with a tablespoon of soy sauce, and pockets of caramelised onions," she says. "The cheese was a combination of pecorino and something blander, but it worked."
Caramelising sliced onions takes about 20 minutes, maybe longer, and I was left with the difficult decision of how to isolate them in pockets. I chose to arrange them in artful little knots on top of the mushrooms and broccoli, separate but in a dense enough formation that you couldn't get a slice with no onions in it.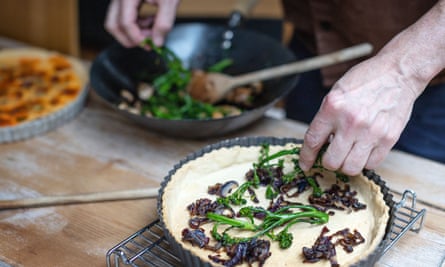 As per Löwinger's instructions, I used pecorino in combination with gruyere, and topped the whole thing with some toasted pine nuts.
This final quiche certainly benefited from the mistakes I made with the first two – the pastry was nicer, the filling better set. But this was also a surprisingly brilliant combination. The soy-seared veg adds a lovely umami note you won't find in many quiches, while the pocketed caramelised onion was just enough without being overpowering. I'd make this one again, and long before I'd serve a quiche with broad beans in it.