'I love being here': Frank Lampard up for Chelsea challenge despite dismal run
Frank Lampard insists he still loves being at Chelsea and is relishing the challenge of turning the club's fortunes around, despite losing all five of his games in charge since returning to Stamford Bridge.
Chelsea were booed off at half-time during last week's 2-0 home defeat to Brentford, which extended their winless run in all competitions to eight matches. The Blues sit six points adrift of the Premier League's top 10 and visit title-chasing London rivals Arsenal on Tuesday.
Asked if he still relished coming into work, Lampard said: "Absolutely. My eyes were open when I came into this job. I'm too experienced in football, as a player and now as a coach, to understand things don't necessarily change overnight in terms of results.
"Our job is to work on [the] performances and mentality of the group in training to try and bring back a good feeling," Lampard added. "That only comes with hard work. I enjoy that challenge and I was very aware of it coming in. I'm very proud to manage the club. I love being here and I enjoy doing my job.
"The reality in football is your career will not always be full of success. People will always remember the success, but part of the job is the tougher moments, whether you're a manager or a player. You can't always control the results, but you can control how you work every day, so I enjoy that aspect of it."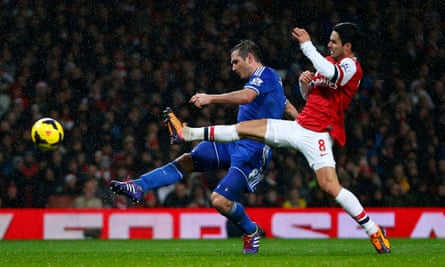 Lampard, who has replaced Graham Potter on an interim basis until the end of the season, faces another test of his managerial credentials against the Gunners, following Chelsea's tame Champions League exit against Real Madrid and other league losses to Brighton and Wolves.
"We're not in a great moment, are we?" Lampard admitted. "But I've been able to live this now for a few weeks. I also lived maybe 10 years of incredible success here and saw it continue, and was part of it again, and saw it continue.
The former Chelsea midfielder also sees Arsenal as an example of how the club can rebuild. "If you look at the history of all of the top clubs in the league, [there are] moments of tough periods," Lampard said. "Our opponents [on Tuesday] are a good example of that.
"There has been a lot of work through the team, Mikel, alignment and good recruitment," Lampard added. "Do we have the possibility to do that? Yes. Will it take time and good decisions? Absolutely, yes. But you can get there … that process can take two or three years. They [Arsenal] are a great example of that done well."
Pierre-Emerick Aubameyang could feature again after stepping off the bench against Brentford and Kai Havertz is back in contention after recovering from injury.
Kalidou Koulibaly (calf) is still out and could miss the rest of the season. Mason Mount (pelvis) and Reece James (hamstring) are also unlikely to appear again this term, while Marc Cucurella faces two more weeks on the sidelines.