Freshman pitchers continue to step up for Arkansas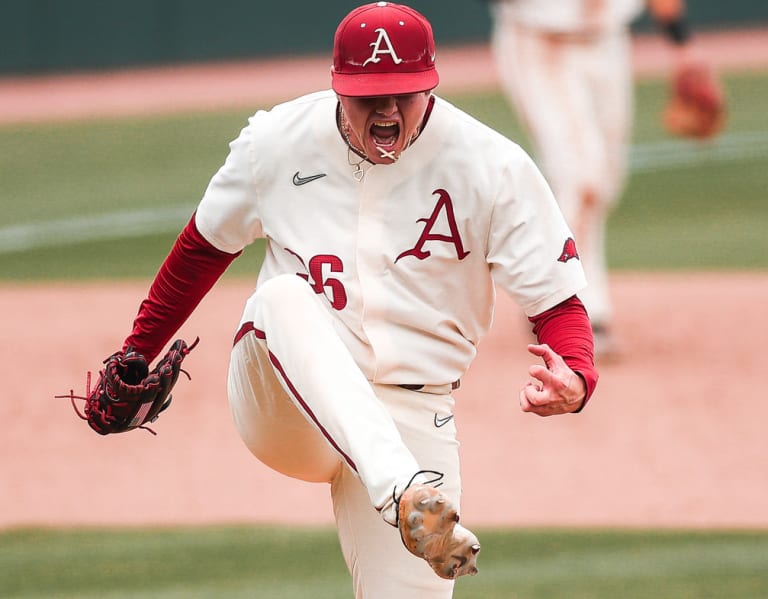 Entering this season, not many freshman pitchers were looking at seeing significant innings for the Arkansas Razorbacks pitching staff.
With injuries hitting veteran pitchers — possibly another over the weekend — the first year Razorback pitchers have had to step up. The latest was left-hander Parker Coil, who had his name called for the first time in SEC action late in Saturday's Game 3 matchup against Texas A&M.
Coil relieved fellow freshman Ben Bybee in the top of the eighth inning with the Aggies pushing to trim Arkansas' lead. He gave up a single and then forced Austin Bost to ground into an inning-ending double play to keep the Razorbacks' advantage at 8-6.
"I was just trying to go in there and do my job today," Coil said. "Get ahead of the hitters. Slider was going good today. It's not something I came in here throwing but gotta make some some audibles and it felt good today."
The Edmond, Oklahoma, native went back out to the mound in the top of the ninth inning with Arkansas' bullpen very thin. He gave up a leadoff home run to Jace LaViolette, but bounced back by retiring the next three batters and ended the game on a strikeout.
"Parker Coil came in and said, 'Hey, give me the ball. I'm good,'" head coach Dave Van Horn said. "In the ninth inning he gave up a leadoff home run with two strikes, but it really wasn't a bad pitch. It was down and the big lefty just got it. That's the way the game works sometimes."
Coil earned his first career save in his first career SEC game and it was in a big moment when Arkansas didn't have many other options. Two-way player Ben McLaughlin was warming up in the bullpen and one other freshman arm — assumed to be lefty Sean Fitzpatrick — was available.
"It was huge to kind of come in there and really kind of limit damage," Coil said. "We got a big, ole lead – they're trying to chip back, come back and you've just got to go in there and limit damage and try to get them off the field so we can get our offense back and going again."
While Saturday was a big day for Coil, other freshmen have stepped up time and time again this year.
Righty Gage Wood has emerged as a force late in games and he's developed into a strong closer. The Batesville native threw 2 1/3 innings of scoreless ball, struck out five, walked one and earned his team-leading fourth save in Friday's 10-4 win over Texas A&M.
The numbers don't tell the whole story for Wood, who entered with a pair of runners on. He hit the first batter he faced to load the bases, but he bounced right back with a three-pitch strikeout.
"Wood came through and made some good pitches, some breaking balls there," Van Horn said. "He's got a little bit of a high-carry fastball that's pretty effective. We felt like six outs was what we really wanted him to get at the most. He ended up getting seven, but it worked out."
Bybee has thrown the most innings of all the freshmen (26 1/3) and he's started seven games, two of which were in SEC play.
While he was on the wrong end of back-to-back homers that walked off Game 3 at Georgia on April 22, Bybee came right back and threw two scoreless innings last Tuesday at Missouri State.
"Obviously it's tough," Bybee said Tuesday. "Not fun to go through, but it's a tough game and you've got to get over days like that and flush it, as hard as it might be, and focus on the next task at hand."
The 6-foot-6, 235-pound freshman out of Overland Park, Kansas, pitched during Game 3 to eat up 1 2/3 innings and give Arkansas a chance.
Right-hander Christian Foutch had a tough weekend, as he allowed all six batters he faced across two appearances to reach. While this weekend wasn't Foutch's best performance, he has stepped up on other occasions, such as throwing a scoreless inning in the ninth during Game 3 against Tennessee on April 16.
It's not for the ideal circumstances, but Arkansas' freshmen pitchers have been throwing in some critical situations this year and they've answered the call for the most part. Though Van Horn finds himself counting outs late in games like Saturday's, his first-year players are continuing to develop and help win games.
While he won't get Jaxon Wiggins (torn UCL) or Koty Frank (torn lat) back this season, Van Horn saw sophomore preseason All-American Brady Tygart make a return over the weekend from a sprained UCL. The status of right-hander Dylan Carter's injury suffered during Thursday's game against the Aggies remains unknown, but Van Horn did say the initial results came back good.
With the freshmen delivering in the midst of injuries, Arkansas is in a good spot moving forward if they can get some key pieces healthy, such as left fielder Jared Wegner (broken thumb) and centerfielder Tavian Josenberger (hamstring).
"With all the injuries, I've kind of glanced at it thinking 'We can get these guys back, maybe for this series or for the tournament or whatever,'" Van Horn said. "But we've put ourselves in position to not panic so to speak down the stretch."
The Diamond Hogs will wrap up their midweek schedule Tuesday when they face Lipscomb at Dickey-Stephens Park in North Little Rock. First pitch is set for 6 p.m. CT and the game will not be televised. You can tune in to the Razorback radio broadcast or follow along for live updates on HawgBeat.