'A big chunk of my motivation is vengeance': Skinny Pelembe, the musical don of Doncaster
'Every problem you have is down there when you're up here," says Doya Beardmore, AKA Skinny Pelembe, overlooking his home town of Doncaster.
This hillside is key to his new album, Hardly the Same Snake, its exact position revealed in morse code during one song and via clues in the artwork. He came here to de-stress when his dad was ill, before he died, and he would love to lead his listeners here via the album for a special gig. "I bet only two fucking mega-fans would turn up," he laughs.
Beyond Doncaster, Beardmore's roots stretch back to Birmingham and Mozambique, and his music is equally cosmopolitan, gliding between hip-hop beats, electronic rock, avant-pop, slick soul and dreamy indie. Perfect for Glastonbury, then, where he is part of the first wave of the lineup.
"A big chunk of my motivation is vengeance," he says, pulling his phone out to show his name on the festival poster. "Look at that – that's insane. But part of me getting my name on that bill was being in the dummy class for English and being told I wasn't allowed to read Treasure Island. I was like: I'm going to prove you wrong. I'm going to be renowned."
He is self-deprecating and piss-taking; moments of quiet introspection give way to swagger. He swears a lot, with a "fucking" count on a level with the Goodfellas script. "I'm so shy I never used to be able to look people in the eye for more than two seconds," he says, before declaring: "If you think of the musical landscape as a jungle, I want to be a fucking elephant."
His latest album was born from this conflicted mindset, as growing confidence wrestled with old doubts and insecurities. He was at a crossroads after his debut, Dreaming Is Dead Now, was released on Gilles Peterson's Brownswood label in 2019. "That album was really personal," he says. "But I had in my head: I'm going to make a Gilles Peterson record; a really cool album that's up his street. I wanted it to sound like a soundtrack to a James Baldwin novel. But I later realised: I want some big fucking tunes."
Big tunes – although not bombastic – are plentiful on his latest, and his voice is more of a focus: he can exude rich baritone or employ tender melody, recalling everyone from Alex Turner to Mark Lanegan along the way. He decided to leave Brownswood and go it alone. "It was nice to be cut adrift from the main ship," he says. "To be on a life raft and just see what happens." But he had a wobble. "I was adrift in the ocean and started having panic attacks," he says. "Asking: what the fuck am I doing?" But the finished album was snapped up by Partisan Records, home to the likes of Fontaines DC and Idles.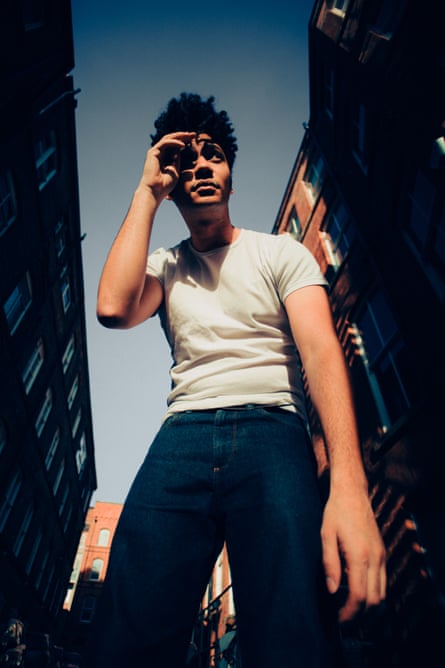 The breadth of the record can be traced to Beardmore's upbringing, when his brothers would blast hip-hop and his dad played Johnny Cash. Almost a decade younger than his brothers, Beardmore would hide in their room to hear tunes. "I'd turn the light off and hide in their washing basket full of dirty clothes," he recalls. "I remember them playing Liquid Swords by GZA and being like, this is the best album. It still is. I've forever been trying to get that sound – something that doesn't sound like a band but also not button-pushing."
We settle in a cosy ale pub as Beardmore tells me he's "always felt in between places and trying to find home". Currently that is back in Doncaster, after a brief stint in London, but he was born in Johannesburg to a father from Birmingham and a mother from Mozambique. "It was getting too hostile" for this mixed-race family during apartheid, he says: "If my mum took me out for a walk, there would be white people freaking out because they thought my mum had stolen a white baby." They left for Doncaster when he was three.
His dad never spoke much about his background, to the point where Beardmore even wondered whether he was some kind of spy. "He was a working-class guy from Birmingham who worked as a blacksmith on a horse and cart," he tells me. "Why would he end up in Iran in the 1970s, apartheid-era South Africa and then Doncaster? He'd never answer your questions. I'd be like, 'Dad, why did we end up in Doncaster?' He'd be like, 'I dunno, I fucking hate Doncaster.'"
However, Beardmore is keen not to get sidelined by this, and he doesn't elaborate on his father's death. "My story is not my parents' story," he says. "I begrudge artists who are like: I'm doing a sound journal of my late grandmother's life. Oh, fuck off! That's their life – live your own."
Beardmore's own story, then, is rooted in proving himself. Along with those put-downs he faced at school, a vicious criticism of his singing at a gig when he was 17 still drives him. "This old bloke was like: you were shit, you were awful. I was so shy, I just took it. I'd probably be content making instrumental tunes, but just to get back at him … I am going to sing my fucking heart out."
Hardly the Same Snake is out now on Partisan Records.