Suella Braverman claims Labour councils' 'political correctness' failed to stop grooming gangs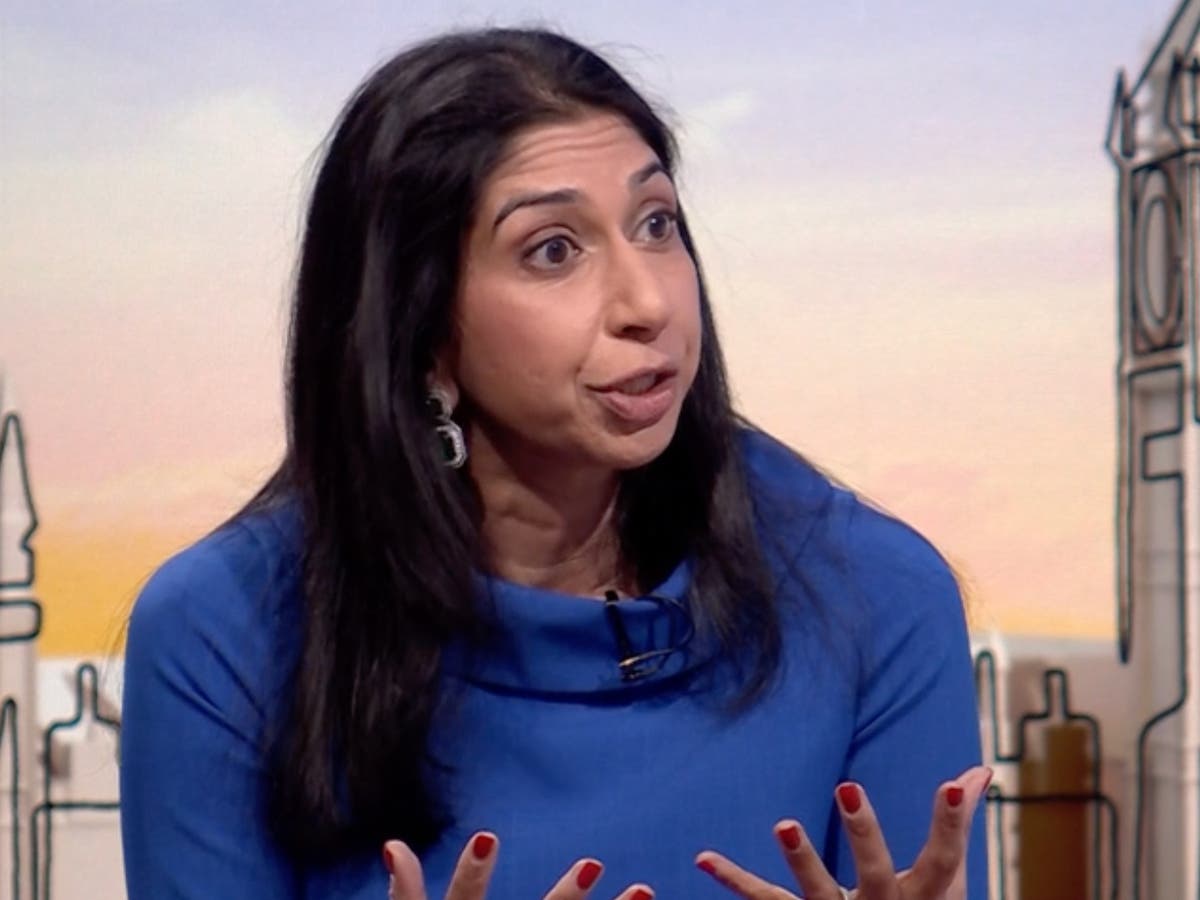 Home secretary Suella Braverman has claimed Labour-run councillors failed to act on grooming gangs over fears they would be called "racist".
It comes as Rishi Sunak's government revealed it will consult over a plan to make sure people working with children in England have a legal duty to report "signs or suspicions" of sexual abuse.
"We've seen institutions and state agencies – whether it's social workers, teachers, the police – turn a blind eye to signs of abuse out of political correctness, out of fear of being called racists," the home secretary told Sky News' Sophy Ridge on Sunday.
She added: "What we've seen is a practice whereby vulnerable, white, English girls, sometimes in care, sometimes who are in challenging circumstances, being pursued and raped and drugged and harmed by gangs of British-Pakistani, men who've worked in child abuse rings or networks."
Pushed on the BBC's Sunday with Laura Kuenssberg on which authorities had failed when it came to grooming gangs in Rochdale and Rotherham, Ms Braverman pointed to Labour-run councils.
The Tory cabinet minister said: "If we want to get political about – I didn't want to get political – but some of these councillors, senior politicians in Labour-run areas, over a period of years, absolutely failed to take action because of cultural sensitivities."
The home secretary claimed Labour councillors had failed to act because of "not wanting to come across as racist, not wanting to call out people along ethnic lines."
Labour frontbencher Lisa Nandy told the BBC she accepted that, in the cases of Rochdale and Rotherham, the official reports "were clear that there were politicians and [police] officers who didn't report, sometimes for fear of political correctness".
But the shadow communities minister said she had been calling for mandatory reporting of suspicion of sexual abuse for years, accusing the government of failing to act. "How can it be that all we've got is another consultation?"
Ms Nandy added: "I have to say the home secretary is an absolute joke – for her to turn up in the TV studios talking about a wilful blind eye, near-complicit silence, talking about a lack of action, she's basically talking about herself."
Citing figures showing that the number of convictions for prosecutions for child sexual exploitation halving in the last four years, the senior Labour figure added: "If anyone could be accused of turning a blind eye to what is a very real problem – across all backgrounds and ethnicities – it's the home secretary herself."
Labour's West Yorkshire mayor Tracy Brabin says Ms Braverman's comments were "dog whistle" politics and "the blame game is not helpful" – saying significant changes were already in place.
Ms Braverman was challenged over singling out Pakistani men, with Sky News host Sophy Ridge pointing to a Home Office report in 2020 that most grooming gangs were white – and the links between ethnicity and the problem could not be proven.
The home secretary said: "There have been several reports since about the predominance of certain ethnic groups – and I say British Pakistani males – who hold cultural values totally at odds with British values, who see women in a demeaned and illegitimate way."
The government is expected to set out details of plans in the coming days to better protect children. Mr Sunak will set out further measures to tackle grooming gangs on Monday. But Ms Braverman indicated that there was an urgent need for legal reform.
Ms Braverman said she was "committed" to introducing mandatory reporting across the whole of England for anyone working with children.
It comes after the Independent Inquiry into Child Sexual Abuse last year described sexual abuse of children as an "epidemic that leaves tens of thousands of victims in its poisonous wake".
The seven-year inquiry into institutional failings in England and Wales concluded that people in positions of trust should be compelled by law to report child sexual abuse.
It conducted 15 investigations before the publication of its final report, probing areas including Westminster and the church.
A total of 725 witnesses gave evidence –including 94 victims, 21 bishops, 43 senior police officers, 29 peers, eight former government ministers, the former director general of MI5 and three ex-prime ministers.