This is an edition of The Atlantic Daily, a newsletter that guides you through the biggest stories of the day, helps you discover new ideas, and recommends the best in culture. Sign up for it here.
Good morning, and welcome back to The Daily's Sunday culture edition, in which one Atlantic writer reveals what's keeping them entertained.
Today's special guest will be familiar to readers of The Daily: the Atlantic staff writer Tom Nichols. Tom's incisive current-events analysis and swashbuckling prose are most frequently found in weekday editions of this very newsletter. His writing on Russia, national security, and, of course, American politics also regularly appears elsewhere in our magazine.
Anyone who knows Tom, either personally or through his writing, is likely aware that he's just a bit of a 1980s film and TV buff. But he's been known to dip a toe into the 21st century too. These days, he's engrossed in the fourth and final season of Succession, eagerly anticipating the return of the Star Trek prequel series Strange New Worlds, and treasures a Robert Lowell poem that was first published—as it happens—in The Atlantic.
First, here are three Sunday reads from The Atlantic:
---
The Culture Survey: Tom Nichols
The upcoming entertainment event I'm most looking forward to: Well, the honest answer is that I'm glued to the final season of Succession because I'm in it. (I have a very small part as a cranky right-wing pundit. I know: "Nice reach, Tom.") And Succession, of course, is an incredible series.
But I'm very excited to hear that Strange New Worlds, the Star Trek prequel series, is coming back for at least two more seasons. Of course, I'm already familiar with SNW; the debut that has me most fascinated, however, is the upcoming Amazon Prime series Fallout, based on the immensely popular game franchise. (The first Fallout game debuted in 1997, so that tells you how long I've been playing it.) The Fallout world is a weird place; if you've seen the series Hello Tomorrow!, where the 1950s are reimagined with floating cars and space travel and malfunctioning robot bartenders, it's something like that.
Except it all takes place after a nuclear war. So I'm hoping they get that right. [Related: The real Succession endgame]
The television show I'm most enjoying right now: I just discovered A Spy Among Friends, a limited series based on a book about the infamous Kim Philby espionage affair of the early 1960s. It's beautifully done. I began my career in Soviet and Russian affairs, and so I'm familiar with the details of the Philby spy caper—which is good, because the series assumes a lot of familiarity with the history. But it's the kind of period drama you can enjoy watching just for the fine details of its production and re-creation of an era. [Related: Washington—the fifth man (from 1988)]
A quiet song that I love, and a loud song that I love: I'm going to be clever here and say that I have always loved a song that is both quiet and loud: "Don't Want to Wait Anymore" by The Tubes. You'll have to hear it to get that comment, I think.
A musical artist who means a lot to me: I have a particular attachment to Joe Jackson. Most people will know him only from a few hits back in the '80s, such as "Steppin' Out," but I feel like he's one of those artists whose work I have been able to appreciate at every stage of my life. I enjoyed his autobiography, A Cure for Gravity, which is a memoir of growing up and falling in love with music, rather than some trashy rock tell-all. There's a self-awareness and sly humor and even an awkwardness in his songs that can still make me as pensive now as when I first heard them 30 or 40 years ago.
I suppose I'd add Al Stewart here too. His songs about history are both beautiful and nerdy: He's a perfectionist, and I have to love a guy who once lamented that he accidentally referred to Henry Tudor as Henry Plantagenet. I recently saw him do a small concert where he performed his album Year of the Cat in its entirety, and at my age, I appreciate a rock star who can perform well while aging gracefully. (Mick Jagger: Take a lesson.)
A painting, sculpture, or other piece of visual art that I cherish: "The Oath of the Horatii," by Jacques-Louis David. Don't ask me why; I saw it as a teenager in a bookstore in Boston, and I couldn't take my eyes off of it. There was something about the stilted drama of the scene, the valiant backstory about the defenders of Rome, that made me stare. (Also, I also am slightly color-blind, so maybe the vivid reds and silver in the painting got through my defective eyeballs.) When I began teaching military officers, my understanding of the painting changed: I came to see it both as a celebration of military loyalty, but also, at least to me, as a warning about the seductive glorification of war. For some 20 years, I kept a print of it on the wall of my office at the Naval War College.
A cultural product I loved as a teenager and still love, and something I loved but now dislike: One of the lousier jobs I had as a teenager was as a janitor at the old Spalding sports-equipment company, which back then was headquartered in my hometown. But one of the perks was that some of the offices I had to clean were air-conditioned, so I'd goof off while working the evening shift by reading the books that the art department had strewn around their desks. That's where I discovered Cape Light, a book of photographs by Joel Meyerowitz. I fell in love with that book at 18 years old, and I still keep a copy right next to my desk for when I need a soothing mental and visual break. My house is decorated with several large prints from the book.
The thing I loved as a teen that I hate now? Vintage arena rock. I was driving along the other day and the band Kansas came on the radio, and I thought: Wait—didn't I used to love this stuff? The days when I would hear Asia or Kansas and turn the volume to 11 are long over for me. (Some things haven't changed, however: I am infamous on social media for my love of the group Boston, and my disdain—which I have had since childhood—for Led Zeppelin.) [Related: More than an album cover (from 2015)]
The last debate I had about culture: I cannot pinpoint the last debate I had about culture, because so many people think my taste is so awful on so many things that it's more like an ongoing project than a single debate. [Related: The complex psychology of why people like things (from 2016)]
A poem, or line of poetry, that I return to: I'm not literate enough to fully appreciate most poetry, but I was introduced to the work of Robert Lowell in college, and it stuck. Perhaps I feel a connection to him as a New Englander; I reread "For the Union Dead"—published in The Atlantic in 1960, the year of my birth—every year. But the line that kept coming back to me over the years, and now occurs to me more often as I age, is from "Terminal Days at Beverly Farms," a very short poem in which Lowell paints a spare, melancholy, almost Edward Hopper–like portrait in words of his father's last days as a retired naval officer. The old man, restless and in declining health, lived in Beverly Farms, on the North Shore of Massachusetts, an area where I had family and that I have loved since childhood. I have been to the "Maritime Museum in Salem" where his father spent many leisurely hours, and I have ridden the commuter trains to Boston whose tracks shone "like a double-barrelled shotgun through the scarlet late August sumac."
But it's the last line that gets to me, because it's such a simple observation about the penultimate moments before death. I don't mean to end here on a morbid note, because oddly, this line does not depress me. But I've often thought of it because it's likely how most people die—without speeches or final declarations or drama.
Father's death was abrupt and unprotesting.
His vision was still twenty-twenty.
After a morning of anxious, repetitive smiling,
his last words to Mother were:
"I feel awful."
[Related: The difficult grandeur of Robert Lowell (from 1975)]
Read past editions of the Culture Survey with Amy Weiss-Meyer, Kaitlyn Tiffany, Bhumi Tharoor, Amanda Mull, Megan Garber, Helen Lewis, Jane Yong Kim, Clint Smith, John Hendrickson, Gal Beckerman, Kate Lindsay, Xochitl Gonzalez, Spencer Kornhaber, Jenisha Watts, David French, Shirley Li, David Sims, Lenika Cruz, Jordan Calhoun, Hannah Giorgis, and Sophie Gilbert.
---
The Week Ahead
1. Pretty Baby: Brooke Shields, a two-part documentary series on the former child model and actress (begins streaming Monday on Hulu)
2. A Living Remedy, a meditation on American inequality and the second memoir by the best-selling author and Atlantic contributing writer Nicole Chung (on sale Tuesday)
3. Air, from the director Ben Affleck, traces the blockbuster footwear collaboration between Nike and Michael Jordan that would cement both of their legacies (in theaters Wednesday)
---
Essay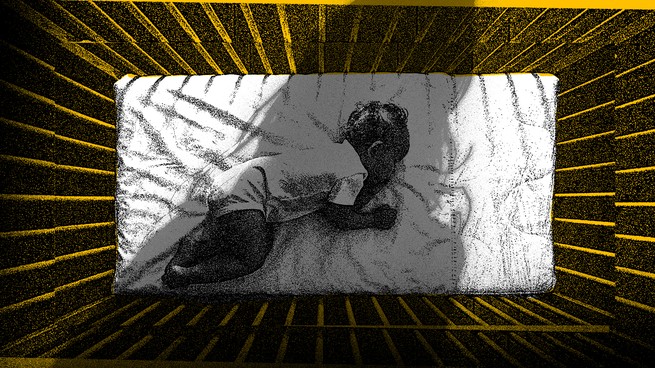 A Tale of Maternal Ambivalence
By Daphne Merkin
Motherhood has always been a subject ripe for mythmaking, whether vilification or idealization. Although fictional accounts, from antiquity until today, have offered us terrible, even treacherous mothers, including Euripides's Medea and Livia Soprano, depictions of unrealistically all-good mothers, such as Marmee from Little Women, are more common and provide a sense of comfort. Maternal characters on the dark end of the spectrum provoke our unease because their monstrous behavior so clearly threatens society's standards for mothers. They show that mother love isn't inevitable, and that veering off from the expected response to a cuddly new infant isn't inconceivable.

If motherhood brings with it the burden of our projected hopes, new mothers are especially hemmed in by wishful imagery, presumed to be ecstatically bonding with their just-emerged infants as they suckle at milk-filled breasts, everything smelling sweetly of baby powder. The phenomenon of postpartum depression, for instance, a condition that affects 10 to 15 percent of women, has been given short shrift in literature and other genres when not ignored entirely. This is true as well when it comes to the evocation of maternal ambivalence, the less-than-wholehearted response to the birth of a child, which is mostly viewed as a momentary glitch in the smooth transition from pregnancy to childbirth to motherhood instead of being seen as a sign of internal conflict.
---
More in Culture
---
Catch Up on The Atlantic
---
Photo Album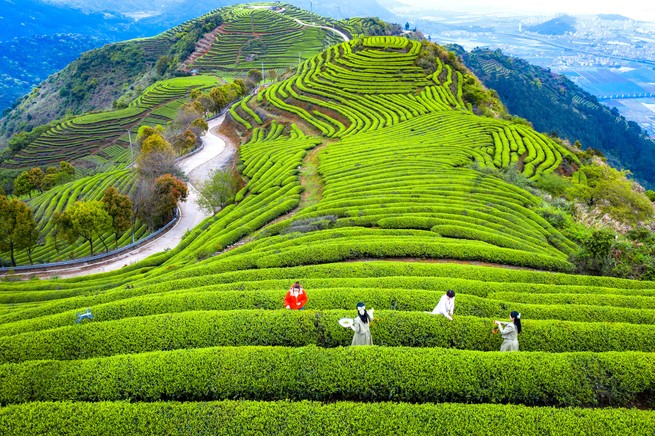 Tourists pick tea leaves in Fujian province, China; demonstrators convene in Israel, France, and the Texas State Capitol in Austin; and more, in our editor's photo selections of the week.
---
Did someone forward you this email? Sign up here.
Explore all of our newsletters.
When you buy a book using a link on this page, we receive a commission. Thank you for supporting The Atlantic.