Ireland v France: Women's Six Nations – live
Emma Swords coming onto the Ireland bench was a late change for the hosts. Swords has been in England and Wales camps but has never won a cap, today could be the day!
The team news is here. Ireland have made four changes to their starting line-up. Dannah O'Brien comes in a fly-half and Vicky Irwin starts in the centres. In the forwards, Christy Haney comes in at prop and Grace Moore starts at flanker.
Ireland: Deely; Doyle, Dalton, Irwin, Behan; O'Brien, Scuffil-McCabe; Djougang, Jones, Haney, Fryday (c), Monaghan, Wall, Moore, Nic a Bháird
Replacements: Nielson, McGrath, Buggy, O'Connor, Hogan, Swords, McGann, Delany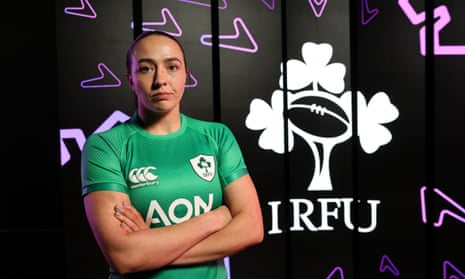 France have made two changes to their starting XV. Mourgane Bourgeois wins her first cap for France at full-back and is the only change in the backs. In the forwards, Clara Joyeux is in at prop.
France: Bourgeois; Banet, Ménager, Vernier, Boujard; Arbez, Bourdon; Deshaye, Sochat, Joyeux, Feleu, Forlani (c), Berthoumieu, Gros, Escudero.
Replacements: Riffonneau, Lindelauf, Khalfaoui, Picut, Hermet, Chambon, Trémoulière, Dupouy.
Hello and welcome to Ireland's Women's Six Nations clash against France! The hosts are looking for their first win in the tournament after losing to Wales in round one. France, meanwhile, are seeking to extend their wins after defeating Italy.
Ireland put out a disappointing performance last weekend, only scoring one try and they were well beaten across the pitch by Wales. They will want a stronger outing against the French but their opponents will be the strong favourites to come away with the win.
France are hoping to banish their bad luck in the tournament this year and take the trophy from England, who continue to reign supreme. A win this afternoon will be another step towards the allusive Grand Slam.
The team news was announced this week and I will bring you all the headlines from that shortly. Stay tuned ahead of kick-off at 3.15pm BST.