Who'll win in Gwyneth Paltrow's courtroom drama? I couldn't care less, but the farce is unmissable | Marina Hyde
To Park City, Utah, currently scene of one of the great pleasures of modern life: a court battle that you'd be relaxed for either side to lose. Yes, it's the Gwyneth Paltrow ski massacre trial. Take your seats for a preposterously camp battle between a well-to-do retired optometrist who said the high priestess of fanny-steaming skied into him – and Her Vajesty herself, who says he skied into her. Why is this not happening at The Hague? Sorry, but NO sense of occasion.
Before we go any further I want to make a deeply serious point. Something happened that day. Something happened on that mountain in that luxury ski resort, up there in God's cathedral – and, like anyone who has watched either the plaintiff or the defendant on the stand at any length … I literally could not care less what it was. I mean, this is as low stakes as it gets. Asked about what had been taken from her by the events on the Deer Valley slopes, Paltrow delivered the sociopathically straight-to-meme line: "Well, I lost half a day of skiing." (Bear in mind this is a woman who claims that water has feelings.) For his part, Terry Sanderson's lawyer put things into perspective by declaring: "After the crash, he's no longer charming."
We'll come on to the charmicidal maniac/wronged wellness guru in a moment.
First, a reminder that Mr Sanderson is seeking $300,000 in damages, which – to us country mice on this side of the Atlantic – feels a little eye-catching. Of course, we only have an outsider's grasp of the baroque flourishes of the US legal system, but it is surely our understanding that any citizen of that great nation making some kind of personal injury claim understands that this is America, and asks for at least $30m just as a point of principle? Then again, having watched him, I think I'm on the verge of understanding why Mr Sanderson values his lost charm at a mere $300,000.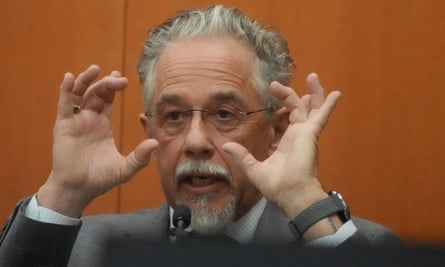 In reality, so well-adjusted is our early 21st-century system of social capital that there are few better ways to accrue charm than from starring in the Gwyneth Paltrow ski trial. This seems to have been something once dimly grasped by Mr Sanderson, who emailed his daughters in the immediate wake of the accident with the possibly unfortunate subject line: "I'm famous … at what cost?" As for whether the collision put him off skiing ever again, on Monday he revealed he "tried not to go back", but eventually overrode himself and took several skiing trips, albeit dressed in – [slightly traumatised pause] "this ungodly looking red fluorescent outfit that I bought". Stakes, dear boy. Stakes.
Arguably Terry's most compelling proof that he suffered a brain injury is his choice of lawyer, who makes Lionel Hutz look like Cicero. At one point in the proceedings, this Kristin Van Orman almost squealed: "I am so jealous! … I have to wear four-inch heels just to make it 5'5!" "They're very nice," lied Gwyneth. "You're not trained in accident reconstruction?" ran another gambit. "Me?" asked Gwyneth, "No". "Neither am I!" chortled Kristin.
A few years ago, Gwyneth stopped acting to focus on her lifestyle brand Goop, and I would be overjoyed if she now stopped that to focus on starring in court cases serving up this level of farm-to-table hilarity. "Private security for my client wanted to bring in treats for the bailiffs for how helpful they've been," announced her lawyer one morning. "So, I wanted to do that transparently and see if there are any objections?" Alas, there were some objections. That basic bitch Lady Justice apparently says madam can't treat-basket her way out of this one.
But you can't keep a good wellness entrepreneur down. Every aesthetically challenging day in that hideous orange Utah legal facility, Gwyneth has swept in wearing category 5 neutrals, hopefully drawn from her own brand's Courtroom Casuals line. (Though all Gwyneth's garments are made from the neck hairs of these really incredible Himalayan goats to whose sheddings a normie like you could never have access, do be reassured they WILL be lovingly ripped off in never-pill nylon and available later this year as Halloween costumes.) Just as Goop is a place where food is never eaten, but "grabbed" or "reached for", so it is that one of the best things Gwyneth's website can say about any outfit is that it "takes you effortlessly" from one part of your day to another. In this case, from pursing your lips in court, to making that evening's waiter give you the resume and achievements of every ingredient in the biodynamic salad, before pursing your lips once more and hissing: "No thank you, I'll just have broth."
As for any lessons that might be drawn from this appallingly entertaining courtroom dramedy, I am afraid I can only return to an oldie but a goodie: never litigate. Never litigate unless you absolutely positively have to – and as far as anyone can see, Mr Sanderson didn't have to. We already know what Gwyneth Paltrow's like. But we now know, from Terry's own testimony, that he ordered his former girlfriend to leave him after he began his legal journey as "I knew she didn't buy into it". "My interaction with my family has been difficult," he reflected yesterday. "Something is wrong with my essence and what I bring to the table with them." Earlier, one of his daughters had testified that he was "obsessed" with the trial, while another's deposition declared he was "emotionally abusive" and "quick to anger" before the 2016 collision. Whatever the thread-count of this dirty linen, is it worth it? For anyone other than the countless mind-boggled spectators, the answer can only be … no.
Marina Hyde is a Guardian columnist

Do you have an opinion on the issues raised in this article? If you would like to submit a response of up to 300 words by email to be considered for publication in our letters section, please click here.