The Breakdown | Cross-fertilisation: English players going abroad is a progressive move
It is amazing how swiftly perceptions can change in sport. Remember how English cricket once revolved around the County Championship until Twenty20 cricket and the Indian Premier League came along? Or the days when the most famous footballers in England ran pubs in retirement to help make ends meet? Progress can sweep aside old-school certainties quicker than you can say leather balls and neat side partings.
The same is true in rugby union. Even without the chilly financial draught blowing through many clubs in England and Wales there is no ignoring the rise of the French Top 14 as an attractive rival to the Premiership. Salaries are higher across the Channel, crowds are growing steadily and the rock stars of the national team are increasingly rubbing shoulders with bright-eyed English émigrés.
It now looks as if the England squad members Jack Willis, Sam Simmonds, Luke Cowan-Dickie, Jack Nowell, David Ribbans and Joe Marchant will play in France next season with Christian Wade, Dan Robson, Paolo Odogwu, Joe Simmonds and Harry Williams among the supporting cast. Anthony Watson, it is said, is weighing up his options. Zach Mercer, about to join Gloucester after winning the French league player of the season award with Montpellier, risks being knocked over at Dover by the hordes heading in the opposite direction.
So far, so understandable. Market forces are market forces. The only catch is that barring the little-used "exceptional circumstances" clause that has enabled Willis to represent England this season after his former club Wasps went bust overseas-based English players cannot turn out for their country. If this sounds like old-fashioned protectionism it is because it is.
This inviolate rule works only one way. Bath can sign Scotland's Finn Russell, the most exciting fly-half in Europe, and everyone throws up their hands in delirious celebration. But hang on. Is Russell not the perfect example of a player who has gone to France and taken his game to fresh heights? Where did Scotland, theoretically inconvenienced by his fallow week absences with Racing 92, finish in the Six Nations? Ah yes, above England.
The debate is increasingly multi-layered. Was anyone connected with English football complaining during the World Cup that Jude Bellingham's club is Borussia Dortmund? Not a squeak, though several top clubs would clearly love to bring him back to England. Does the fact Bellingham resides in Germany alter the way England fans perceive their national side? Or sap the team's performances? Not in the slightest.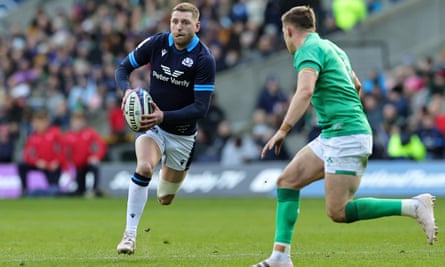 Which brings us back to English rugby's attempts to reinvigorate itself, at club and international level. The Rugby Football Union and the Premiership clubs are negotiating a new professional game agreement that will kick in next year. The Premiership's chief executive, Simon Massie-Taylor, says there is no appetite among the clubs to accede to the apparent wishes of the national coach, Steve Borthwick, who wants to pick from his best players wherever they happen to be eating their breakfast.
It is yet another example of parochial English thinking. The best players have to be here, where we can see and stockpile them. Which may feel like a reasonable stance to take until the goalposts shift again and Maro Itoje, Owen Farrell or Marcus Smith opt to play in France – or New Zealand or even Ireland, the world's No 1 – to challenge themselves afresh. What then? Are they to be summarily categorised by the court of social media as national traitors? Or as athletes simply trying to better themselves and make a better life for their families?
As with the cricketers attracted to an increasingly life-changing IPL, it is not hard to foresee the outflanked administrators ultimately having to meet them halfway. Which is why they may be wise to get one jump ahead. Would it not be more enlightened – and save a load of future trouble – if they took a more holistic view regarding overseas eligibility. Any player with 30 caps or more could have a one-year sabbatical (not in a World Cup year) between the ages of 25-30 when they could play overseas and still be available for England. To prevent a mass exodus, no more than two such international squad "wildcards" would be issued a season. If the individuals concerned subsequently remain abroad, that would be their decision and both parties would move on accordingly.
Traditionalists will be frowning. But think of the potential upsides. Players would come home with appetites refreshed and imaginations broadened. Hot-housed youngsters who had barely experienced life beyond the four walls of an academy house would enter a parallel universe. A couple more spaces for emerging English talent would open up behind them. And when the players return, thousands of overseas-based eyeballs will be looking to see how they fare back in the Premiership. Call it cross-fertilisation or simply progress. The world of sport, for better or worse, is changing fast.