Russian and Belarus athletes should be allowed to compete as neutrals, says IOC
Russian and Belarusian athletes should be allowed to compete again across all sports as neutral athletes – as long as they have no clear links to the military, the International Olympic Committee has said.
However the IOC's executive board has suggested that Russian and Belarusian teams should remain banned from international competition, along with athletes and coaches who are vocal supporters of the war.
Those allowed to compete would be unable to wear national kit or see their flags and anthems, the IOC president, Thomas Bach, confirmed.
However Bach was much more reticent to discuss the prospect of Russia and Belarus's potential inclusion at next year's Olympics in Paris, saying it was "not appropriate" to offer a timeline.
Asked why the IOC had softened its position in the 13 months since Russia's invasion, Bach noted how some Russians and Belarusians were already competing before pointing to legal advice the IOC had received.
"We see that in a number of sports including tennis, cycling, football and ice hockey it's already working," Bach said. "You see athletes with a Russian or Belarusian passport participating in competitions in some of these sports, even competing against Ukrainian athletes, in particular in women's tennis and men's tennis.
"Should what is possible in these sports not be possible in swimming, table tennis, wrestling or any sport? What is the difference?"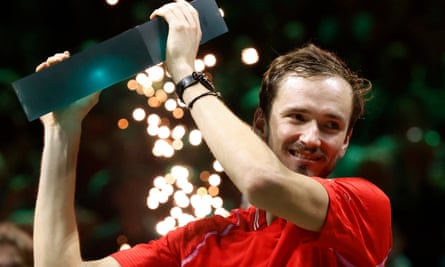 Bach also cited the work by two UN special rapporteurs, Alexandra Xanthaki and Ashwini KP, who have said it would unfairly discriminate against individual Russians if they are barred from competing in Paris because of their nationality.
"This is not a grey area of international law," Bach said. "It is something that binds all states and all individuals. For this reason, the blanket prohibition of Russian and Belarusian athletes and artists cannot continue. It is a flagrant violation of human rights. Anyone has the right not to be discriminated against on the basis of their passport."
The IOC has set out a pathway for Russians and Belarusians to earn Olympic slots through Asian qualifying and left it up to international federations to decide on organisation.
However their plan has met with fierce opposition from more than 30 western governments with Ukraine also threatening to boycott the Paris Games.