'Luigi has sweet notes of apple': testing out Lush's unlikely Super Mario soaps
The announcement that cosmetics chain Lush would be running a collaboration with the Super Mario Bros Movie was met with some incredulity in the video game press last week. The animal-friendly brand is not exactly associated with either movie licences or tech tie-ins, so the idea of Mario shower gel or Princess Peach body spray came as a shock.
So, driven by an insatiable desire for journalistic investigation, I acquired some. And, look, it's good stuff: the gloopy red Mario shower gel has a lovely subtle cola tang, while the Luigi has sweet notes of apple and rose and the vibrant green colour and consistency of fluorescent play slime. The gold coin soap uses the brand's popular and giddily candied Honey I Washed the Kids scent, while Bowser's version has a spicy, dare I say it, masculine aroma. Most of those are based on established Lush ingredients, but the Princess Peach body spray is a brand new fragrance, a sugar bomb of peach and pineapple, which I probably shouldn't be wearing but totally am. I smell like a walking sweet shop.
So why do these soaps exist? "We've had a long working relationship with [movie studio] Universal; we picked them out as one of the more ethical partners we could work with," says Melody Morton from the Lush collaborations team. "The main reason we love Super Mario is because it's so cross-generational. My husband is a huge fan, but my sons love to play it too … Gaming is going to be a huge part of our collaboration strategy. Having spoken to our younger generation of customers, this is what they want to see. It's part of the future for us."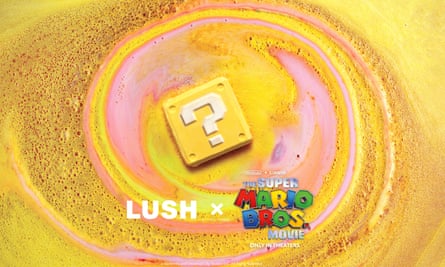 Gaming-themed soaps might seem unlikely, but it makes sense as a way to market to teen customers (and their parents, who grew up with Mario). In November 2021, Lush withdrew from all social media platforms, citing their continued inability to create safe environments for users. The decision brought a lot of publicity, but it also cut off a key communication channel with Gen Z, who are hard to reach through traditional advertising. Plus, there is something a bit video-game-y about Lush shops, which have the look of fantasy realm apothecaries, with cauldrons of product, swirls of glittery colour and pun-laden product names.
The Mario line is well thought out – each question-block bath bomb contains one of six different soaps, for instance, collectible like gold coins – and if you love saccharine, natural scents and weird colours, the range is worth hunting down while they're still available. The only disappointment is the lack of mushrooms in the Super Mario collection. Lush does have one product that uses mushroom, Morton tells me – the Full of Grace facial serum – but apparently it's a tricky ingredient.
"We were desperate to put mushrooms in the product, we were all obsessed with the Mushroom Kingdom environment," sighs Morton. "But they're a challenge for skincare, just because of the fungal element – they need a lot of product development … We do love mushrooms, though."
Lush is promising further gaming collaborations in future, but considering that fungal revelation, we can probably rule out a Last of Us range.