Football Daily | Alfredo Di Stéfano, can you hear me? Your boys took one hell of a beating!
SCOTLAND'S REIGN OVER SPAIN
We probably shouldn't be waving big meaty slabs of succulent temptation in front of fate's drooling maw, so apologies in advance to all affected supporters should the worst happen this evening. But facts are facts are facts: Scotland have a surprisingly good record against Spain. Their first-ever World Cup qualifying match that wasn't part of the old Home Championship was against the Spanish at Hampden in May 1957, and if you think the Scots are underdogs tonight, then this was another level altogether. Scotland's team was made up from players from Clyde, Charlton and second-tier wastrels Liverpool, while Spain were a glamorous amalgam of the brightest stars from Barcelona and Real Madrid. The Spanish forward line that evening consisted of Ladislao Kubala, Alfredo Di Stéfano, Luis Suárez and Paco Gento. Time to crank that old Sunday Post-o-meter up to 11: jings, crivvens, help ma boab!
So naturally Scotland went on to win that one 4-2, the slightly less glossy figure of Blackpool's Jackie Mudie helping himself to a hat-trick. Admittedly the Spanish dished up piping-hot small plates of revenge just two weeks later, winning 4-1 in Madrid, but let's not cloud the water, and anyway it was Scotland who made it through to the finals in the end. Then six years later, Scotland went to Madrid with a team featuring Denis Law, Jim Baxter, Ian St John and, erm, Ian Ure and won 6-2. Six-two!
Another famous win came at Hampden in 1984, bang slap in the middle of Scotland's imperial They Always Qualify phase (disbelieving kids are requested to direct their enquiries to Mum, Dad or Billy Connolly). Spain had just finished the Euros as runners-up, though hindsight shows they were midway through a transitional period of often comical underachievement that lasted from 1965 to 2007. Still, a win's a win's a win, and two Mo Johnston headers plus Kenny Dalglish's record-equalling 30th international goal – an absolute belter, by the way – gave Scotland a 3-1 victory. Olé ola (to quote Rod Stewart's adaptation of a tune about a Brazilian woman for a World Cup held in Argentina, but you get the general gist).
Scotland last played Spain in the qualifiers for Euro 2012, when the Red Fury were very much in their trophy-hoovering pomp. They lost 3-1 in Alicante and 3-2 at Hampden, coming back from two down in the latter match only to concede a late winner. Brave results both, especially when you consider Spain were the reigning world and European champions, while tactical guru Craig Levein was at the time experimenting with a 10-0-0 formation. A long line of highly decent historical performances, then, which may not technically have any bearing on tonight's game against the 10th-best side in the world … but if you can see off the likes of Kubala and Di Stéfano in one fell swoop, you can see off anyone. That's watertight footballing logic, right?
LIVE ON BIG WEBSITE
Join Scott Murray for piping hot MBM coverage of Brave Scotland 1-1 Spain, with kick-off from 7.45pm BST.
QUOTE OF THE DAY
"The situation has become worse. Now they are punishing us" – security guards employed by a company with contracts at sites linked to the World Cup in Qatar are allegedly still being paid as little as 35 pence an hour, four months after the Guardian first revealed their plight.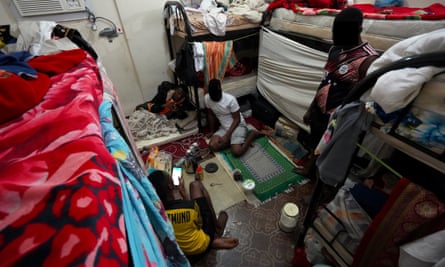 RECOMMENDED LISTENING
Things got verrrrrrrry interesting in the WSL at the weekend: it's now a four-way race for the title, and Faye Carruthers, Suzanne Wrack, Robyn Cowen and Anita Asante are here to tell you all about it in the latest Women's Football Weekly podcast.
RECOMMENDED LOOKING
It's ya boi, David Squires, on the fun and games of the international break.
"Re: Friday's letters about ChatGPT, I'm wondering if The Man has implemented this new technology to run Football Daily and select the hotly contested 'Prizeless Letter o' the day. With the interest rate going up yet again and the cost of living squeeze, is this an attempt to cut staffing costs at The Big Website? I'm sure 1,056 ChatGPT's will be eagerly awaiting an answer" – Pete Cody [and no others].
"Yesterday, I had the opportunity to see Nedum Onuoha in person at the Oxford Literary Festival, in a charming marquee located in the grounds of a medieval Oxford college. It was the most untypical audience for an Oxford Lit Fest event I've ever seen. All ages, a number of women and children, and a lot of men of a certain age sporting football gear – notably QPR and Man City kit (quelle surprise). Well, can I just say, that this man should be running our country, not confining himself to podcasts and other entertaining social media products, great though those are. Articulate, super smart, funny, self deprecating, with what sounded like patience and forbearance by the bucket load. Yes, of course, I purchased his book, pretending it was for my eldest son for his birthday today. I showed it to the birthday boy last night, and then promptly stowed it away on my own bookshelves, where I can admire it until I decide to actually read the contents, rather than just sit here feeling thrilled that it is there. What a footballer, what a hero – and thank you to GFW for introducing him to me" – Anne Burrell.
Send your letters to the.boss@theguardian.com. Today's winner of our prizeless letter o' the day is … Anne Burrell.