David Lammy on regrets, Rwanda flights and racism: 'I've had so many death threats'
Last September, the son of a single mother raised in the shadow of the Broadwater Farm estate in north London attended the official proclamation of the king. It was only as David Lammy was dressing for the privy council ceremony at St James's Palace that the experience started to feel faintly surreal.
"I got the bus back home just to feel normal," the shadow foreign secretary says. "I get a bit emotional about this, but I can't tell you – I've travelled a long, long way from where my parents started, and my upbringing, a long, long way. And that's, in a way, the miracle of this country." His Guyana-born parents, ardent monarchists, would doubtless have been proud, but didn't live to see the day; as he notes, his parents, and those of his childhood friends, led hard lives and mostly died relatively young, while his posher university mates' parents are still busy "running the world".
Lammy is one of British politics' great survivors. A rising star and junior minister under Tony Blair, he made his name in opposition as a campaigner against social and racial injustice before rejoining the frontbench a decade later under Keir Starmer, on whose leadership campaign he served as a vice-chair. As a black teenager growing up in what is now his constituency of Tottenham, he felt "marginalised, demonised sometimes", but went on to study at Soas University of London and Harvard law school, through which he later forged a friendship with Barack Obama. Asked whether he has finally become part of the establishment, he laughs ruefully and volunteers the King Charles story. Easy company, but hard to pigeonhole, he is a natural diplomat.
We meet in a parliamentary office with a sweeping view of the Thames – not his, he says, but borrowed for entertaining foreign dignitaries – to discuss Labour's plan for reconnecting Britain to the world. In a new pamphlet for the Fabian Society, he proposes a post-Brexit rebuilding of alliances with Europe and the US, countering what he sees as an emerging threat from autocratic regimes.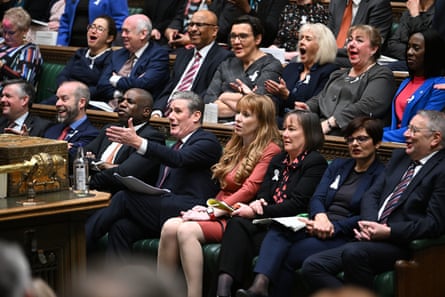 He is just back from Washington DC, where he spoke to the liberal thinktank the Center for American Progress about his hope for a "progressive moment" in which Labour might govern Britain while allied to like-minded administrations in the US, Germany, France, Canada and Australia. But he has seen, as he describes in the pamphlet, how last year's political turmoil has shaken Britain's reputation in the US as a steady, constant ally.
"Liz Truss and Kwasi Kwarteng and their reckless, boneheaded experiment with the economy – I think people couldn't really believe it," he says of Truss's radical tax-cutting strategy, which culminated in a mini-budget that triggered a domestic financial crisis. "People had been saying to her: 'You can't really do that, we're living in an interdependent world, there will be a run on the pound and it will affect our economy,' but she still did it. That was terribly un-British; just not the way we behave."
Lammy's big idea for rebuilding bridges is a new EU-UK security pact, cooperating on Ukraine and counter-terrorism, but also the climate crisis, energy security and the emerging implications of biotech and AI.
It is based on an offer from the EU that Boris Johnson rejected during Brexit negotiations, he says, but Russian aggression and the nascent power struggle between the US and China now make the case for Britain to be closer to its EU allies. "It's one thing to get divorced; it's another thing not to put in arrangements for how you manage the children. Really, in these serious times, we need to be deadly, deadly serious about the battle between freedom [within] a rules-based order and autocrats and their order, and how this 21st century could turn out."
He insists it is about reconnecting, not rejoining, saying he merely wants to "normalise" relationships with the EU. But does the man who campaigned unsuccessfully for remain and then for a second referendum think we will be back in the EU again in 30 years' time? "What you've suggested is a reimagining of the relationship and I do not foresee that in the near time," he says. "You cannot have a messy divorce and then go back to your partner and say: 'Can we get married again?' without even having a first date." All he will concede is that he "can't imagine a scenario in which we are not really, truly engaged with our European allies" a generation hence.
He is more forthcoming on the European convention on human rights, another foundational treaty from which some Tory MPs want to withdraw, in pursuit of their ambition to deport asylum seekers to Rwanda. Again, he says, that is interpreted abroad as undermining rules-based order. In Washington, he heard concerns that leaving the convention would threaten the Good Friday agreement, which is based on human rights law. "I can't tell you how dangerous and populist – but in the end thin and not in our national interests – this narrative is."
What did he make of home secretary Suella Braverman's trip to Rwanda, designed to portray it as a safe haven? "I've been to Rwanda," he says, slowly. "I've sat with victims of the genocide who were limbless or had lost loved ones … There's something about Suella Braverman and her politics that I think would traditionally sit at the fringe of the Conservative party, certainly the Conservative party when I came into parliament."
While Labour politicians often criticise the Rwanda plan as unworkable or expensive, Lammy doesn't shrink from attacking its morality. "Of course it's morally wrong to take the view that anyone making their way across the Channel is illegal and they should be shipped up and sent across the waters, of course it is. I have no problem calling it out for what it is."
His constituency has, he says, been enriched by successive generations of immigrants, including Huguenots, West Indians, Asians, Jews fleeing the Nazis and Kurds. Although Lammy regrets voting for the Iraq war in 2003, he says that Iraqi Kurdish constituents implored him to back it, having sought asylum in the UK after Saddam Hussein gassed their families.
---
Lammy draws his politics from his patch, and perhaps this was never more true than in the summer of 2011, in the febrile days after the fatal shooting by police in Tottenham of Mark Duggan. With riots erupting across British cities, he offered confident leadership and authority in what felt like a political vacuum. The incumbent Tory prime minister, David Cameron, subsequently asked him to lead a review of racial disparities in the justice system, which exposed what he calls a "liberal conceit" about equality by showing how the same offence has different consequences for different offenders. A teenager caught smoking cannabis on an inner-city estate will probably get a criminal record, he argues, but not "a 15-year-old who looks more like a young Boris Johnson, doing the same thing in his parents' gated estate".
His decade off the frontbench, he says, helped him to find his authentic political voice: "Whether it was the riots, Windrush, Grenfell Tower, Brexit – I just had a freedom to speak."
The Casey review, which last week deemed the Metropolitan police institutionally racist, sexist and homophobic, suggests depressingly little has changed since his review in 2017. Discrimination in the Met is "the sort of singular public policy issue that has dogged this country throughout my entire lifetime", he says. But still, he summons optimism: "I think that the Sarah Everard murder and the David Carrick abuse of power has brought this issue into real time for half the country, for women and girls. So this is – put alongside that homophobia – a very, very significant moment."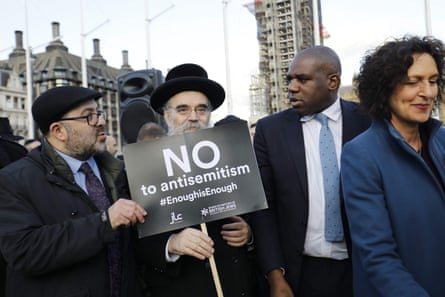 We pause briefly for the photographer to get to work. I check my phone for updates on the afternoon's parliamentary votes. But the first thing I see is a shocking video posted by a former government aide of her 15-year-old black son apparently being forcibly restrained on the floor by security guards while shopping for shampoo, before being arrested. When I show Lammy, who has two sons, aged 17 and 15, and a nine-year-old daughter, he takes a long breath. Given all his professional experience of the justice system, does he worry for his children?
"There's a hypervigilance that parents of black children can have, that if you are not in that situation …" He pauses, then says: "But, actually, it's the same phenomenon as women carrying their keys between their fingers when they're going home after work. It's a stress, a tension, a fear – it's actually incredibly difficult for teenagers."
Lammy was first stopped and searched at the age of 12. Does he think his sons will have better experiences of policing? "Sadly, both of them have had their own encounters, one of them relatively recently. He'd done nothing wrong, except take care of a young woman who had fallen and been hurt. He was taking care of her and others scarpered, and he was questioned as if he might be the perpetrator when he was only trying to help," he says. "I don't know what to say except that it's still my job as a parent to give my kids the confidence to recognise there are issues, but that there are good people trying to also be police officers – it's a worthy thing to do, something they should consider doing."
Lammy considered it himself: he so enjoyed joining officers on patrol as part of a parliamentary scheme, he says, that he tried to become a special constable, only to be vetoed by the then home secretary, Theresa May, and the then Met chief, Bernard Hogan‑Howe, for fear of politicising the police. "I have to say, I didn't buy the argument, because I thought at the time they could really do with something like me." It is too late now, he says – "I'm 50, I don't think anyone wants me running down Tottenham High Road" – but there is something quintessentially Lammy about wanting to change things from the inside.
But if his antiracism work made him a hero on the left, his equally staunch opposition to antisemitism proved more painful. Some Jeremy Corbyn supporters called for his deselection after he joined Jewish friends and constituents (his patch includes the orthodox Jewish community in Stamford Hill) on a protest against antisemitism within Labour.
"I remember feeling quite emotional, quite sort of close to tears, really," he says of that protest outside parliament. "I also remember being in the Labour party conference and having people heckling and shouting down Jewish colleagues, and I felt very, very uncomfortable." He says standing in solidarity with black and Jewish communities felt completely natural – Jewish activists stood prominently with Nelson Mandela and the US civil rights movement, he points out – but he endured a backlash, some of it laced with antisemitic tropes. "I got people who perceived that I was in someone's pocket and it was just awful, absolutely awful."
Lammy praises Starmer for being "forensically focused" on tackling antisemitism, which he thinks has helped to turn the page. (He also concedes that Labour is "not without its issues" in the treatment of black members, noting that decades ago his father was turned away from local party meetings and told they were "full".)
The irony of all this, however, is that he nominated Corbyn for party leader in 2015. Why?
He was originally drawn to Labour, he explains, by Michael Foot in 1983 and had some "great socialist teachers" in Tottenham. But, with each crushing election loss, "I began to realise that the teachers – many of whom I admired, that encouraged me and supported me – their lives didn't change when Labour lost, because they were, on the whole, middle class. My life, on the other hand, my parents' lives, really were affected."
He now takes the pragmatist's view that elections aren't won in north London, but in places such as Peterborough, where he attended a state boarding school on a choral scholarship and still has good friends. All this is a roundabout way of saying that he nominated (but didn't vote for) Corbyn, not expecting him to win, but because part of him "believed in the underdog, in having a diverse race. I didn't want just candidates that had done PPE at Oxbridge. I'm afraid what then happened I do regret."
Lammy considered running for leader in 2019 but ultimately backed Starmer because "he was the right man and what we needed at that time". But perhaps there were other considerations; as a high-profile, black, pro-remain politician, he and his family had been viciously targeted. "I'd had so many death threats, and this was in the [time of] the murder of [the MP] Jo Cox …" he tails off. "The reality of this stuff is sometimes hard to talk about."
Even he is surprised, he admits, at how far Labour has come in only three years. While Starmer always reckoned Johnson's majority could be overturned within one term, privately Lammy worried it might take longer: "I remember saying: 'Look, I think we should maybe stress that it's a decade-long project.' And, bless him, he took a different view – and here we are."
Canvassing in Tory-held Milton Keynes recently, Lammy was thrilled to find plenty of Labour voters, but struck by how disorienting many have found the past year. "It's like: 'My God, what's going on, all these prime ministers and the war?' There's a lot of anxiety, noise, apprehension." If what Britain craves now is a period of soothing calm, then this pillar of a reimagined establishment seems happy to offer it.