Charlotte Edwards after her WPL win: 'I want to coach internationally'
"It's been the most unbelievable six weeks I have had in cricket," says Charlotte Edwards, fresh off the plane after the victory with Mumbai Indians in the Women's Premier League final on Sunday and about to head straight into a coaching session with Southern Vipers.
This 48-hour turnaround may sound like a comedown after Nat Sciver-Brunt sealed a seven-wicket win against Delhi Capitals at Mumbai's Brabourne Stadium, but Edwards is buzzing. "I just love it," she says, before heading to the Ageas Bowl. "Maybe the players will be happy to see me … maybe not."
Given a record of 62 wins from 78 matches as head coach of Southern Vipers, Southern Brave, Sydney Sixers and Mumbai Indians in recent years, it is fair to assume the former is probably the case. Not content with a glittering playing career – more than 10,000 international runs and two World Cups – the 43-year-old is clearly doing plenty right.
On a personal level, silverware at the end of the inaugural WPL was overdue. Though the Vipers have won the, ahem, Charlotte Edwards Cup and two editions of the 50-over Rachael Heyhoe Flint Trophy, Edwards' teams finished runners-up in the Hundred (twice) and, in Australia, the Women's Big Bash League. But while Dehli rallied from 79 for nine to post a target of 132 and Mumbai lost two early wickets, Sciver-Brunt's nerveless unbeaten 60 meant this was just a wobble.
Sciver-Brunt rightly took the plaudits on a dizzying night in Mumbai and Edwards fancies this was an important staging post in the all-rounder's career after a record £320,000 deal in the February auction. "I sent her a message yesterday saying how well she dealt with the price tag. She was hugely professional, but also really humble," says Edwards.
"And that was a big moment for her, to get her team over the line. England have been close a few times, but to win a tournament with Nat at forefront, I'm nothing but pleased for her."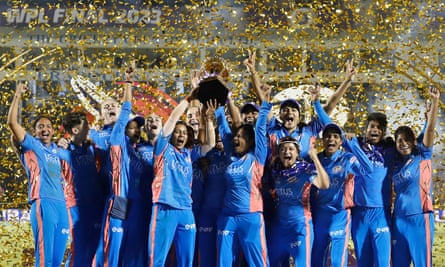 Compiling a squad from scratch at auction was a new experience for Edwards, with Hayley Matthews – a cut-price £40,000 – described as "the best piece of business in the competition" after ending up as the WPL's leading wicket-taker with 16. Edwards also praises the work of the assistant coaches Jhulan Goswami and Devika Palshikar in identifying the ideal domestic Indian cricketers to play under their captain, Harmanpreet Kaur.
If there was one player for whom Edwards stuck her neck out it was Issy Wong, despite being overlooked by England for the T20 World Cup that preceded the WPL. Secured for £30,000, the 20-year-old fast bowler lit up the eliminator (semi-final) last Friday when her hat-trick scuttled UP Warriorz, sent the Mumbai crowd into a frenzy and soon went viral on social media.
"Just talking about it gives me goosebumps," says Edwards. "I sort of knew it would happen. I was just staring at the stumps for that third ball, with the crowd chanting 'Wongy, Wongy'. It was one of my top moments in cricket.
"Before the auction I wanted her because if there was one player who would deal with the situation it was Issy Wong. And she delivered. She was born to play in front of that many people. She just has no fear, wants to bowl quickly, entertain and is an X-factor player.
"Not being in that England squad, I had to tell people at Mumbai she's going to be good. They watched her in the first warm-up and could see instantly what I had seen. That's something England may well regret because we've seen what she's done on the biggest stage in India."
Edwards says lifting players such as Sciver-Brunt, Kaur and Wong after their World Cup disappointments and gelling a team at short notice was one of the early challenges for the coaching staff. But despite working for one of the teams in the global Mumbai Indians franchise, owned by the wealthy Ambani family, there was no pressure from above.
"I just felt honoured by their backing," says Edwards. "I had enormous support from Mrs [Nita] Ambani. It may sound like a cliche, but you really felt part of their family. We went to her house as a squad and would have movie nights in their private cinema. They just love their cricket and it really brought us together as a squad."
Edwards believes the first edition of the WPL is just the first step for a tournament that will only grow, with the early crowds and viewing figures already vindicating the investment. For a player such as Wong, it will have given England an almighty selection nudge in the lead-up to this summer's Ashes series too.
As for her own career, Edwards also feels vindicated for her decision to withdraw from the race to become England head coach last year. She wanted to further her domestic experience first, but for those wondering, yes, the position remains on her long-term radar.
Asked about her style of coaching, she says: "You can only go with what the players say. They're the ones who live and breathe what you're doing. But I guess I'm good at bringing people together, I'm a people person and I'm pretty relaxed with it.
"There's an edge to me though. I am a winner. I absolutely want to coach internationally and that might come in the next few years. That's the ultimate goal."
With that it's time to reunite with her Southern Vipers players and start preparing for the English summer. But one fancies that ultimate goal may well become a reality at some stage.