Boris Johnson jokes he was given Partygate fine for 'eating lunch at his desk'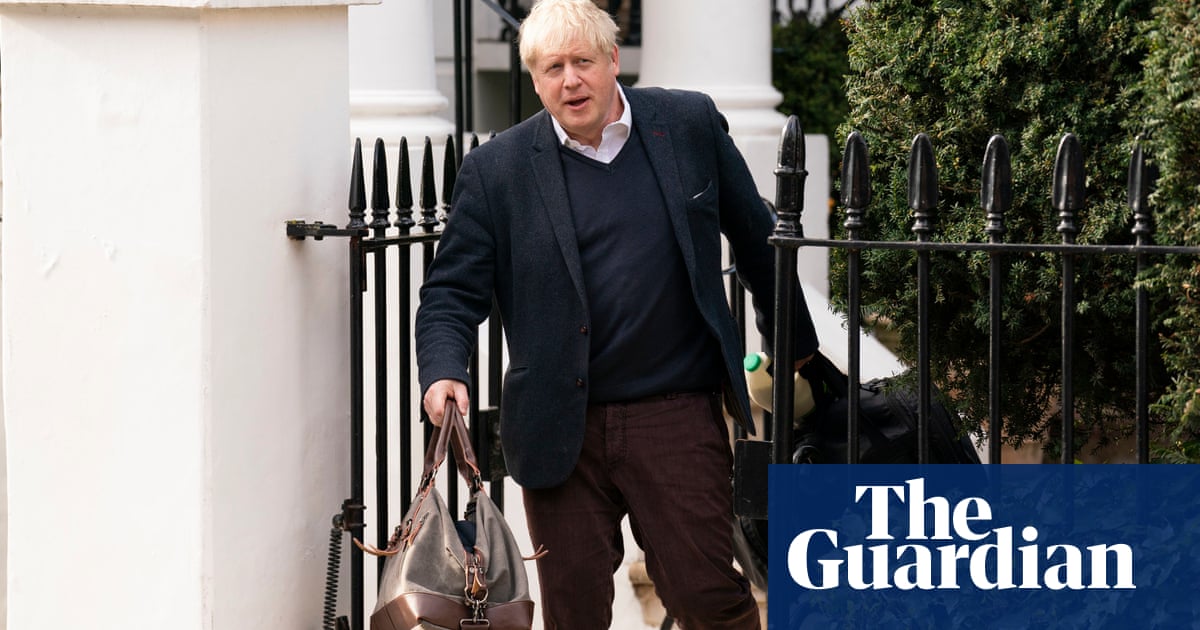 Boris Johnson has made light of his police fine for the Partygate scandal during a speech in Nigeria, joking that he was criminalised for standing up and eating lunch at his desk for 20 minutes.
The former prime minister dismissed his fine from police for breaking Covid laws as "bizarre" at a conference in Lagos on "rehumanising human experience".
Johnson is currently awaiting the verdict of an inquiry by MPs into whether he misled the House of Commons when he said all Covid rules and guidance were followed in No 10.
His political career as an MP is at stake as the privileges committee could choose to recommend a suspension of more than 10 days if they find he did mislead parliament recklessly or deliberately, potentially triggering a byelection.
However, he got laughs from the audience in Lagos for telling them: "A couple of years ago, the Met actually fined me, in circumstances I still find almost too painful to describe, simply for standing at my desk in the Cabinet room and eating lunch."
Johnson was actually fined less than a year ago in April 2022, in relation to an event in June 2020 for his birthday.
"For keen followers of British politics, I want you to know the fabled birthday cake remained unseen, by which the BBC and the rest of the media fulminated for most of the rest of the year, [by] me throughout that 20 minutes in its Tupperware box and was belatedly discovered and consumed by my private secretary."
He added: "Look on the bright side, can you imagine the Moscow police arresting Vladimir Putin for having lunch at his desk for 20 minutes? Can you imagine the Chinese police … Whatever else it shows, that decision, which may seem to me to be bizarre, it shows to me the law is in force in my country without fear or favour."
Despite now calling it "bizarre", at the time, Johnson apologised, saying: "I have paid the fine and I once again offer a full apology." He also said at the time that he "now humbly accepts" he did breach Covid laws.
Johnson appears to have become more defiant about the Partygate scandal since leaving office, despite police issuing more than 170 fines for breaches of the rules in No 10 under his watch.
He told the privileges committee that it was "nonsense, complete nonsense" that he had not sought the proper assurances that rules were followed in No 10 before telling MPs that this was the case.
There have been persistent rumours that the former prime minister would like to stage a comeback, with some of his supporters coalescing around a group called the Conservative Democratic Organisation (CDO). However, his allies insist that he is not plotting an attempted return to No 10.
Johnson's appearance in Lagos is the latest in a long line of speaking engagements for the private sector. He has received £2.5m as an advance for speeches, meaning he received earnings, hospitality and donations worth more than £5m in the first six months after leaving office.
As well as a lucrative tour of the global speaking circuit since exiting No 10, addressing investors in the technology behind cryptocurrency, insurers and investment bankers, he has taken more than £500,000 as an advance for a memoir. At the same time, he has stayed on in his main job as MP for Uxbridge and South Ruislip.