'Stop demonising them': the trafficking victims left behind by UK's new illegal migration bill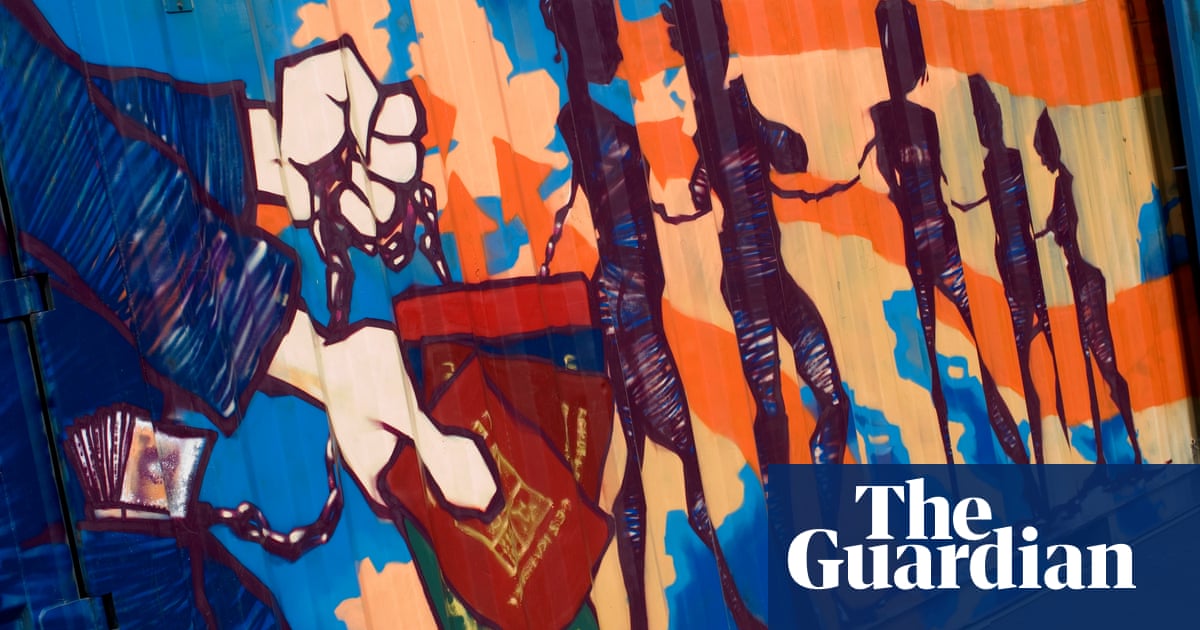 By the time the police smashed down the door of a brothel in a smart apartment block in Sunbury-on-Thames in September 2019, Julia* had spent more than five years trapped in a life of sexual exploitation and debt bondage in the UK.
The organised criminals who were making £500 a day from her prostitution in a network of brothels across the south-east of England, were the third gang to exploit her since she was trafficked from her village in Ukraine to the UK in the back of a lorry in 2014.
Julia says for years she was shuttled from brothel to brothel and had no control over how many sex buyers she was seeing, or what she was expected to do.
She couldn't speak English and says she was trapped because of her immigration status, her debt and her desperation to provide for her child back in Ukraine.
By the time the police found her, her bosses were taking so much of her money that she was only managing to send a few hundreds pounds back to her family every three months.
"At the time the police came, I was so tired – mentally, physically …" she says. "I was forced to work from morning to night. I didn't care any more what happened. I just wanted it finished, to be over. I couldn't go on like that any more."
Surrey police introduced Julia to the national referral mechanism, the government's system for identifying and supporting victims of modern slavery, which automatically gave her 45 days of rest and recovery in a safe house and access to counselling and a support worker.
Six weeks after she was found in the brothel, Julia decided to help the police and gave them vital evidence that kickstarted a two-and-a-half year investigation that dismantled a complex criminal network linked to more than 120 women and making huge profits from a network of brothels across southern England.
With Julia's help, Surrey police were able to bring four members of the criminal gang to trial, securing a rare conviction under the 2015 Modern Slavery Act and prison sentences.
Julia has now been granted asylum and reunited with her daughter. "I'm happy [I helped the police]" she says. "There will always be new bosses coming but many women are now safe."
Yet lawyers and anti-trafficking groups say that the police's ability to investigate and bring modern slavery cases such as Julia's to court could be irreparably damaged, and victims like Julia criminalised and deported, if the government's new illegal migration bill, which is being debated in parliament, becomes law.
Under the proposed bill, anyone entering the country illegally will be subject to arrest, detention and deportation and unable to claim asylum. The government has also laid out plans in the bill to remove the right of those entering the country illegally from accessing any support services currently offered to modern slavery victims.
"I'm hugely concerned that we have legislation going through parliament that will deny modern slavery victims access to support and protection that has not a shred of evidence behind it," says Andrew Wallis, chief executive of Unseen, a charity fighting modern slavery in the UK.
He says that under the proposed bill, someone like Julia who entered the country illegally could be criminalised, detained and removed before she was able to help the police and would be given no access to the support services currently available to those identified as potential victims of trafficking.
"There has been a deliberate conflating of immigration, smuggling and trafficking by this government, who are now saying that victims of serious crime will not have access to justice or the support they need purely based on the way that they entered the country, which if they are a victim of trafficking, was usually through force or coercive, deceptive or fraudulent means."
Home Office figures show that there were more than 21,000 potential victims of trafficking, slavery and forced labour reported in 2022.
Under the Modern Slavery Act, traffickers can be given a life sentence for their crimes. Yet modern slavery cases are some of the most difficult to bring to court and prosecution rates have proved stubbornly low.
Ministry of Justice data shows that in 2021 there were only 93 prosecutions and 33 convictions in cases where modern slavery was the principal offence.
Successful prosecutions rely heavily on victims such as Julia agreeing to give evidence and sticking with police investigations, which can take years to come to trial.
Parosha Chandran, a barrister specialising in modern slavery and trafficking, says that the government's attack on modern slavery support systems will drive victims underground and empower the trafficking networks that control them.
"We need to stop demonising victims by using harmful rhetoric that scares them from coming forward and also stop criminalising victims," she says. "By removing modern slavery identification rights from persons entering the UK illegally we won't be able to get any evidence at all to bring down international trafficking networks."
Cristina Huddleston, head of European operations at the charity Justice and Care, which runs a "victim navigator" programme that matches specialist support workers with police and modern slavery victims, says that already police are asking victims to take a "huge leap of faith" to disclose their abuse and agree to help with their investigations.
"From working directly with victims of trafficking when they are found by police in brothels, or nail bars or car washes across the UK, we know someone's willingness to help the police is largely reliant on them feeling safe and supported in the days and weeks after they escape their exploitation," she says. "If this bill becomes law, they lose this support and will be removed, which will just allow these gangs to continue their business with impunity."
A Home Office spokesperson said: "Modern slavery is a barbaric crime and we remain committed to stamping it out. We provide support to thousands of victims each year, and remain committed to targeting those who exploit individuals.
"Our modern slavery legislation gives law enforcement agencies the power to tackle modern slavery and imposes a maximum life sentence for perpetrators. However, it is clear some elements of our modern slavery system need reform to allow the UK to appropriately focus its efforts and resources.
"The measures introduced in the illegal migration bill will strengthen the UK's continued efforts to mitigate risks to public order from anyone who enters the UK illegally."