Humza Yousaf: continuity candidate taking over as Scottish first minister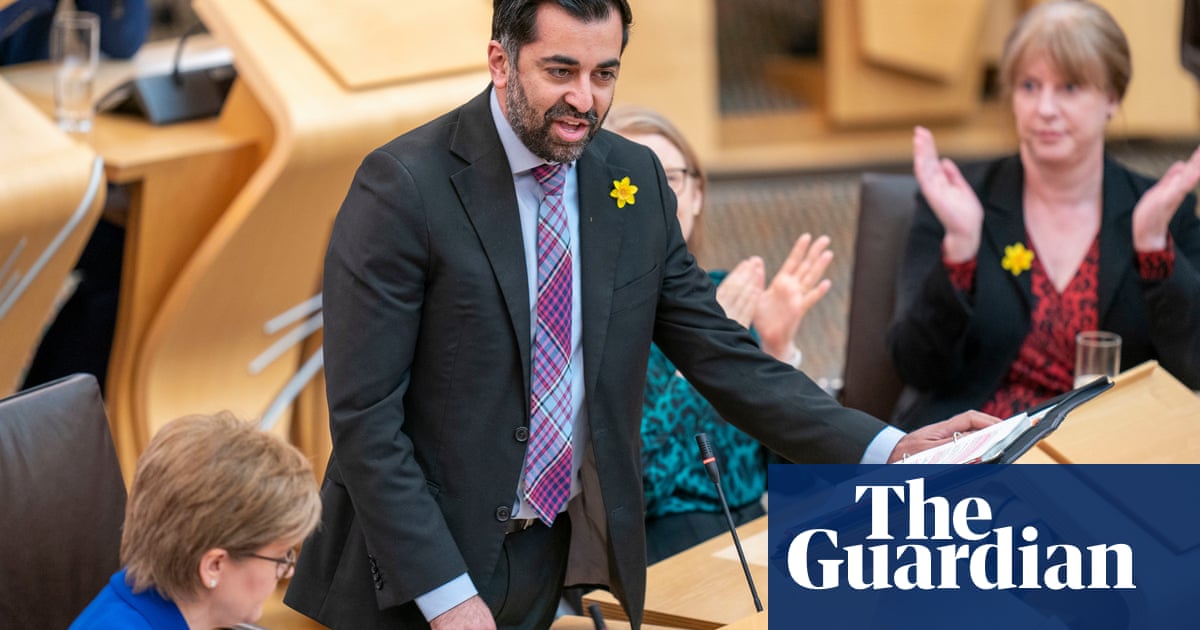 Humza Yousaf, who has become the first minority ethnic leader of the Scottish government, has had the advantage and the curse of being seen as the continuity candidate and Nicola Sturgeon's unacknowledged favourite.
Of all three candidates, Yousaf, 37, was the only enthusiast for Sturgeon's approach and earned by far the most endorsements from SNP parliamentarians and ministers, notably including Sturgeon's deputy and closest political friend, John Swinney, himself a former leader of the party.
He observed that Yousaf, who has served alongside Swinney as health, justice and transport secretary, would "strengthen the SNP as a force for progressive change in Scottish politics". Both men were co-signatories of Sturgeon's formal nomination to be made first minister eight years ago.
While Sturgeon studiously avoided openly endorsing Yousaf – even waving him off when he leaned in to speak to her on Holyrood's frontbench – the party's Westminster leader, Stephen Flynn, and Flynn's predecessor, Ian Blackford, quickly endorsed him.
That soon became a curse, however, in the shape of an electrifying attack on his record by his centre-right rival Kate Forbes during the first televised leadership debate.
Forbes, at 32 by far the youngest contender, claimed that the trains were always late when Yousaf was transport secretary; that when he was justice secretary, the police were in crisis; and in his most recent position, as health secretary, that he had overseen record NHS waiting lists.
"What makes you think you can do a better job as first minister?" she asked him. In an attack that also touched on Sturgeon's record, Forbes accused him of championing mediocrity and failure. "More of the same won't cut it," she said.
While delighting the SNP's opponents and her base, her criticisms also galvanised the leadership and influential figures within the party, such as Mhairi Black, the SNP's deputy Westminster leader. Being attacked so vigorously by Forbes, a conservative Christian critical of many of Sturgeon's most popular gender-equality policies, reinforced Yousaf's status as their flag-carrier, too.
In many ways, Yousaf represents the "new Scotland" that Sturgeon and her predecessor, Alex Salmond, have sought to project through the SNP – and he is seen as the role model of an inclusive, multiracial country and an inclusive nationalism.
He is the grandson of a Punjabi immigrant who worked at a Singer sewing-machine factory in Clydebank in the 1960s, and his father became a successful accountant and SNP activist in south Glasgow, putting his son into the city's Hutchesons' Grammar private school. Two years ahead him at Hutchesons' was another Asian-Scottish politician – Anas Sarwar, the Scottish Labour leader.
Yousaf worked initially as a parliamentary aide to the SNP's first Asian MSP, Bashir Ahmad, and then for Salmond, before becoming an MSP for the first time on the Glasgow regional list in 2011; soon after, he was picked as Salmond's minister for external affairs and international development. In 2016 he won the constituency seat of Glasgow Pollok from Labour. He has served either as a junior minister or in cabinet since 2012 and his wife, Nadia El-Nakla, is an SNP councillor in Dundee who previously worked in the constituency office of Shona Robison, Sturgeon's cabinet secretary for social justice.
Yousaf has faced racial abuse throughout his career, and also challenges during the campaign about alleged conflicts from his Muslim faith – Yousaf observes Ramadan fasts and attends mosque. He was accused of missing the final vote on same-sex marriage in 2014 after facing pressure from Muslim leaders, a charge that Yousaf denies.
Sturgeon is believed to have deliberately given Yousaf the toughest cabinet posts to harden him for leadership, and she has repeatedly defended his record, particularly on Scotland's long NHS waiting lists and record delays in A&E departments. Labour argues that Yousaf has consistently botched his job and has "failed upwards". He is prone to gaffes: perhaps exhausted by the relentless pace of the leadership campaign, in which he also openly declared himself as a republican, he jokingly asked a group of newly exiled Ukrainian women living in Scotland: "Where are all the men?"
Now he has won this intense and often acrimonious contest, Yousaf faces a bumpy premiership. His opponents will weaponise his failings in government. That curse again. But being the continuity candidate will be to his advantage, too: the ministers and advisers who built Sturgeon's election-winning government are now likely to swing behind him and may already have planned out his first 100 days.