Clark's 'mind-boggling' 41-point triple double sends Iowa into women's Final Four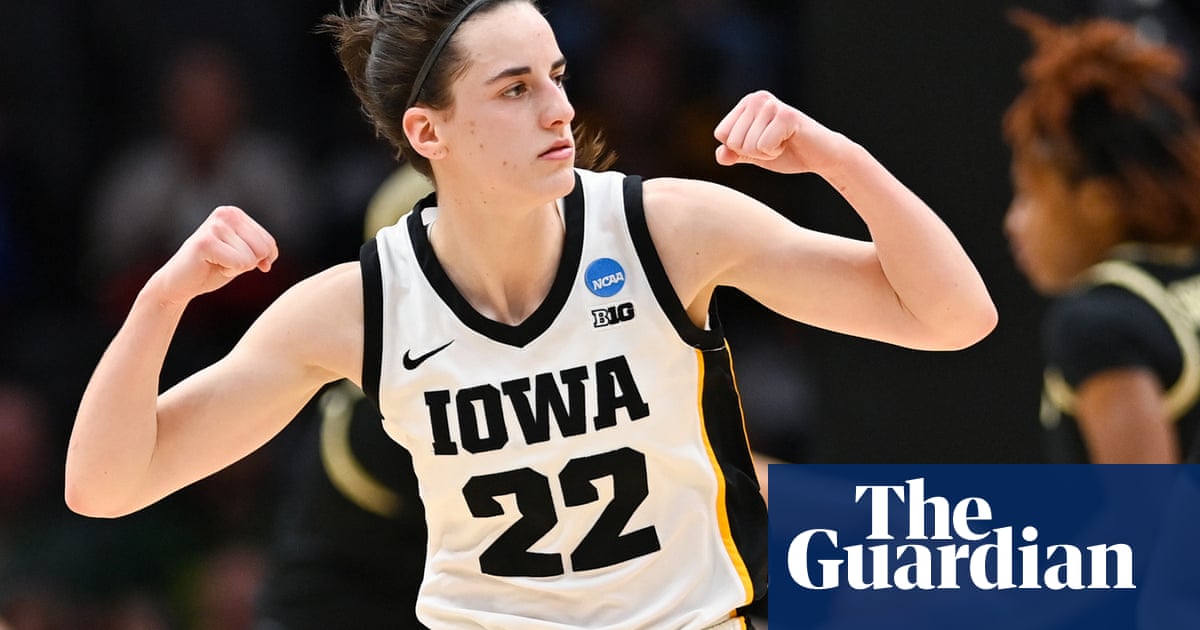 Caitlin Clark put on quite a show, with one of the greatest performances in NCAA Tournament history to help Iowa end a 30-year Final Four drought.
She had 41 points, 12 assists and 10 rebounds to lead the No 2 seed Hawkeyes to a 97-83 win over fifth-seeded Louisville on Sunday night and send the team to their first women's Final Four in since 1993. They will meet the winner of South Carolina v Maryland, who play each other on Monday night.
"I dreamed of this moment as a little girl, to take a team to the Final Four and be in these moments and have confetti fall down on me," said Clark, who is a Iowa native.
And all you've got to do is believe and work your butt off to get there. That's what I did, and that's what our girls did and that's what our coaches did and we're going to Dallas, baby."
Clark had the 11th triple-double of her career and the 19th in NCAA Tournament history. She had the first 30- and 40-point triple-double in March Madness history.
"It's like a storybook, been like that all year long," Iowa coach Lisa Bluder said. "We keep talking about destiny and how it's supposed to happen. … She's spectacular. I don't know how else to describe what she does on the basketball court. A 40-point triple-double against Louisville to go to the Final Four. Are you kidding me? That's mind-boggling."
Trailing by five at the half, Louisville cut their deficit to 48-47 before Clark and the Hawkeyes scored the next 11 points as part of a 17-6 run to blow the game open. That brought most of the pro-Iowa crowd of nearly 12,000 fans to their feet.
Louisville were down 22 with just under six minutes left before going on a 13-1 run to get within 86-76 with 2:10 left. The Cardinals could get no closer.
Clark left the game with 22.7 seconds left to a loud ovation from the crowd as she hugged her coach. After the game, Clark paraded around the court, delighting the thousands of fans who stuck around to celebrate their Hawkeyes.
Hailey Van Lith scored 27 points and Olivia Cochran had 20 points and 14 rebounds to lead Louisville.
Clark hit eight of the Hawkeyes' season-high 16 three-pointers, including a few from just past the March Madness logo. It was a school record for the Hawkeyes in the NCAA Tournament, blowing past the previous mark of 13 against Gonzaga in 2011.
Louisville scored the first eight points of the game, forcing Iowa to call timeout. Then Clark got going. The 6ft junior scored the first seven points for the Hawkeyes and finished the opening quarter with 15 points. When she wasn't scoring, she found open teammates with precision passes. She also had four assists in the first 10 minutes, accounting for every one of Iowa's points as the Hawkeyes led 25-21.
Clark continued her mastery in the second quarter, hitting shots from all over the court, including a few of her famous long-distance threes from near the logo.
"She played great, she made some big shots," Louisville coach Jeff Walz said of Clark. "She passed the ball well, we turned her over at times."
In Sunday's other game, Angel Reese had 18 rebounds and LSU returned to the Final Four for the first time in 15 years by beating Miami 54-42, carrying a rapid rise under coach Kim Mulkey straight to the sport's biggest stage.
"Coach Mulkey, she's had a plan for us, since Day One," Alexis Morris said. "This year, she had 12 players who just bought in, bought into the system. What you're witnessing right now is the result of a team commitment. We all made a commitment and we all just want one thing, and that's just to win."
LSU will face either Ohio State or Virginia Tech in Friday's national semifinals.