USC TE Malcolm Epps enters the transfer portal — what it means for Trojans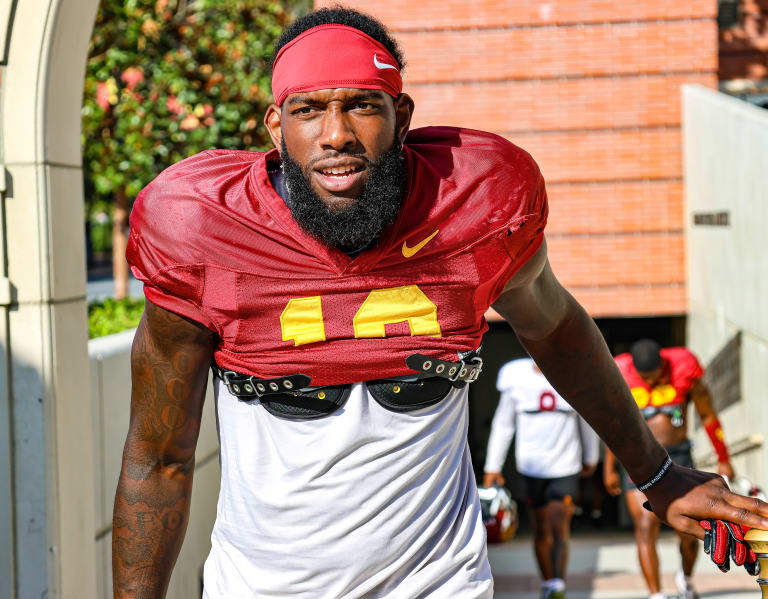 The next wave of transfer portal defections — and additions — figured to come at the conclusion of spring practice, when the portal opens back up April 15-30.
But on Wednesday, USC tight end Malcolm Epps made the announcement on Twitter that he will transfer out after two years with the program.
Epps, who spent three years at Texas prior to transferring into USC, caught 13 passes for 191 yards and 3 touchdowns in his time with the Trojans. But he was recruited by the previous coaching staff and his production/role was limited last fall as he made just 3 catches for 18 yards (2 going for touchdowns).
Epps played 159 offensive snaps in 2022, per PFF, along with an active role on special teams. He had played 268 offensive snaps in 2021.
The 6-foot-6 Epps had his best season in 2019 as a wide receiver at Texas, catching 20 passes for 232 yards and 2 touchdowns.
While most players have to wait until that next transfer portal window April 15 to formally enter, graduate transfers — which Epps will be — can do so at any time.
So what does this mean for the Trojans?
Possibly an addition to come after the spring.
USC has just three scholarship tight ends on the roster at the moment — redshirt senior Jude Wolfe, redshirt sophomore Lake McRee and redshirt freshman Carson Tabaracci, who just moved from inside linebacker to tight end this spring. Incoming freshman Kade Eldridge will join the Trojans this summer, making it four. But with how coach Lincoln Riley has in past years used both traditional tight ends and H-backs, it stands to reason he might want more depth there.
That could be mean a transfer later on or five-star tight end Duce Robinson, who is the last major prospect from the 2023 recruiting class yet to sign with a school. He has set an April 1 announcement date with the Trojans and Georgia the top two contenders.
USC also signed four-star tight end Walker Lyons in that 2023 class, but he doesn't join the program until 2024 due to a one-year LDS mission.
By our count, this leaves USC now at 86 scholarships — one over the 85 max the program will have to be at by the season. Of course, that is without being privy to all internal moves such as elevating walk-ons to scholarship (kicker Denis Lynch?) or other transfer moves already expected.
On Tuesday, Riley was asked how many transfers he thought he would bring in after the spring.
"That's hard to say because there will be more movement on the roster. You can't always predict how many more guys are going to leave. You don't have control on other guys getting in the portal, so some of that is going to depend on what's there and how many upgrades that we think are available. But we've still got a couple of scholarships open that we're going to be in the market for a couple of positions," Riley said.
"We'll see how it plays out. Like I said, it's probably a little too early to say right now. You never know when — like what happened with Jordan [Addison] last year, when a great player jumps in, you've got to look at them regardless of position. And I do think there's going to be some guys that if they do get it in are going to be pretty excited about coming in and playing on this team at this place, like we've seen here the last two years. So we'll keep an open mind. If a guy can come in and help us, we've got some room and I would expect, I think it will be more than one. I think there will be multiple opportunities here once spring ends."