England can harness pain of setbacks to overcome Italy, insists Gareth Southgate
Gareth Southgate has called on his England players to harness the pain of the recent past to inspire a triumphant future, as he prepared to kick-off his fourth tournament campaign as the manager.
England face Italy at the Stadio Diego Armando Maradona on Thursday night in their opening Euro 2024 qualifier – the name of the venue alone enough to stir the demons. As the favourite son of Naples, where he drove the city's team to their only two Serie A titles to date, Maradona's image is everywhere.
Southgate joked that he had better not talk about Maradona's history with England but he did not hide from his team's recent history with Italy, who beat them on penalties at Wembley in the final of the last European Championship.
Motivation will not be a problem, Southgate said, as he reflected on the imperative to start from scratch at the beginning of another campaign, showing focus and humility – and especially not when he and the squad remember how their previous game had ended. That was the World Cup quarter-final against France in Qatar, when they lost 2-1.
"Every disappointment is motivation, an opportunity to learn and to grow and, of course, the Euro final is additional motivation to us," Southgate said. "I am not going to deny that.
"Is it harder to refresh for a new cycle? No. The way we played in Qatar and then the disappointment of losing in the quarter-final, that generates motivation in itself. I was enthused by the reaction of the players when they arrived this week. You see their excitement at coming back together, their enthusiasm for everything again.
"It is one of the greatest challenges anybody could have, trying to get England a trophy. That's pretty straightforward. The hard part is that you have to wait 18 months to get to the point where you will actually be judged. We have to make sure we get the qualification right. We can't take anything for granted."
Southgate decided to stay on after Qatar – he is under contract with the Football Association until December 2024 – and it has been presumed that this tournament will be his last in the role. "Well, that depends if we win," Southgate said, with a smile.
Was he suggesting that he might stick around if England won their first men's trophy since 1966? "Let's hope we've got that opportunity to make that decision," he replied.
After the semi-final finish at the 2018 World Cup, then final and quarter-final at the following two tournaments, Southgate is not afraid to state that he is in this one to win. As he said about Qatar.
"You have to be careful as a player not to assume when you're younger that this might not be your last chance, as well," he said. "You're always going to think you're going to have other opportunities but injury, form, new players coming through in your position … you can never take anything for granted. Clearly the older ones know the timescale is quite clear. But everybody else has to be mindful of that as well."
According to Southgate, his players "don't need any more evidence of what's possible. They have played in the biggest games in world football bar one. And they've had results against most of the top teams."
Victory against Italy, though, has eluded them. Southgate has taken them on four times as the manager, drawing two and losing two. England have not won in Italy since 1961.
"The scenario of going to Italy, where we haven't won for decades, is a classic of the type of game that we've got to start winning," Southgate said. "If we are looking for the next step to take as a team, that is it."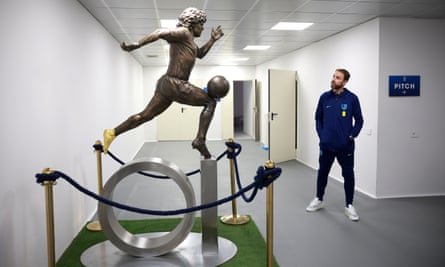 Excitement is mounting ahead of what the Italy manager, Roberto Mancini, called a "classic game." It is the first time in 10 years that Naples has hosted a senior international. The city's mayor, Gaetano Manfredi, was at the pre-match press conference; so was the Napoli president, Aurelio De Laurentiis, whose team are 19 points clear in this season's title race.
Blue lights have been shone on the city's most iconic monuments while Italy will wear a message on the inside of their shirts for Gianluca Vialli, who died in January. Mancini described him as "immortal," someone that will live forever in people's hearts and, also, an "honorary Londoner" – after his success at Chelsea.
Southgate said: "I remember the Napoli team that won the first two titles, with Maradona and Careca. I've never been to Naples before and the history of the football is so rich here. I'm looking forward to a special occasion."