Sturgeon's successor will inherit 'mess' of SNP at war with itself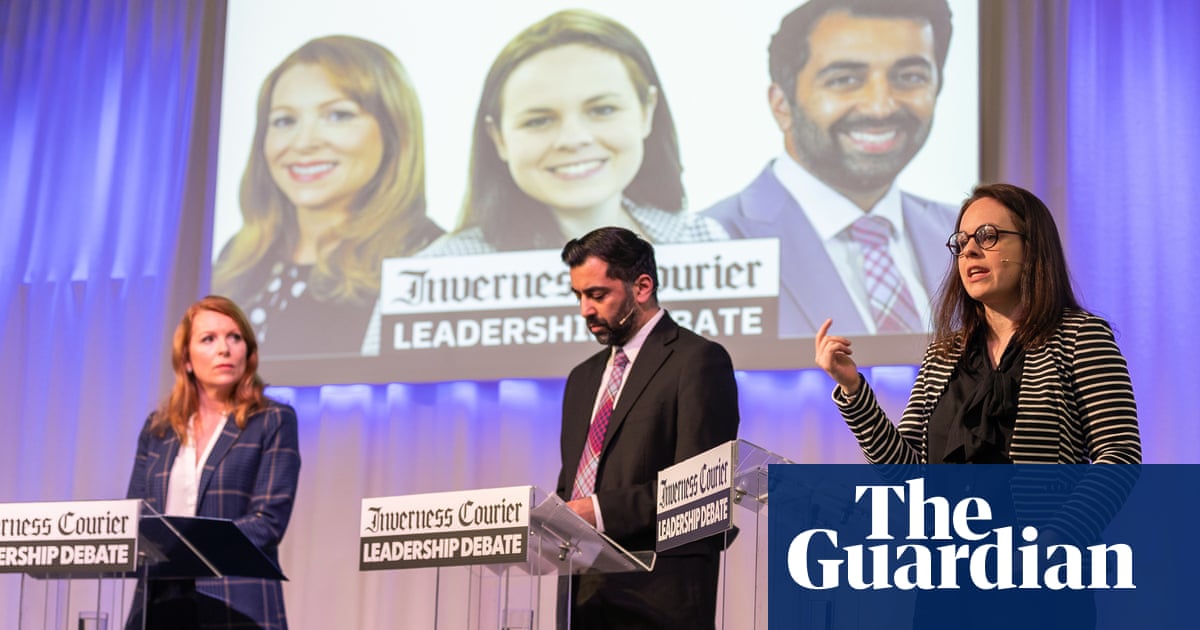 They are phrases the Scottish National party once happily used as attack lines against the Conservatives and Labour: "tremendous mess", "unedifying" and "spectacularly wrong".
Yet they came from the SNP's new acting chief executive and its president, Mike Russell, and he was talking about his own party. "I think it is fair to say there is a tremendous mess and we have to clear it up," he told the BBC on Sunday.
After three dramatic days, the party once admired, feared and envied for its extraordinary discipline is now in crisis. In the weeks since Nicola Sturgeon announced she was quitting as party leader and first minister, a once impregnable political edifice suddenly seems close to collapse.
Look at the sequence of events that led to the resignation of Peter Murrell, Sturgeon's husband and the SNP's chief executive for more than 20 years, and Russell's hurried appointment as his interim successor.
In simple terms this was about transparency. Over recent weeks, press inquiries about suggestions the SNP had been losing tens of thousands of members had been met with scathing denials from party spin doctors. They were dismissed as "drivel" and "plain wrong". Yet the questions continued. The Sunday Mail first reported 30,000 people had recently quit; the Mail on Sunday then said the polling firm handling the leadership ballot had been given the names of 78,000 members.
Under growing pressure for clarification from all three candidates – Ash Regan, the outlier, Kate Forbes, a viable contender for leader, and a more hesitant Humza Yousaf, the frontunner and Sturgeon's favourite – Murrell was forced to release the actual membership figure. The SNP admitted on Thursday it stood at 72,186 – far below the 104,000 the media had been consistently told was the figure to use, or indeed the 125,000 members it had at the peak of Sturgeon's dominance in 2019.
That revelation triggered the resignation on Friday of Murray Foote, the widely respected head of communications for the SNP's group at Holyrood and a former Daily Record editor; Foote said, in effect, he had been sent out to lie by "his colleagues at party HQ".
On Saturday, the Herald reported that the SNP's normally loyal national executive committee had issued Murrell with an ultimatum – quit or face a no-confidence vote. That signalled too that resentment about Sturgeon's monopolisation of control in the party, often exercised by her husband, had reached a critical level. Murrell, who said he had always planned to stand down once the new leader took over, quit.
That decline in membership also has much wider significance: about 55% of the SNP's income in recent years has come from member subscriptions. It also relies heavily on fundraising drives and state subsidies: large donations are rare. Its last published accounts, for 2021, show it had an operating deficit of £750,000 and debts of £1m. And that was when it had 104,000 members.
That is likely to have a profound impact on the SNP's capacity to fight the next general election, expected to take place in early 2024, when it will face a Labour party increasingly confident it can regain many of the Westminster seats it has lost to the SNP since 2015.
It adds hugely to the challenge facing the next leader as they seek to rebuild the party and attract donors. What will they inherit? A party riven now by ideological conflicts, over the role of tax rises – Forbes told the Guardian she would not raise income tax to fund government spending; over Sturgeon's progressive social changes – changes that Forbes and Regan have either distanced themselves from or repudiated; over the best strategy for achieving the SNP's core ambition of independence – none of the candidates has a concrete or coherent plan for that; and over Sturgeon's historic alliance with the Scottish Greens – a deal that only Yousaf has committed to preserving.
To add to the intrigue, there are also suggestions the transparency crisis was engineered, in part at least, by Alex Salmond, Sturgeon's former mentor and now her bitter enemy. Regan is seen as Salmond's ally or at worst, his proxy candidate. Regan's campaign manager is Kirk Torrance, one of Salmond's closest former associates.
This is not the dowry Sturgeon had expected to hand her successor, a party at war with itself.