From city centre to riverside idyll, the massacre of our sylvan treasures has to stop | Henry Porter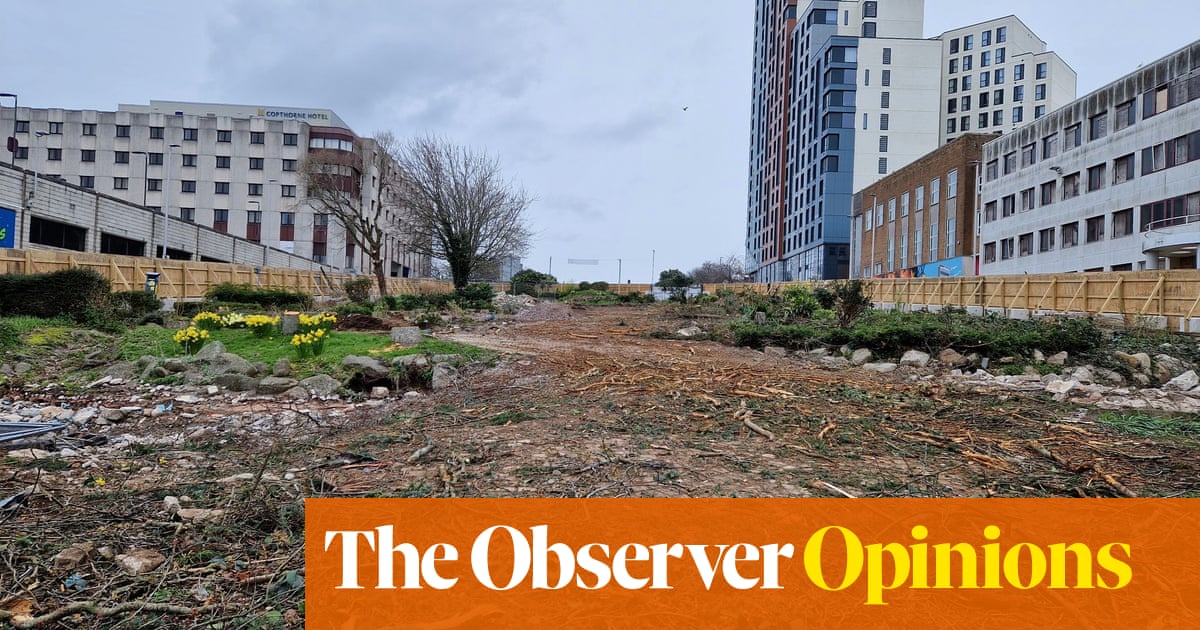 Last Wednesday morning, the people of Plymouth woke to a scene on the city's Armada Way that looked very much like a landscape ravaged by war, trees felled and uprooted as if by artillery shells. And the shocking part was that the felling of more than 100 trees was plotted in secrecy and executed at night by the very people who are meant to love their city, protect its environment, and honour the wellbeing and wishes of its inhabitants – the local council.
No surprise in that, you may say, but what happened in Plymouth was a singular example of bad faith, a betrayal and an act of contempt towards Plymouth's citizens. The damage done to the environment and to trust is unlikely to be reversed for many years.
The trees are gone and all the council's pleading about mitigation, modernisation and bringing growth to the city will do nothing for the loss of habitat or to the unspoken daily pleasure that thousands upon thousands of people will have taken from the changing seasons in Armada Way. More than 16,000 people signed a petition to save the trees. They might as well not have bothered. The Conservative council leader, Richard Bingley, and his party were plainly always going to ignore them.
It is a familiar pattern. In a report by Sir Mark Lowcock into the mass felling of Sheffield's street trees published this month, he reveals how the clueless misunderstanding of a tree survey led to a years-long battle between Sheffield city council and residents who were desperate to save 17,500 trees that meant so much to them. Between 2016 and 2018, there were 40 protests and 41 arrests. The Labour council lied, deceived the high court, considered killing trees by ring barking and descended to a place where only its chopping down trees and its lunatic need to prevail mattered.
It is the raw material for a story by Richard Powers or Margaret Atwood and it goes on everywhere. In Wellingborough, Northamptonshire, a beautiful line of limes was recently taken down for a road expansion scheme. Euston Square, in London, has just lost its plane trees to HS2, which, by the way, is responsible for an appalling toll of mature trees, particularly oak, across the land.
I felt this stomach-churning loss the other day when my brother Michael messaged me with pictures from the village where we grew up. A local farmer had just levelled all its poplars and willows because of health and safety concerns – for which reason, of course, every tree in the open countryside, like these, might be felled.
It's a bitter loss but not as severe as that experienced by those in cities where trees are landmarks filled with meaning and connect people to the seasons and nature in ways that are rarely grasped by men such as Bingley, who, to be candid, probably can't tell his ash from his elbow.
Arguments of necessity, whether for road schemes, health and safety or new homes, always win. But we've surely reached the point where the need for trees cannot be dismissed as mere sentiment. As David Attenborough's current Wild Isles series reminds us, nature is in crisis. Flying insects have fallen by as much as 60% in the UK in 20 years.
The bird population is in catastrophic decline, with some species suffering losses of 70% to 95% across the past 50 years (sparrow, corn bunting, willow tit, spotted flycatcher, starling and turtle dove). In 20 years, the number of species on my bird feeders is down by between 50% and 60%.
The crisis is happening in real time, in front of our eyes. We need much stronger controls on tree felling and mechanisms to ensure that city dwellers can properly defend their trees when they feel minded. Trees should be given the listed status of archaeological sites and beautiful buildings, and this should be inviolate.
And we need to get angry, angrier than we have ever been, to persuade local politicians and bureaucrats of their duty to us and to nature.
Perhaps there is nowhere better to start than at Cambridgeshire county council's meeting this Tuesday, when the Lib Dem-Labour coalition considers the plans for the Cambourne-Cambridge busway, which, at a price of £200m, will carve through green-belt land, irreversibly damaging the landscape, the calm of a US servicemen's cemetery and, crucially, the unique habitat of Coton Orchard.
The Coton Orchard, bought by Albert Gazeley in 1996, is very special. With 1,000 trees, some planted a century ago, it is one of the largest and oldest orchards in the country and has a unique ecosystem of insects, birds and flowers, which cannot be replicated in what councils like to term "mitigation". There is simply no mitigation to the kind of destruction proposed.
The proposed route of the off-road busway ends at the David Attenborough Building in Cambridge. There could be no grimmer irony if this wasteful scheme is greenlit. Let the Coton Orchard be!
Henry Porter is a writer and journalist specialising in liberty and civil rights