Death of 'world's loneliest orca' celebrated for helping change law
Sometimes known as "the world's loneliest orca", Kiska the killer whale spent more than four decades in captivity at MarineLand, a theme park in Niagara Falls, Canada.
For the last 12 of those years, despite wild orcas being social and intelligent animals that live in tight-knit family pods that hunt together and communicate through underwater clicks and calls, Kiska swam alone, in a featureless tank, with no calves, mate or mother by her side. She was the last captive orca in Canada.
In one of the last recorded videos of her, she drifts listlessly in aquamarine water as a boy behind the glass wall tries to get her attention. "Kis-kaaa! Kis-kaa! Kis-kaaa!" he calls as the whale floats by, seemingly oblivious.
But while the Ontario government's announcement that Kiska had died in captivity last week, reportedly from a bacterial infection at an estimated 47 years old, was received with widespread grief, marine activists also credit the whale with inspiring tangible change in protection for marine animals.
Kiska's death comes four years after Canada passed bill S-203, banning the captivity and breeding of whales, dolphins and porpoises. Although the new law was too late for Kiska – individuals already in captivity were excluded from protection – activists say her story was instrumental in drawing public attention to the plight of captive marine mammals.
Since the bill, campaigners had been working hard to free Kiska, protesting on the streets of Niagara Falls, lodging legal complaints and drafting plans to secure her release from MarineLand.
"When I heard that Kiska died, I just bawled, which I almost never do," says Camille Labchuk, executive director of the Toronto campaign group Animal Justice.
"It's frustrating for so many people because it felt like we were so close to being able to get her out and she just couldn't hold on long enough."
Captured off Iceland along with Keiko, the orca in the film Free Willy, in 1979, Kiska was soon transferred to MarineLand, where the two orcas lived together. Keiko was later sold to a Mexican entertainment park, then finally rehabilitated and released back into her Icelandic home waters.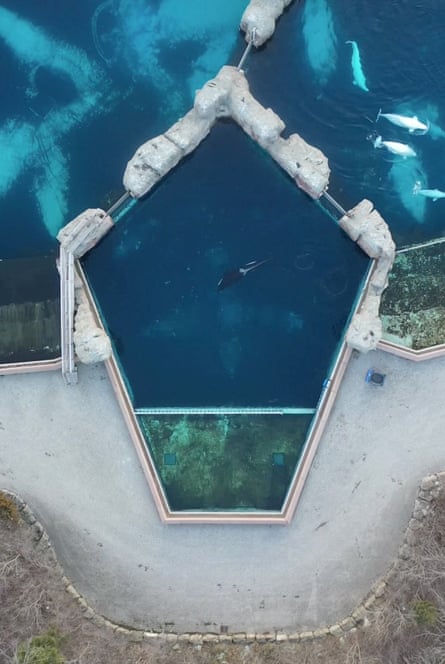 Kiska, however, remained at MarineLand, where she gave birth to five calves, none of which survived. Her final tank mate was Ikaika, son of Tilikum, the whale that killed three people and featured in the 2013 documentary, Blackfish.
"There were times when we had to separate them because Kiska needed a break," says Christine Santos, a former trainer turned activist who worked closely with the two whales. "She just wanted to get away from this young male who just kept going at her." In 2011, Kiska got her reprieve when Ikaika was flown back to California and his original owner, SeaWorld. No replacement was brought in for Ikaika and so began Kiska's long period of isolation.
For years, accusations of substandard animal care dogged MarineLand. In 2012, the Toronto Star published a series of stories in which eight former staff members, including Santos and her partner, Phil Demers, alleged that poor water quality and insufficient staffing caused animal suffering at the park. Lawsuits flew back and forth between activists and the theme park, and the government launched various investigations.
Since January 2020, Ontario's Provincial Animal Welfare Services has inspected MarineLand 160 times.
In a statement, MarineLand said its "marine mammal care team and experts did everything possible to support Kiska's comfort and will mourn her loss", and did not return requests for comment.
Kiska's health appeared to be declining in her final years. In the summer of 2021, Demers posted the video of a listless Kiska as the boy calls to her, then in October another of the orca bashing her head against the walls of her tank.
Efforts to free Kiska at the time failed. A proposed whale sanctuary in Nova Scotia has not become operational, while plans to move her to an aquarium with other marine mammals did not materialise.
Animal Justice is calling on the Ontario government to release the results of Kiska's postmortem examination, and Demers is pushing for the remaining animals at MarineLand – including belugas, dolphins and sea lions – to be removed.
"There's very little positive to take away from Kiska's death, but a lot of animals have died similarly, whereas at least she will be recognised as the last, and the orca that largely created and inspired bill S-203," says Demers.