Protesters denounce 'kangaroo court' after high-stakes Texas abortion pill hearing
Dozens of protesters were gathered outside the JM Jones federal building in downtown Amarillo, Texas.
Holding aloft signs that read "Defend Medication Abortion" and "Not Your Uterus, Not Your Opinion", they chanted "My body, my choice" as passing cars honked in support and court security guards looked on.
As they stood on the busy street corner, a truck sponsored by the women's advocacy group UltraViolet circled the block, displaying a large banner reading: "A majority of Americans support abortion access. Judge Kacsmaryk, you can't hide from us."
The occasion for the protest was a four-hour hearing held earlier in the day by Judge Matthew Kacsmaryk, in a lawsuit challenging the Food and Drug Administration's approval of the abortion drug mifepristone. The Women's March organizers who planned the protest lamented the fact that the hearing hadn't been publicized until Monday evening, preventing more protesters from traveling to the remote Texas city, which is roughly an eight-hour drive from Austin and a five-and-a-half hour drive from Dallas.
Citing threats to the court, Kacsmaryk had sought to keep the hearing secret to minimize public attention, a delay that prompted outrage from media groups who said his efforts were unconstitutional and contravened the public's right to access highly consequential court proceedings. The controversial case could severely curtail medication abortion nationwide and throw the FDA's authority to regulate drugs into disarray. Kacsmaryk said during Wednesday's hearing that he would rule "as soon as possible".
Despite the late notice, about 30 demonstrators from the Texas Panhandle and neighboring eastern New Mexico turned out.
They were eager to show that Texans support medication abortion, but a number noted that doing so comes with social and physical risks in a deeply conservative area with lax gun laws.
"You really do have to think your job and your family," said Harper Metcalf, a 34-year-old Amarillo resident and member of the Women's March Amarillo, who wore sunglasses and a face mask to prevent anyone she knew who might be driving by from recognizing her.
Mario Mireles, a professor of microbiology at nearby Amarillo College, also donned a face mask and sunglasses. It felt "a lot riskier here", he said, than when he had attended protests at the supreme court in Washington DC last year.
Lindsay London, a registered nurse and mother of two, had an explanation for the caution: "Anyone and everyone can have a firearm here."
Amarillo residents were joined by demonstrators from Eastern New Mexico Rising, a progressive movement based in the nearby New Mexican towns of Clovis and Portales, who turned out to show their support and in recognition of the fact that Kacsmaryk's ruling could affect the entire nation, including residents of states like New Mexico where abortion access is protected.
"I served this country to protect our rights, not to have them abolished," said Derek White, a 29-year-old member of Eastern New Mexico Rising, who served in the air force for six years, including on deployments to Afghanistan and Iraq.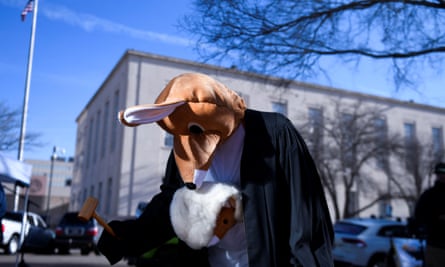 "For every one of us who's here, there's three or four people who are scared to be here," said Victoria Robledo, a member of Eastern New Mexico Rising. She had called out of work to make it to the demonstration, bringing her four-year-old son and three-month-old baby – who, she says, has attended many other protests.
If Robledo's baby was the youngest participant, 80-year-old Janda Raker might have been the oldest. A longtime reproductive rights organizer, Raker collaborated with the Dallas-based TEA Fund for six years, to help anyone who called the organization's helpline – whether by funding their abortion care or driving them the four hours to Albuquerque in neighboring New Mexico for their procedure. She says she vividly remembers a time before Roe when unmarried women couldn't access contraception.
Since Texas banned abortion care, Raker says she can no longer do that work, but is eager to show her support by demonstrating.
Organizers encouraged protesters to don kangaroo costumes in a denunciation of what they view as bogus legal claims before a highly ideological judge known for his anti-abortion views. Jaime Cruz, 23, heeded the call, arriving in costume and with a gavel in hand. "What's going on in there is unconstitutional, so we're showing the circus that's going on inside, outside," he said.
"One of Trump's lasting legacies is all of his court appointees and that's made crystal clear with Kacsmaryk cherry-picked to make this decision," said London, the registered nurse, in reference to allegations that the plaintiffs effectively chose to file in Amarillo to ensure their lawsuit would appear before Kacsmaryk. "I want to believe he's giving justice a fair chance, but I have a feeling he's made up his mind."