Bonaccorsi leads Pitt into Day 1 of NCAA tournament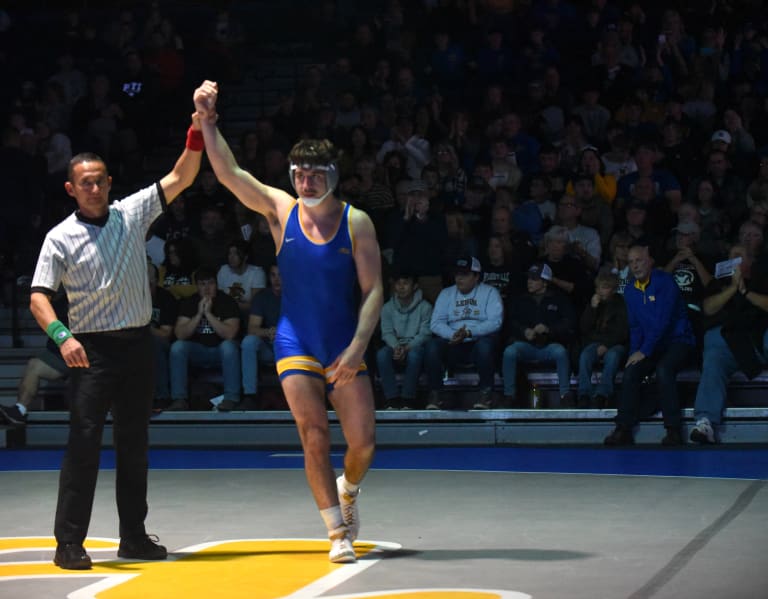 Nino Bonaccorsi is Pitt's first No. 1 seed at the NCAA Division I Wrestling Championships since Keith Gavin won the 174-pound title in 2008, but that doesn't mean he'll have an easy path when the tournament begins on Thursday morning in Tulsa, Oklahoma.
He's 10-0 against the field, but his path could include: a three-time NCAA qualifier in the first round (Penn's Cole Urbas), a Greco Senior World Team member in the second round (Wisconsin's Braxton Amos), the defending NCAA champion in the quarterfinals (Penn State's Max Dean), a returning All-American in the semifinals (Lehigh's Michael Beard) and the returning NCAA runner-up (Iowa's Jake Warner) in the championship round.
Bonnacorsi's weight is so crazy that last year's finalists – Dean and Warner – are the ninth and 14th seeds this year.
"I think that's just his weight class," said Gavin, now Pitt's head coach. "There are probably 15 guys at that weight that are legitimate contenders. It's not only his weight. College wrestling is in a great spot.
"It's kind of across the board there's a lot of parity. We knew there were a lot of guys and we'll see how that shakes out."
Bonaccorsi's weight is one of the most intriguing brackets in the tournament. A 2021 runner-up with a 16-0 record, he was an easy pick for the top seed. He's 10-0 against the field this season, with victories over No. 5 (Beard), No. 6 (N.C. State's Isaac Trumble, twice), No. 11 (Maryland's Jaxon Smith), No. 12 (Illinois' Zac Braunagel), No. 13 (Iowa State's Yonger Bastida), No. 21 (Virginia Tech's Andy Smith), No. 25 (Virginia's Michael Battista, twice) and No. 32 (North Carolina's Max Shaw).
Even crazier is the fact that at some point in his six years at Pitt, Bonaccorsi has beaten No. 16 Owen Pentz of North Dakota State, No. 22 Levi Hopkins of Campbell, No. 19 Cameron Caffey of Michigan State, No. 26 Gavin Hoffman of Ohio State, No. 27 Nick Stemmet of Stanford and No. 30 Andrew Davison of Northwestern. That means he has wins over 14 of the wrestlers in this bracket.
Of course, he's also lost to No. 3 (Rocky Elam of Missouri), No. 6 (Trumble, twice), No. 9 (Dean) and No. 26 (Hoffman).
All of which is to say that Bonaccorsi's been around a long time – he's a five-time NCAA qualifier – and wrestled a lot of good guys.
Bonaccorsi is one of six Pitt qualifiers, and Gavin knows that all will need to wrestle very, very well in order to place.
"I don't think anybody has it easy," Gavin said. "All of our guys have really tough matches, if not first round, then the second round. But that's the national tournament. You can't look too far ahead. You have to go about your business."
Cole Matthews, the third seed at 141 pounds, is 8-1 against the field this season. His first two matches look winnable – although he did need overtime in last year's tournament to beat Columbia's Matthew Kazimir, who is the 19th seed and could match up with Matthews in the second round. The real challenge is likely to come in the quarterfinals against Penn State's Beau Bartlett.
A victory there could give Matthews a rematch with Northern Colorado's Andrew Alirez, who beat him in the NWCA All-Star Classic. That's considered an exhibition match, so Matthews' only loss according to the NCAA was to West Virginia's Jordan Titus. That setback doesn't look quite as bad now, as Titus qualified out of the Big 12 and is the No. 29 seed.
"He's been very consistent," Gavin said of Matthews. "He had one misstep, but other than that, he's been very consistent this year. His weight has a lot of guys that are good wrestlers that he'll see early on. He's ready to go. Cole is usually pretty good on the big stage. We're excited for him."
As the ninth seed at 133 pounds, Micky Phillippi is projected to just miss out on a podium finish, which would be heartbreaking after three previous blood-round losses and the canceled tournament in 2020 when he was 25-1 on the season. Phillippi has Oklahoma's Wyatt Henson – a Waynesburg Central product – in the first round and could face Minnesota's Aaron Nagao in the second round. A second-round victory would likely pit Phillippi against two-time NCAA champ Roman Bravo-Young of Penn State.
Gavin said he's working to have Phillippi mentally prepared.
"For him, it's about reminding him that he's been there before, not just at nationals, but he's been in big matches his whole life. Ever since I've known Micky, he's been winning tight matches. This is nothing new to him. He's going to be in some heaters, but it's nothing he hasn't experienced before."
Holden Heller, the 20th seed at 165, already has a Penn State matchup in No. 13 Alex Facundo. At 184, No. 16 Reece Heller will face Lehigh's Tate Samuelson, the No. 17 seed.
"He's wrestling well right now," Gavin said of Reece Heller. "He's got the Lehigh kid who he beat early in the year, but he hit him in a big move right off the bat.
Luca Augustine is the lowest seeded Panther at No. 28. He'll face fifth-seeded Dustin Plott of Oklahoma State in the first round. The redshirt freshman is just 1-7 against the field, but five of those losses came by one takedown or less.
"He's a bad draw because he's annoying to wrestle," Gavin said of Augustine. "Even on bottom, he gets to his feet in one second. He's got a lot of stuff that is hard to teach people to do. He has intangibles. He's always in your face, never gives up."
Gavin said after the ACC Tournament that he thinks this group can score a lot of points in the team race, and he reiterated that this week.
"I think we could definitely have a better tournament at nationals, because we really believe in our guys," he said. "The guys are excited to go."