'So many working parents are screwed': mothers on Britain's childcare costs
Joanna Jayarajan, 41, a self-employed mother of two from London, is one of many thousands of working parents in Britain for whom the current childcare offer simply does not work.
She used to work five days a week providing extracurricular activities in schools and nurseries, until she lost her last au pair a year ago, and subsequently a chunk of her income (her wages more than offset the cost of the childcare).
"I can now only work about three days a week, because I have my seven-year-old every day after school. My two-year-old is with two different childminders, but my older one has been on a waiting list for after school club since January 2022.
"My work requires flexibility, and like for other people who work shifts or irregular hours, au pairs previously provided affordable, flexible childcare. But since we left the EU, it has been impossible to find an au pair as the pool of legal candidates is limited to very few.
"I now have to work less, because I don't have anyone who can help. My parents are not well enough, so I have to beg favours from other mums or from my babysitter to plug the gap."
Jayarajan says she would use babysitters, who cost £15 an hour locally, more frequently if the government provided financial assistance for childcare that is not Ofsted-registered.
"I know so many parents, especially in the medical field – GPs, nurses, midwives – who are basically screwed because of the lack of flexible affordable childcare. My friend is training as a midwife, she's got three kids and was thinking about sending them to her in-laws in Cyprus so she can work her shifts."
Pressure is building for the chancellor, Jeremy Hunt, to announce some help for hard-pressed parents in Wednesday's budget.
Jayarajan is one of dozens of parents who got in touch with the Guardian to share that they are finding Ofsted-registered childcare in a formal setting either unaffordable or unavailable when they need it, and have to ask family for help, self-fund informal arrangements with babysitters they do not have to pay during holidays, or work fewer hours.
Professional childcare is more expensive in the UK than in any other developed nation, according to the Organisation for Economic Co-operation and Development. A couple earning two-thirds of the average income, with two children aged two and three, can spend 29% of their salary on childcare. That compares with 9% in France and 1% in Germany.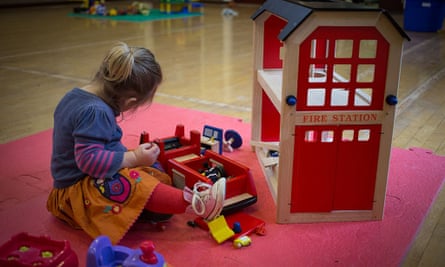 A combination of the pandemic and the government's decision not to fully reimburse nurseries for the cost of providing free hours to two and three-year-olds has driven many nurseries out of business. Even for families that can afford it, professional childcare is not always available, particularly wraparound care for school-age children, ranging from breakfast to after-school clubs.
The childcare crisis has exacerbated another problem on Hunt's to do list – a lack of workers to fill job vacancies. According to the Office for National Statistics, more than 1.7 million working-age adults in the UK stayed out of paid work in order to look after family members in the last quarter of 2022 – while as many as three-quarters of firms in Britain have struggled to recruit workers over the past year, with more than 1m vacancies nationwide.
Andrea Leadsom, the Tory MP and former leadership candidate who has advised the government on early years policy, last month proposed the idea that parents should be allowed to use government childcare subsidies more flexibly in future, including for childcare provided by grandparents and unregistered babysitters.
"I think that we need maximum flexibility for parents' decisions about their own childcare needs," she told PoliticsHome.
"I'd also like to see more informal childcare supported, so that when grandparents take on caring responsibilities, they can be helped to do so. I'd love to see a real huge surge in childminding because quite often for very young children a home setting is the right answer."
Jen, a business manager from Glasgow, would greatly benefit from such a scheme, and save thousands of pounds a year.
"My mother looks after our son two days a week. It costs us about £500 a month as we pay her the average childminder rate for our area. We chose this as we thought a blended model of childcare, including nursery, a day with me and these days, would benefit my son.
"My mother cares for him one day at her house and one day at ours, which also allows me greater flexibility to see him at lunchtime and immediately before and after work."
Kat, 42, from Sheffield, was among a number of parents who said they have only been able to keep their jobs because grandparents stopped working or reduced their hours to look after their children.
"Between my maternity leave ending and my boy starting school, he was looked after by myself, my husband, my retired dad and my mother-in-law, who changed her work pattern – reducing her income – to help us," she said.
"We're really lucky that family live close by and were willing to drop everything for us; we couldn't have afforded the childcare if we had had to pay."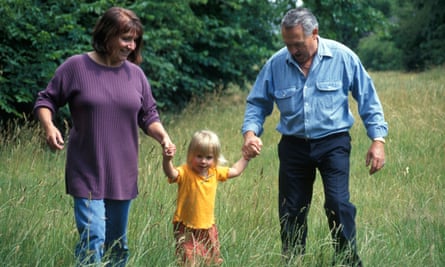 For Cate, a single mother on universal credit from Brighton who until recently paid more than £1,100 a month for a babysitter she found on an app, the ability to claim back some of her informal childcare costs would be "a godsend".
"I had to give up my job because I just couldn't afford paying for childcare any more, not without a shred of government support," the 33-year-old said. "I worked evenings in hospitality, so nurseries and childminders wouldn't be an option, plus they are too expensive anyway.
"If I'd been able to claim government funding for babysitters, I could have stayed in my job. It would change my life completely, I could build a career. This way, I'm just stuck, waiting, until my child goes to school."
Other parents would prefer cheaper and more accessible Ofsted-registered nurseries or childminders instead.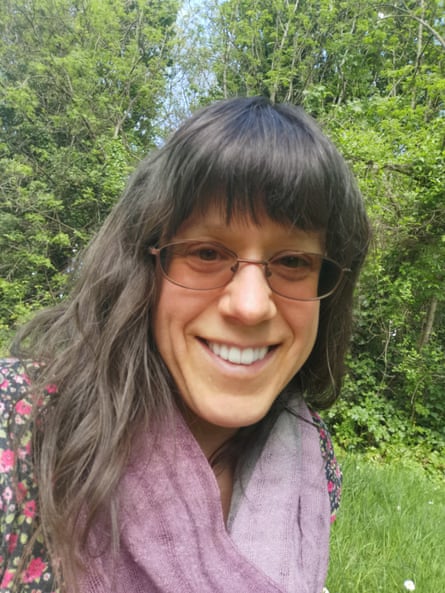 Susanne, 42, a freelancer and mother of two from Bristol, worries about the quality and safety of childcare provided by sitters without DBS checks and training, inexperienced teenagers or elderly family members.
"My in-laws have looked after my children for one or two days a week for years, I know I can depend on it.
"But as they are getting older, I do have safety concerns, particularly with my elderly father-in-law driving. I'd rather this whole ridiculous childcare system got fixed."
* Some names have been changed