Horny, horrifying and unhinged: why Vanderpump Rules is the best reality show of all time
For the past 10 days, reality TV fans have been gripped by a scandal that is equal parts vile and delightful. Two cast members of the show Vanderpump Rules – Tom Sandoval and Ariana Madix, who have been together for almost a decade – split after Madix learned Sandoval had been having an affair with their castmate and friend, Raquel Leviss. Leviss then alleged that another castmate, Scheana Shay, punched her in the face when she found out (Shay denies this); Leviss was granted a temporary restraining order against her, and the cameras began rolling again to squeeze all this drama into the latest season, currently airing on television.
If all of this means nothing to you, now is the perfect time to start watching Vanderpump Rules, the greatest reality show of all time.
I say this as a recent convert who only began my own #PumpRules journey three-ish months ago, and, in that time, has binged almost seven seasons. (I did the maths and that puts me at an average of 9.6 episodes a week, which explains why I haven't done any work on my book lately.)
The show was first sold to me as "a group of hot people working at a restaurant hook-up with each other lots", and that, in turn, is how I now describe it to others.
But to really understand what is so great about Vanderpump Rules, you have to understand its genesis: as a spin-off to the Real Housewives of Beverly Hills, another reality TV favourite.
Lisa Vanderpump, an original "housewife" on that series, is a restaurateur and a shrewd operator who correctly identified that the staff at one of her Los Angeles restaurants, SUR (it stands for Sexy Unique Restaurant), would make a great reality cast. Vanderpump pitched the idea to the television network Bravo, reportedly by drawing a diagram of all the different hook-ups, break-ups, cheating incidents and fights going on among her employees.
This origin story is crucial, because most reality shows are "cast" – which is to say producers hunt for interesting personalities who are usually strangers to each other and throw them together in the hope of igniting drama. Vanderpump Rules is different.
At the outset, there are three main couples at the centre of the show, all of whom have been together for years before the cameras turned up and share a real-life tight-knit friend group. All of the infidelity revelations, break-ups, falling-outs and bitch-slaps that follow are very real and completely gripping, nary a "produced" plotline in sight.
You will watch in horror as the group is rocked by spectacular betrayal after spectacular betrayal, including one cast member cheating on his partner with a home-carer while her 95-year-old patient was allegedly asleep in the same room. (His name is Jax Taylor, and I believe he needs to be studied by science).
I personally feel that Vanderpump Rules proves the existence of God – could a group of people so hot, so horny and so unhinged really begin working together randomly? It must be divine intervention.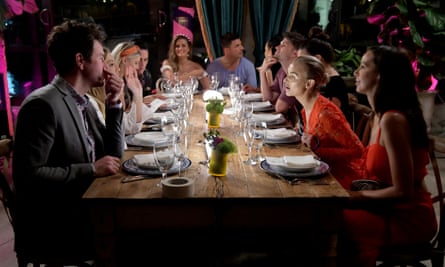 And while many reality shows – Housewives included – can take a few seasons to warm up, Vanderpump Rules is immediately excellent, with the first big bust-up happening in episode two. The first two seasons are widely regarded as the show's best but the first six are all, as the kids say, "God-tier".
The show is currently on season 10, so you won't catch up in time to catch the current #Scandoval saga if you start now, unless you truly give up on going outside for a while. But by the end of season three, you'll at least have context for this affair feels so much more shocking than everything that's come before it.
Some tasting notes: I recommend supplementing your viewing journey by listening to Sexy Unique Podcast, who have life-enriching recaps of the early seasons available on their Patreon. Don't beat yourself up if you feel attracted to Jax in the first couple of seasons – it will pass. Avoid Googling the cast or checking their social media accounts if you don't want to see spoilers. And don't go in expecting to find a hero to root for – this is an all-villains cast.
As Lisa Vanderpump recently said in an interview, while defending Shay's alleged reaction after she learned of her friends' affair: "Her feelings would be running really high … you forget it's not just a show." Exactly – and that's what makes Vanderpump Rules so brilliant.