Awesome Erling Haaland hits five as Manchester City demolish RB Leipzig
It was the moment when RB Leipzig's shattered players could exhale. There were 62 minutes on the clock and a bright, red No 9 on the Manchester City substitutes' board. For the German club, the ordeal was over. Erling Haaland was coming off.
As City's wrecking ball of a centre-forward departed, a broad smile on his lips, there was a slightly awed burst of applause from all sides, Pep Guardiola joining in on the touchline. Haaland had previously scored four hat-tricks in City colours during a season in which he has relentlessly dismantled records. But five in one game? And a Champions League last-16 tie, at that?
This was extra special and everybody knew it. When Haaland scored his fifth and City's sixth, extending the fingers and thumb on one hand and asking the fans to count them, his father, Alfie, celebrating wildly in the stands, it gave him 39 goals for the season; a new club record – taking him past Tommy Johnson's 38 from 1928-29.
What this masterclass of bullying power, hard running and lethal shooting did was send a message across Europe. Guardiola has been getting closer to the holy grail of a Champions League win with City, a final and a semi-final in the past two seasons. With Haaland now on board, the possibilities are tantalising, especially with the business end of the tournament looking so open.
City equalled their record win in it – the 7-0 against Schalke from 2019 – when Kevin De Bruyne curled home a stoppage-time beauty. De Bruyne was very good on his return to the starting XI but this was an occasion that was transcended by one man.
It was Haaland's 36th appearance for City and the club will play a minimum of 14 more games in all competitions before the end of the season; a maximum of 19 as they chase glory in the Premier League, the FA Cup and this competition – the one that they crave. Goodness knows what his numbers will look like when it is all over.
One of the things about Haaland is that he is plainly having so much fun – witness the goal celebrations, even the grins after he goes close; the same when he watched from the bench here after his withdrawal and, obviously, when he wandered off with the match-ball. He almost took home two.
But it is the remorselessness that underpins everything, the desire to chase causes which appear lost, to put himself about and make things happen. Once the chance is there, it normally means only one thing. And if it does not, it probably will do the next time.
Haaland's second goal was the perfect illustration of his hustle, athleticism and predatory instinct. He forced the Leipzig goalkeeper, Janis Blaswich, to rush a clearance and, when Manuel Akanji volleyed back from halfway, Haaland twisted to nod back to De Bruyne. What followed was all about the purity of De Bruyne's technique, a run in traffic followed by a scorching drive that came back off the crossbar. Haaland devoured the rebound.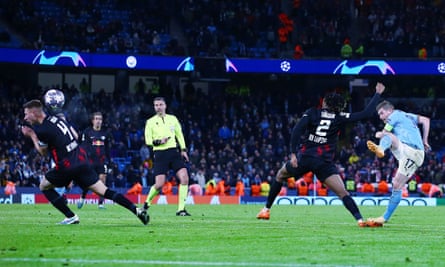 Haaland's first had been a controversial penalty, not that he had any time for sympathy after the VAR stunned Leipzig by asking the referee, Slavko Vincic, to consult the pitchside monitor. The footage showed that a Rodri header on a City corner had gone into the arm of Benjamin Henrichs, which was outstretched, albeit the Leipzig full-back had his back to the ball as he jumped. It was the definition of a letter of the law decision, so harsh. Haaland battered the kick past Blaswich.
Leipzig were almost comically bad, from back to front, everything going against them, including the moment on 34 minutes when Ederson left his area and cleaned out Konrad Laimer only to Vincic to say no to the foul and book an incredulous Timo Werner for dissent.
City could have had more during a golden first period, although Jack Grealish did blot his copybook with an attempted dive in the area. Ilkay Gündogan had blasted high at the outset while Haaland motored onto a long ball that he had no right to reach and almost prodded past Blaswich. At 2-0, Haaland hammered for the near corner only for the goalkeeper to save while Gundogan also extended him after a quick De Bruyne free-kick.
Leipzig's task became impossible after Haaland's final act of the first half. Rúben Dias's header from a corner had kissed the inside of the post and run across the line, Amadou Haidara trying to spin and clear but he could feel Haaland behind him. City's No 9 practically tackled the ball in. He will get you whichever way.
Haaland was not sated. Far from it. He would profit from two more corners after the interval, lashing home a pair of rebounds. Gündogan had scored the fourth straight after half-time, driving low into the far corner to draw the thousand-yard stare from the Leipzig manager, Marco Rose, and the ordeal could not end quickly enough for the visitors, even after the mercy move of Haaland's substitution.
It can often feel that Guardiola's Champions League story at City flashes before everyone's eyes on these kind of nights – majoring on the knock-out round heartbreak – and it had done in a literal sense before kick-off, the big screen montage including footage of him looking sad after defeats and consoling broken players. "This season feels a little bit different," was the upbeat message at the end. Haaland intends to make it so.