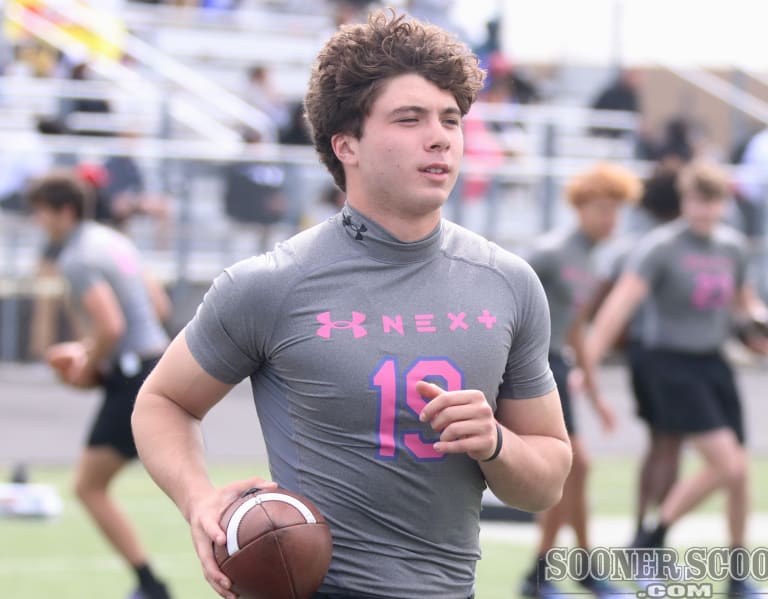 Late Monday night Oklahoma landed it's first commitment of the class of 2025, Frisco (Texas) Rock Hill signal caller Kevin Sperry. The talented passer made his decision even before any member of the 2024 class has picked the Sooners when he gave offensive coordinator Jeff Lebby the good news. It's time for SoonerScoop.com to take a look at just who the Sooners have landed and what Sperry brings to Brent Venables and co.
SoonerScoop.com Recruiting Editor Josh McCuistion: Watching his tape the things that sticks out the most is how many plays Sperry can make from a wildly varied setting.
What that means? He's a guy who is used to playing in a dirty pocket and making throws at various levels and doing so from a variety of arm angles. In short, he's a guy who as a sophomore was as much a playmaker as a pure quarterback.
But still there's plenty to hold onto in spite of some lackluster numbers as a sophomore.
Sperry has a quick release and does an outstanding job sliding his feet around and simply buying time for his receivers. He's not one who is over-eager to run but does a good job with his clock – when it's time to go, Sperry gets moving.
And in that running Sperry shows off plenty of ability to pick up first downs with his feet and evade one-on-one tackles. He's not Kyler Murray but there is some Baker Mayfield to his running style and overall ability level.
As as passer, as he showed some on Sunday at the Dallas Under Armour camp, he can be very precise and nowhere does this show up to a greater advantage to his game than some of his peers than while on the move. Playing behind an offensive line that clearly faced some ups and downs, Sperry does a great job staying calm and delivering the ball even when the world around him is spinning.
Player Comparison: His free-wheeling style limits some of the normal comparisons I might make and though it's easy to see some Mayfield in his game, he honestly reminds me a bit more of former Missouri standout, and long-time NFL quarterback Chase Daniel.