The Story Behind Erykah Badu's 'Tyrone'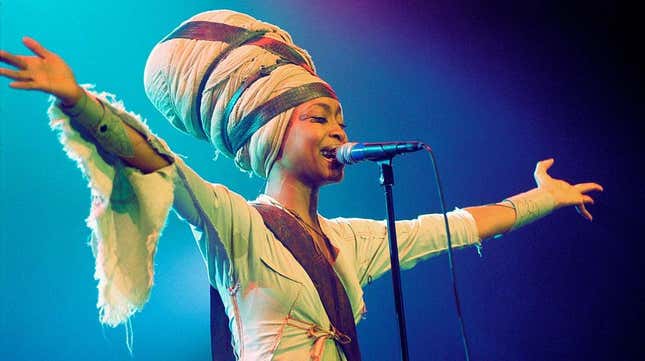 "Tyrone" by Erykah Badu is a certified classic. Play the song at any venue where Black people, especially women, are present and they will all, almost in harmony, sing word for word with Badu as if they helped write the track.
But, did you know that Badu's most recognizable track was made on a whim?
On a recent appearance on the Tamron Hall Show, the Dallas singer revealed how the timeless track was created and the inspiration behind its inception.
When asked about the song, Badu said, "My sister and I always imitated our aunts. They would be fussing and talking about a guy and what he needs to do better. Ya know tearing him down. That was my homage to that."
She continued, "I was freestyling. But they were taking me serious. They were saying, 'Erykah Badu's man-bashing.' It's not man-bashing. If you throw a rock in a crowd a hit dog will holler."
Now tell me how many times have you heard your mother use that phrase?
The Real Story Behind Erykah Badu's Hit Song "Tyrone"
Erykah Badu made the song during a live performance
You heard correctly, Badu said she was "freestyling" when she created the track.
In 2021, while appearing on THE FADER Uncovered podcast, Badu said the song was originally just a little "groove" she and her band would do while they were rehearsing. Oftentimes, she would just sing whatever came to her mind. But, the groove officially turned into a song while at a live performance in 1997.
Speaking on the podcast, she said, "I was onstage and my keyboard player, Norman 'Keys' Hurt, starts playing the melody from rehearsal, and I was like, 'OK.' And call Tyrone was born on that stage."
She continued, "And the recording was in the actual live recording that went viral — if there's such a thing as viral for radio at that time — but it just kind of went viral. And I ended up recording a studio version of it, which is no match for the original."
So for all the young Black men out there named Tyrone, don't be too sensitive when you hear the song. Badu isn't specifically talking about you, she's just talking about all the men out there that do their women dirty.