Japanese man granted retrial after 45 years on death row
A court in Japan has granted a retrial to a man – thought to be the world's longest-serving death row inmate – who was sentenced to hang for the murders of a family of four almost six decades ago.
The Tokyo high court ruled on Monday that Iwao Hakamada, 87, should be tried again for the crimes in a decision campaigners said was a "step towards justice".
Hakamada was convicted of the murders in 1968 and spent 45 years on death row before new evidence led to his release in 2014. At the time of his release, he was thought to be the world's longest-serving death row inmate.
The former boxer initially confessed to the murders but later retracted his confession and insisted he was innocent throughout his two-year trial. His death sentence was finalised in 1980.
Hakamada's lawyers unfurled banners reading "retrial" after Monday's ruling, while his sister, Hideko, voiced relief that decades of pressure had succeeded.
"I have waited 57 years for this day, and now it has arrived," said the 90-year-old, who has campaigned to prove her brother's innocence. "Finally a weight has been lifted from my shoulders."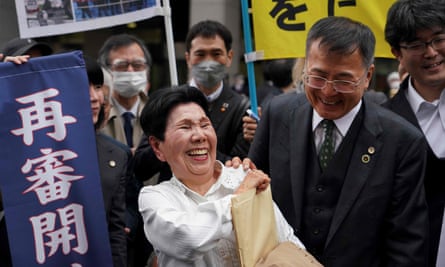 Japan, the only G7 country along with the US to retain capital punishment, has drawn international criticism of its "secret" executions. Campaigners have used Hakamada's case to accuse Japanese authorities of driving prisoners insane and subjecting them to "cruel, inhuman and degrading" treatment.
Death row inmates are notified only on the morning of their execution, and their families are typically informed only after the execution has taken place. Hakamada reportedly spent much of his time in death row in solitary confinement.
Anti-death penalty groups welcomed the high court's decision and said the retrial should take place while Hakamada, who is in poor health, is still able to take part in hearings.
"This ruling presents a long-overdue chance to deliver some justice to Iwao Hakamada, who has spent more than half a century under sentence of death despite the blatant unfairness of the trial that saw him convicted," Hideaki Nakagawa, director of Amnesty International Japan, said in a statement.
"Hakamada's conviction was based on a forced 'confession' and there are serious doubts about the other evidence used against him. Yet at the age of 87, he has still not been given the opportunity to challenge the verdict that has kept him under the constant threat of the gallows for most of his life.
"Now that the Tokyo high court has acknowledged Hakamada's right to the fair trial he was denied more than 50 years ago, it is imperative that prosecutors allow this to happen."
Hakamada was a live-in employee at a miso manufacturer when he was arrested in 1966 for robbing and murdering the firm's managing director, his wife and their two teenage children. The victims had been stabbed to death and their home in Shizuoka, central Japan, burned down.
Hakamada, who has been out on "temporary release" since 2014 on humanitarian grounds, initially denied the allegations but later confessed, subsequently claiming that police had threatened and assaulted him during 20 days of interrogation.
The Shizuoka district court granted a retrial in 2014, saying that investigators could have planted evidence after DNA tests proved that blood found on several items of clothing was not Hakamada's.
The Tokyo high court overturned the that ruling four years later, however, and the case was sent to the supreme court, which in 2020 ordered the high court to reconsider its decision.