'A beautiful, natural bond': Oscar-winning director Kartiki Gonsalves on her elephant short film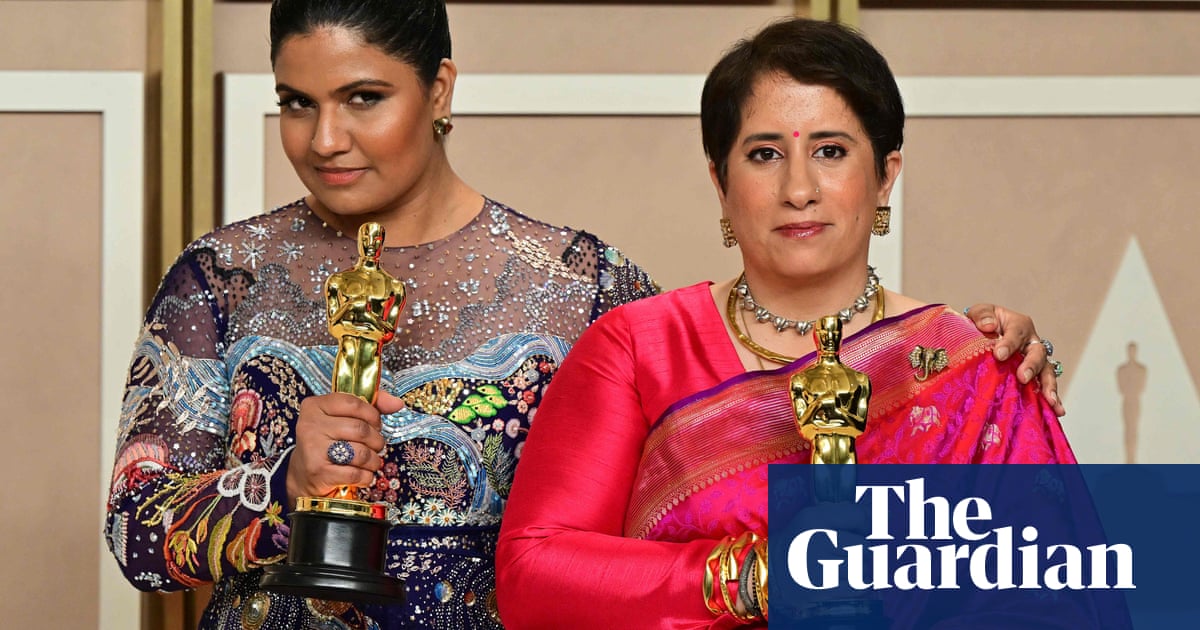 In a scene from the Oscar-winning best short documentary The Elephant Whisperers, Bellie instructs a young elephant calf to lie down in front of her. "I'll beat you if you lie down on me," she says. As if telepathically connected, Raghu responds by gently folding into a heap and quietly placing his head in her lap. It is a miraculous moment that illustrates an astonishingly deep and unlikely maternal bond between a young elephant and his human caregiver. Raghu is at the heart of this documentary directed by Kartiki Gonsalves that uses a tender family dynamic in the middle of an Indian forest reserve to comment on climate change, shrinking animal habitats and our warped perception of the wild.
"I just found it beautiful that this little family had this unusual bond, especially in a time when we are struggling to coexist," Gonsalves says over a call from the US. In 2017, while driving back from Bengaluru to her hometown Ooty, a hill station in the Western Ghats of southern India, Gonsalves saw a caregiver giving a young calf called Raghu a bath. That's when it all began. She did not, however, begin shooting in earnest until she had earned the trust of both Bomman and Bellie, the middle-aged couple looking after young calves on the Mudumalai Tiger Reserve.
The 42-min film has a warm, sunny texture but also operates in the shadow of tragedy and grief. "Raghu is the living embodiment of climate change and shrinking habitats for Asian elephants. He lost his mother to an electrocution when their herd meandered into a nearby village. To me this bittersweet aspect of the story was crucial to what I wanted to say," Gonsalves says. Human-animal conflict is a huge problem in the southern Ghats of India, where migrating elephants and civilisation regularly come into contact to calamitous, often disastrous, effect. A government report last year found that more than 550 elephants had died of electrocution in the country over an eight-year period. There has obviously been a human cost as well.
The elephant is considered both a religious figure in Indian folklore and a marauding wild animal. As a result, Gonsalves admits, her documentary might have become an exercise in dystopian speculation. "I never wanted to take that route," she says. "I think this is our opportunity, as humans, to think of animals as something more than the 'other'. And it is also an opportunity to, as living beings, think of our place in this world".
It's a question that the humans in The Elephant Whisperers embody. In one scene, Bellie tells a young girl a folktale about just how misunderstood the wild elephant has been. The caregivers belong to the indigenous Kattunayakan tribe, one of the many designated scheduled tribes of India. Tribal culture and lifestyle have historically been intertwined with the wild, curating a careful balance that Bomman summarises in the film as "living off it and with it". This doggedcommitment to the forest feels all the more perplexing and life-affirming considering the couple have also suffered because of wild animals. Bellie, for example, lost her ex-husband to an animal attack.
Another Indian documentary, Shaunak Sen's All That Breathes, lost out in the Oscars best documentary feature category to Navalny. Both films focus on the kindness of humans trying to give animals (in Sen's film, black kites from the skies of Delhi) a new lease of life.
"The biggest challenge for me personally was to decide when to pull the plug on the shoot," adds Gonsalves. "But then we managed to capture these young children from the reserve, washing Raghu with exuberance and love. It was the day I realised we were done. It felt natural because we had found the next Bomman and Bellie."