Turn it Out with Tiler Peck & Friends review – pure dance at its breathtaking best
Tiler Peck is a stupendous mover. In her London debut, the New York City Ballet principal shows off the effervescent speed and musicality she's known for, along with an eagerness for collaboration built around the joy of music, rhythm, athleticism and pure dance.
In this self-curated programme, Peck's curious spirit is most evident in Time Spell, a genius alliance with brilliant tap dancer Michelle Dorrance and jazz/commercial choreographer Jillian Meyers. Dorrance and fellow hoofer Byron Tittle bring tasty, moreish rhythms in this meshing of ballet, jazz, tap and street. Meyers is a cracking dancer, so crisp in her isolations and gutsy in her energy. And then there are singers Penelope Wendtlandt and Aaron Marcellus, looping and layering vocals. There's a great sense of artistic exchange and shared pleasure that's a delight to be part of.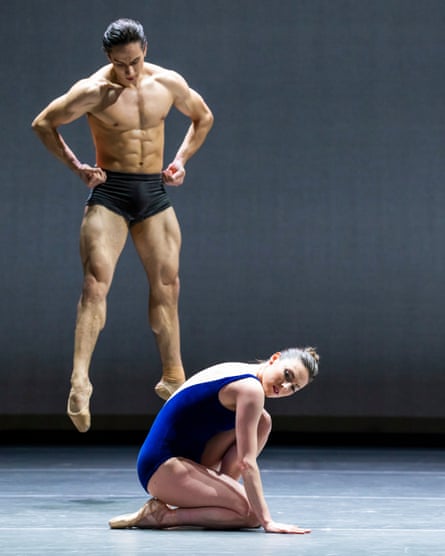 We get a sample of Peck's own choreography, Thousandth Orange, named after the Caroline Shaw piano quartet that's played live. The simplicity underpinning the music echoes in the careful choreography, a sextet of dancers chosen from New York City Ballet and elsewhere dressed in palette cleansing sherbet colours. Plus there's a short but satisfying pas de deux by Alonzo King for Peck and the impressively virtuosic Roman Mejia.
But the highlight is a live version of William Forsythe's Barre Project, created for film during lockdown. Set around a ballet barre to music by James Blake, it puts the dancers on fast-forward, and however many steps are strung together, however many switches of direction, Peck's movement remains utterly seamless. She has incredible control of her acceleration and the ability to suddenly put the brakes on in a way that wouldn't spill a drop from your coffee cup. She is both sharp knife and smooth butter.
The piece may be untraditional – soundtracked by an artist who came out of dubstep and sweaty basement clubs – but it's wholly balletic, in the sense it's all about escaping gravity, upwards and upwards again, with all effort invisible. It's a perfect vehicle for Peck, and co-stars Mejia, Brooklyn Mack and Lex Ishimoto, legs and feet a blur, packing in precision detail. Guaranteed to leave you grinning.