SNP's Kate Forbes signals Scottish independence vote could be years away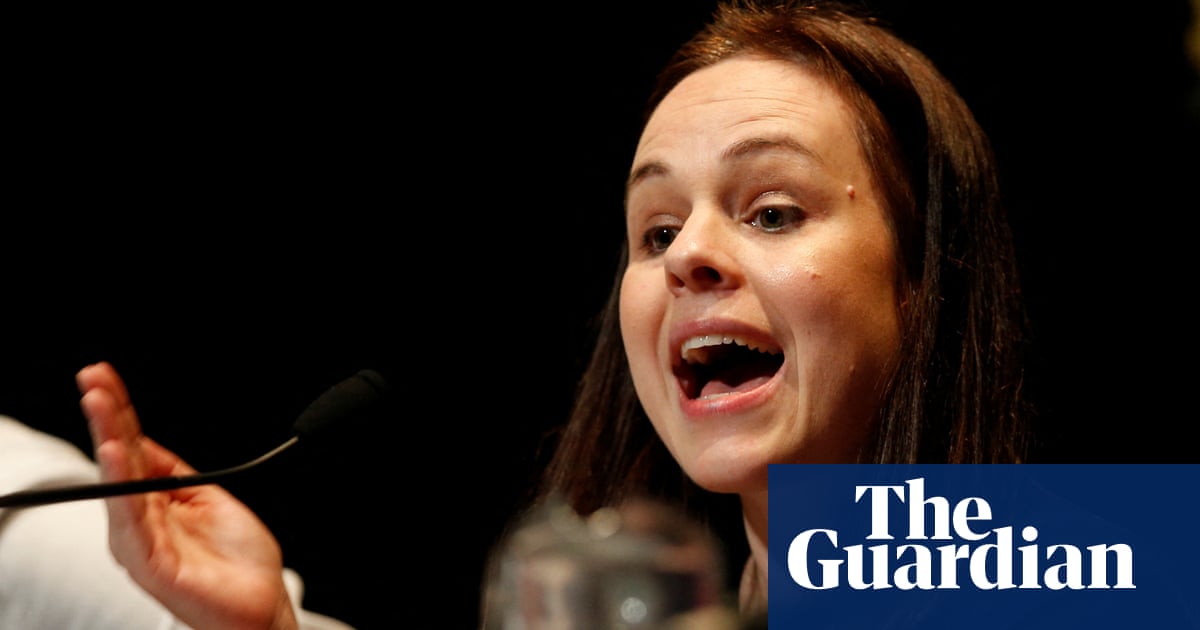 Kate Forbes, the nationalist MSP bidding to be Scotland's youngest ever first minister, has signalled it could be years before a fresh independence vote is held because the case for it is not yet persuasive enough.
She told the Guardian in an interview that the Scottish National party had to put much greater emphasis on slowly persuading unionists to support independence, by first using Holyrood's existing economic powers to prove Scotland can flourish.
Forbes, the Scottish government's finance secretary, said it would be counterproductive to follow Nicola Sturgeon's strategy of repeatedly setting target dates for a second independence referendum.
"It's not possible to say and I won't give you a timescale," Forbes said when asked what her target date was.
With voting opening on Monday in the contest to succeed Sturgeon, Forbes has established herself as a centre-right insurgent who believes the party needs to stop "spoiling for a fight" with Westminster. Instead, it needed to focus on competence and wealth-building, she said.
"It may seem strange to make a pitch to 'no' voters in an election contest [for] SNP members. But that's what it's going to take," she said.
"We keep holding ourselves as hostages to fortune by setting a timetable rather than by focusing on what is really going to shift the dial. So day one, I would start the campaign for independence. But I would do that through gentle persuasion, making the economic case and earning people's trust back. The more successful and effective we are at that, the shorter the timetable becomes."
In contrast, her closest rival, Humza Yousaf, told the National newspaper he could consider using a general election as a de facto referendum or calling a snap Holyrood election to test support for independence, as he tried to reach hardline activists in the party.
Forbes said she would not raise income taxes on the better-off, a tactic Sturgeon embraced to increase public spending. "It's not about raising taxes," she said. "It's about growing the economy and expanding the tax base because we are overly dependent on a very few additional ratepayers, largely in the oil and gas industry."
Growth would follow, she said, by cutting red tape for businesses and voluntary groups, particularly on accessing public funding; by widening and improving the A9 and A96 trunk roads in the Highlands and north east of Scotland; and potentially by replacing ferries with more inter-island bridges in the Hebrides.
Forbes has also said the transition from North Sea oil and gas needs to be cautious, but told the Guardian she supported Sturgeon's target of banning the sale of new petrol and diesel cars by 2032. She and her husband recently bought an electric car.
She acknowledged, however, that Holyrood's legally binding targets to cut Scotland's CO2 emissions by 70% by 2030 would probably be missed, although she said: "I think we still should aspire to meet them." There was also the "extremely challenging" need to decarbonise Scotland's 2.5m homes. "We need to completely scale that up through energy efficiency measures, through access to renewable sources of energy and so on," she said.
A Gaelic-speaker born in India to Presbyterian missionaries, Forbes has thrown the race to succeed Sturgeon wide open, in part by aggressively challenging Sturgeon's track record and by signalling she does not support some of the centre-left, socially liberal policies Sturgeon championed.
A member of the evangelical Free Church of Scotland, Forbes plunged her nascent campaign into crisis by acknowledging she opposes same-sex marriage and believes having children outside marriage is wrong, and by refusing to challenge a UK government block on Sturgeon's gender recognition reforms.
Some prominent SNP backers retracted their endorsements; others said such socially conservative views could split the SNP and risked wrecking the party's governing coalition with the pro-independence Scottish Greens.
Forbes then launched a direct attack on the track record of Yousaf, the health secretary, live on national television. It was a gamble that risked alienating party activists. Yousaf is, on paper, the frontrunner and has the protection of the party's leadership.
On Saturday, Yousaf was endorsed by John Swinney, the outgoing deputy first minister and Sturgeon's closest political ally, and by Stephen Flynn, the SNP's Westminster leader – a clear signal he is the leadership's favourite. So far, Yousaf has amassed about 67% of the endorsements from SNP parliamentarians, against 25% for Forbes.
But repeated opinion polls show Forbes is preferred by the wider electorate, although more voters have no opinion. Sub-samples from those polls of SNP members – samples that the pollsters admit are unrepresentative, suggest the race is neck and neck.
Forbes's campaign director, Michelle Thomson, believes Swinney's decision to back Yousaf on the eve of voting, instead of remaining neutral, shows that the party machine is rattled. This is in part because the SNP uses a multi-option single transferable vote system, where members rank candidates in order of preference.
Yousaf's backers fears that if he fails to win when first preferences are counted, Forbes will win in the next round by picking up a large majority of second-preference votes from Ash Regan, the third candidate, who has also been critical of Sturgeon's leadership.
The Mail on Sunday reported that the SNP's membership had slumped to about 78,000, from a peak of 120,000 in 2016 – a figure based on the number of ballot papers being issued by the firm hired by the SNP to handle voting. That adds to uncertainties about the membership's makeup.
Conscious of her early statements about her religious beliefs, Forbes is adamant her policy decisions would not be led by them. The real test, she said, was what she did as finance secretary.
"No leader is neutral. This nonsense that we have any neutrality in the public square is false. We are all products of our backgrounds, our experiences. The question in a pluralistic, tolerant society is: can I defend your rights as you defend mine?" she said.
"I would challenge you to look at a single decision that I have made as finance secretary or as a local MSP than any way distinct distinguishes between single mums and families. Of course I wouldn't."