Masquerade: The Lives of Noël Coward by Oliver Soden review – the man in the ironic mask
As a 12-year-old child actor, Noël Coward featured in a dance number at the Savoy theatre in London playing the part of a mushroom. A photograph of him in his fungal finery – "grey silk skin tights, a large grey silk hat like a gargantuan muffin, and a diaphanous frill round my middle" – was put on display by his proud mother at whichever house the family were billeted in. It was perhaps the only picture in the son's long career that he told his mother not to show when distinguished visitors called.
The tension between display and concealment is a central motif of this lively, affectionate but by no means adoring biography of the man who would eventually insist on "Master" as his preferred form of address, "as if he had an unhealthy belief in the reality of his own myth". Oliver Soden has timed its publication to mark the 50th anniversary of Coward's death in March 1973 and, granted access to his subject's previously unpublished diaries and letters, he makes a sound case for reappraising a writer who, rather than a "talent to amuse", was in fact a radical teller of truths about love, art and class. Those truths came at the cost of a painful and necessarily private life.
In several ways, Coward had been lucky, a theatre-obsessed suburban boy driven by an artistic mother, Violet, who would later indulge his insufferable adolescence of showing off, petty pilfering and tantrums. He was just old enough to be conscripted during the first world war, surviving an unhappy five months with the Artists Rifles before his discharge on grounds of a nervous debility. A narrow escape: in the last two months of the conflict, his company suffered 200 fatalities. Postwar, he plunged into writing and acting in repertory, developing his early taste for travel (Paris, Manhattan) before scoring his first big hit in November 1924 with The Vortex. By the following June, he had four shows running simultaneously in the West End and suddenly all of London was mad about the boy. He was still living at his family's lodging house in Ebury Street in Victoria. So began an imperial phase that made him famous on both sides of the Atlantic with Hay Fever, Private Lives, Design for Living, Blithe Spirit and Present Laughter, the last two overlapping the outbreak of the second world war.
The fast and louche Coward of public renown, wafting in a cloud of cigarette smoke and Vetiver, was outwardly in the pink. By 1929, he was earning an estimated £50,000 a year, or £15m in today's terms, according to Soden – "the highest paid writer in the world" – albeit amid accounting so chaotic that he later landed in court on a charge of financial impropriety. But success obscured a deeply troubled and unfulfilled love life. Soden observes in him a dislike of "same-sex relations lived openly or promiscuously", possibly the result of an internalised homophobia. In romance he was "a born third", preferring the menage à trois to the one true love. He was a fugitive from deep feeling because he knew its potential to lacerate.
Flippancy became a favourite mask and the accusation most often levelled at his writing. Even Private Lives (1930) was dismissed as a flippant comedy (and still is), whereas Soden detects "a seam of sadness and violence" beneath the glitter and the sound of a breaking heart beneath the wit. It also smacks of a longing for escape. At one point, Amanda Prynne declares: "I really think I love travelling more than anything else in the world" and one is struck throughout these pages by how often Coward is on the move, flitting back and forth to the US, escaping to his boltholes in Jamaica or Geneva, as if he might find contentment anywhere other than the place he was in.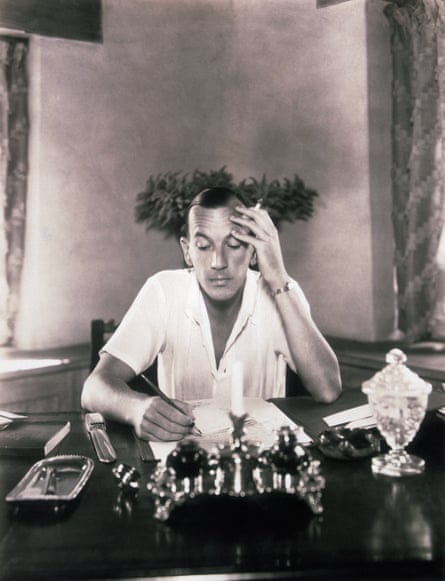 The war years found him in constant motion – Scandinavia, the Middle East, Australia, New Zealand – and never far from controversy. Perhaps out of guilt for his undistinguished performance as a soldier, he attached himself to the navy and with Louis Mountbatten's help made one of the great rallying war films, In Which We Serve (1942). He kept up the country's spirits with his songs. But his efforts to work for British intelligence were rebuffed. The one mask that didn't fit, or else that others didn't trust, was seriousness. His concert tours for the services were quietly heroic and must have impressed the enemy. The Nazis considered him dangerous enough to put his name on the list of British residents to be arrested in the event of an invasion. The author Rebecca West, also on the list, telegrammed Coward: "My dear, the people we should have been seen dead with." His work didn't earn him the knighthood he wanted, however, even with Winston Churchill for a fan. (He had to wait until 1970 to be invited to the palace.)
Rage and depression hounded him in later life, to say nothing of his uncomfortable false teeth. He seemed like a man out of time. Maybe it's the fate of every popular playwright to be despised by their inheritors. Coward always disdained Oscar Wilde ("What a tiresome, affected sod"); and Stephen Sondheim didn't much like Coward ("too darn chilly"). But after some lean years, the Master's reputation recovered in the 1960s, thanks to a modern-dress revival of Private Lives. Kenneth Tynan, his severe critic and admirer, got it right in a 1952 profile: "Even the youngest of us will know, in 50 years' time, precisely what is meant by 'a very Noël Coward sort of person'." Soden's handsome book pays a tribute to the man – as playwright, director, composer, lyricist and wag – that will be good for another 50 years. The biographer has packed in a good deal, though he's missed one great line. Crossing London's Leicester Square one day in 1955, Coward looked up at a cinema billboard: Michael Redgrave, Dirk Bogarde. The Sea Shall Not Have Them.
"I don't see why not," he said. "Everyone else has."