Football on a mission: the friendly league that offers a safe place and feeds the needy
From the Lionesses campaigning for football for girls in school to Manchester City and Manchester United making a joint pledge to foodbanks at the start of the pandemic – the football community is no stranger to banding together for a good cause.
The friendly league Football for Foodbanks embodies this ethos. Founded in Sheffield by Matty Cassell, its donations amount to several thousands of pounds – a "stand's worth" of bags of food – and hundreds of sanitary products to food banks and other charities.
However, donations are merely a "positive side-effect". The league's core aims are inclusivity and accessibility. Soon to celebrate its second anniversary, Football for Foodbanks has now opened further branches in Chesterfield, Manchester and Milton Keynes and welcomes men, women and gender non-conforming people.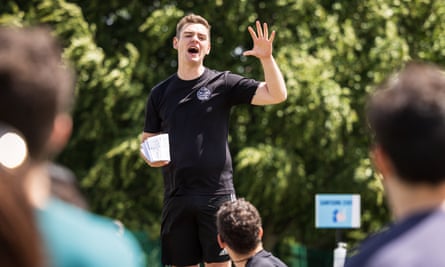 It was officially founded in March 2021 but was running some months before that out of a desire for more no-strings-attached friendly football in Sheffield. "We encourage rubbish players, because sometimes there isn't always a platform for them to play," says the organisation's website.
Cassell had lived in Vietnam, where the sport was played freely. He wanted to replicate a community-driven environment when he moved to Sheffield. "[The UK] is surprisingly exclusive for football," he says. "There are a lot of people who get excluded from football and it's not really fair. The idea is to offer as much football as possible to these people."
Cassell organised occasional informal games where those keen to play would sign up on Facebook and pay £4 towards pitch and kit hire. Not wanting to make a profit, he then donated any leftover money to a food bank. Later Alice Rhind-Tutt, who was playing in the league's early days, created the Sheffield Women and Gender Minorities league.
"When it was a general division created for everyone at first, a lot of women or non-male identifying people were reluctant to come and play with a bunch of men they didn't know, understandably," she explains. "We started to attract a lot of people from the LGBTQ community because there are not many safe places for them to play sports. This became an extra focus and that's when we became the women and gender minority division."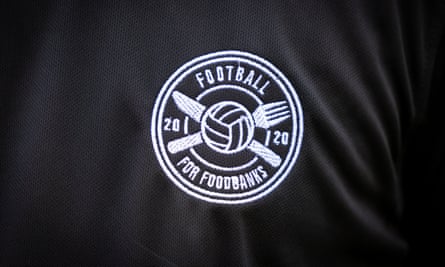 Branches followed in other towns and cities. Today games are held daily and roughly £1,200 a month is raised for food banks. Bags of food and products are sent to food banks and shelters, and locally each league works with charities to encourage people from different backgrounds to play football.
Rhind-Tutt is organising sessions with ShipShape, a charity working with South Asian communities, to get more people to try out the sport. "We are still fairly white. That's something we're trying to work on," she says.
The league does this by welcoming beginners and encourages more experienced players to help those new to the game. "You'd be hard-pressed to find a man who has never played or watched football in his life," says Rhind-Tutt. "Whereas we have women who come along and don't know the rules. Many have never kicked a ball in their life. We still start every game by going over how we play. Most of the rules are to do with attitude."
A simple sign up and pay-when-you-play system also attracts shiftworkers, which makes Football for Foodbanks more class accessible than other friendly leagues. There is no set kit or dress code, meaning players can wear whatever makes them feel comfortable.
Rhind-Tutt hopes this informal approach encourages women and gender-non-conforming people to turn up and play a sport they may otherwise feel excluded from. "Women come along and play in hijabs, full tracksuits or whatever makes them feel comfortable," she says. "People who are either covering for religious, cultural or personal reasons can play without judgment – there is no requirement to show up in shorts and a T-shirt."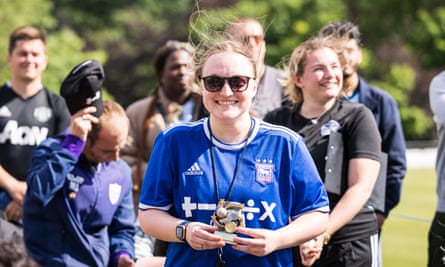 Recently the league has secured a grant from the National Lottery Community Fund, allowing for a part-time worker to take on the behind-the-scenes graft. The league now aims to expand to two new towns. "I only want to grow if it's right," says Cassell.
"We're not here to make a profit, so we're in no rush to grow. When we open another division in another city, I'd want someone I trust to do it. We want to reach out to the places that don't have as much of a social justice outreach."
Until then it will continue to act as a safe space for their players across Sheffield, Chesterfield, Manchester and Milton Keynes. Last summer a cross-region tournament resulted in players donating a stand's worth of food bags. Some made lasting friendships. "This has become a bit of a sanctuary for all sorts of people; people who are recovering from injury or surgery, who have never exercised, who don't have friends and are in a new city," adds Cassell.