The 3-pointer: Three takeaways from Alabama's win over Missouri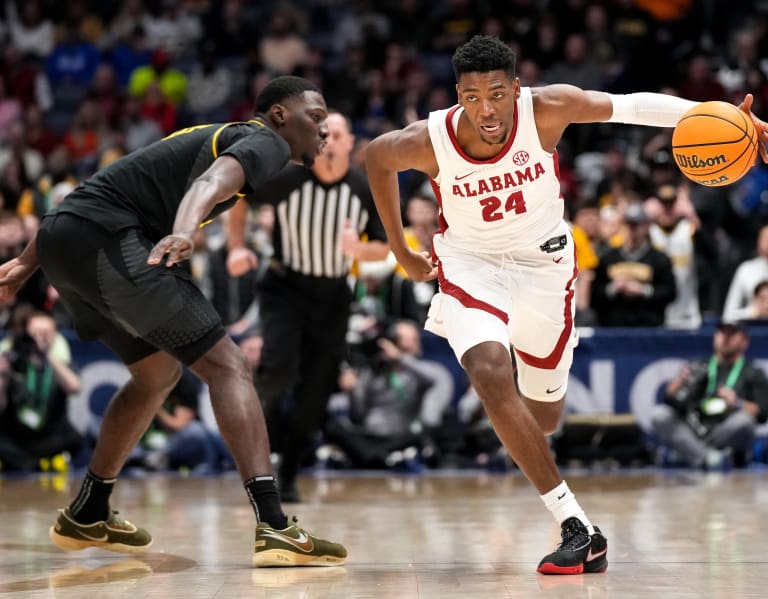 Alabama is heading back to the SEC Championship game for the second time in three seasons.
Thanks to a 41-point barrage in the second half, the Crimson Tide was able to stave off the No. 4 seed Missouri Tigers 72-61. The victory is the team's 28th and sets the program record for most wins in a single season surpassing the 2001-02. Alabama will look to win its second title on Sunday at noon CT when it plays the winner of Texas A&M and Vanderbilt.
Here are three takeaways from Saturday's win.
Brandon Miller leads the second-half charge
There's only so much an opposing team can do to slow down Brandon Miller.
Missouri tried all it could on Saturday by face-guarding him and not helping off him on screens. But when the Antioch, Tennessee native decided he wanted to win, the Tigers were left without an answer.
In the first half, Miller played just 10 minutes after picking up two fouls. Oats was forced to sit the freshman for the final five minutes of the half recording just four points on 2 of 4 shooting. in the second half, all bets were off even when Miller picked up his third foul of the game. With Alabama needing to bolster its two-point lead out of halftime, the ball continued to find Miller during Alabama's 16-3 run, and he kept scoring.
During the crucial scoring run, Miller tallied 11 points which saw him break the program record for most points by a freshman. Miller finished with 20 points and 12 rebounds in the win, his eight double-double in his career.
"It's a great accomplishment, but without my team, I wouldn't have done it without them," Miller said. "Just them building my confidence. I mean them just being here for me really built my confidence to break records like that, so that's the biggest thing."
Clowney comes up big
With all of the attention on Miller, Alabama needed another freshman to step up on Saturday. The onus fell on Noah Clowney, and he delivered.
The 6-foot-10 forward found his shooting stroke early despite Alabama's struggles from the floor. Clowney's first basket was a 3-pointer, breaking an 0-for-10 start from deep by the Crimson Tide. The 3 propelled him to hit another shot from deep later in the first half en route to a game-high 11 points in 15 minutes of play.
Clowney's efficiency in the first half makes it four games in his last five where he's scored 10 points or more. He finished the afternoon with 19 points and three rebounds on 7 of 11 shooting, including 3 of 6 from deep.
The Spartanburg, South Carolina native finished with 19 points and three rebounds.
"I work on it a lot," Clowney said. "So when it does fall, I mean it just felt good."
Mr. March goes missing
After averaging more than 17 points per game over the final three games in the regular season, Alabama head coach Nate Oats told his team that it was getting the "March version" of Jahvon Quinerly.
His recent stretch gave him his first two starts of the season in back-to-back games, but that string of magical games came to an end on Saturday. Quinerly struggled from the floor, scoring 1 point while shooting a woeful 0-for-9, including an 0-for-4 mark from behind the 3-point line. It was his worst start to a game since he went 0-for-4 against South Dakota State on Dec. 3.
While he was able to rack up seven assists against the Tigers, the senior finished as a minus-1 in the win.
Before Saturday's game, Quinerly tallied double-digit points in all 14 of his March games at Alabama, excluding last season's NCAA Tournament loss to Notre Dame when he tore his ACL roughly three minutes after tipoff. That includes a heroic run in 2021 when he earned SEC Tournament MVP honors, averaging 15.6 points 3.0 assists and 2.6 rebounds while leading Alabama to its first conference tournament title in 30 years.
"I thought JQ had a really good second-half with his assists," Oats said. "He didn't score it well today, but ended up with seven assists and only one turnover. He did play well, just didn't score it as well as we liked."