Russell holds key for Scotland to topple Ireland and set up title tilt
In a not unfamiliar plotline Scotland enter the penultimate round of the Six Nations desperate for a win. Refreshingly, this time such a result would mean not the avoidance of a wooden spoon but a tilt at their first championship of the century – a first Six Nations title, full stop.
Perhaps desperate is the wrong word then. Would-be champions are never desperate for anything. If Scotland want to convince as such, they will be using bold words, such as "confident" and "ambitious", and they must play accordingly at Murrayfield on Sunday afternoon.
Rather it is the marketeers of this year's edition of the Six Nations who may be feeling desperate. Ireland are the visitors to Edinburgh, oozing confidence and ambition, as if they were exhaling it. One more big win, to go with the 15 points out of 15 they have already, would all but put the championship to bed a round early. Super Saturday would become, well, Saturday.
A win for Scotland would change all of that. It might even conjure echoes of Super Saturday 2015, when all three matches featured potential winners.
How likely is it? Ireland have won their last seven matches against Scotland, and 11 of the last 12. The bookies have Scotland as seven-point underdogs. That equates, in their world, to a little less than a 30% chance of a home win. So not out of the question but …
Let us not patronise Scotland any longer with talk of how talented they are, how capable of beating anyone on their day, and so on. If the feeling persists that they remain vulnerable, for all their derring-do, to muscular, consistent teams who keep coming at them, this nemesis is best exemplified by the Irish. Hence that recent record against them.
Scotland's fortunes have long been embodied by their talismanic fly-half, Finn Russell. Capable of touching heights beyond those of the mortals who share rugby pitches with him, he has also proved capable of imploding. Or of trying to force his brilliance when it is not happening naturally – it amounts to the same thing.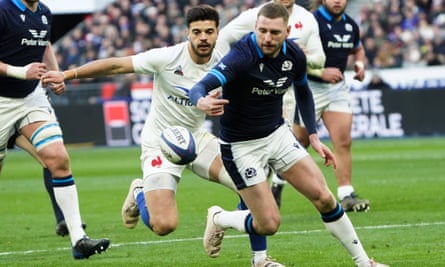 The dynamic here, though, feels as if it might be changing. He faces genuine competition for his place. As recently as the autumn Russell's international career seemed as if it might be over, with Gregor Townsend omitting him altogether from his initial squad. A week or so later Russell was recalled and now features in most conversations down the pub for best player in the world.
Scotland's defeat in Paris last time out felt familiar, in that it came after a much-lionised win, but also somehow different, in that they recovered from outlandish early setbacks and might easily have won. Russell personified the fluctuating energies. His forced cut-out pass gifted France an interception try for a 19-0 lead in the first half but he was central as Scotland played their way back to 25-21 down with 10 minutes to go.
He is 30 now (and, it is all but mandatory to point out in these discussions, recently a father). There is an air of maturity about him. He is even getting on with his coach. This could be Russell's time.
If it is, even Ireland will be on high alert. They roll into town looking a million dollars, No 1 in the world and on maximum points. Andy Farrell welcomes back the mature maestro every fly-half wishes they could be, Johnny Sexton, all 37 years of him. Conor Murray, nearly 34, returns alongside, having stepped out of the starting team for the win against Italy last time.
Most impressive is the way Ireland They have continued their dominance despite the loss of key personnel through injury. Stuart McCloskey is the latest to go down, so Ireland field a Lion, Bundee Aki, in his place, with another, Robbie Henshaw, in reserve. Tadhg Beirne is out for the rest of the championship, so Iain Henderson continues in the engine room, as does the musical chairs for Lions in the back row. Oh, and Tadhg Furlong returns.
It is very hard to spot a weakness. But, if there are players in the northern hemisphere who might, more than a few wear the blue of Scotland. Next Saturday may or may not be Super but this Sunday is odds on to be so.