The 3-2-1 Column: Pitt is waiting for Selection Sunday
It is time to recap Pitt basketball's week in Greensboro in the ACC Tournament. The Panthers locked down some impressive hardware when the All-ACC teams were announced on Monday, they grabbed a much-needed win over Georgia Tech on Wednesday, but the feel good energy came screeching to a halt with a 96-69 loss to Duke on Thursday.
Have the Panthers done enough to make the NCAA Tournament for the first time since 2016? We discuss that, and every topic currently surrounding Pitt basketball, in this week's 3-2-1 Column.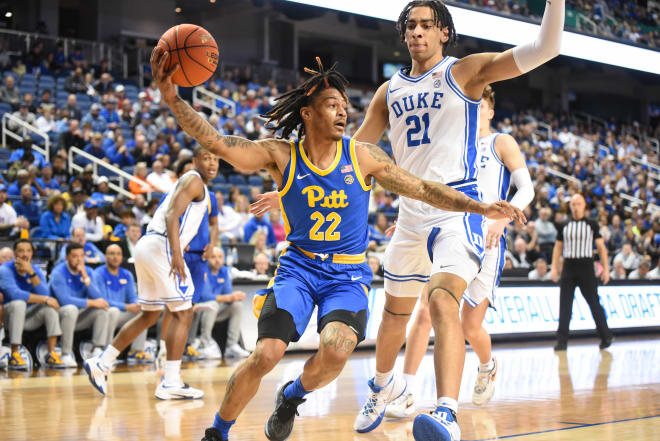 THREE THINGS WE KNOW
A Deflating effort on Thursday
The Pitt basketball team had an opportunity to make the ACC Tournament semifinals for just the second time ever on Thursday afternoon in Greenboro, but that bid ended before it ever really got started. Pitt fell behind Duke 12-0 in the opening minutes of the game, and really it never got any better from there on the way to a 96-69 loss.
The Blue Devils held a double-digit lead for the final 28 minutes of the game and they led by as much as 36 in the second half. If it weren't for some substitutions by the four seed, we would be talking about how Pitt allowed over 100 points to Duke in an ACC Tournament game today.
Duke had everything working. Kyle Filpowski, the ACC Rookie of the Year, and five-star recruit had an easy 22 points on 8-of-10 shooting. Filpowski left with an injury in the first half, and I'm not sure the game would have looked much different if he never returned. There was nothing Pitt could do to stop him, or any of the Blue Devils for that matter. Duke had 27 assists on 36 made field goals and shot 62% for the game.
There was never a time in the entire 40 minutes where it felt like Pitt was doing anything to make the Blue Devils uncomfortable. It hardly looked like a game between a four and a five seed in the ACC, but rather it looked the JV scrimmaging the varsity.
Pitt's better than what they showed on Thursday, but they certainly picked a very inopportune time to lay an egg. The Panthers have been reduced to being televised on the ACC Network for much of the year, largely because of their preseason expectations. But with a chance to face off against one of the sport's biggest blue bloods in a prime TV spot during conference tournament week, Pitt not equate themselves very well. It was not the type of effort you want the selection committee remembering just before the tournament field is announced.
Pitt has had a renaissance of a season and the blowout loss to Duke on Thursday should not diminish that. The Panthers were in the conference championship conversation until the very last play of the last game of the regular season. They have already doubled their win total from a year ago and breezed past being picked to finish 14th in the conference. There were plenty of big wins, great moments, and heroic individual efforts that got Pitt to the ACC quarterfinals, and unfortunately they did nothing to showcase those traits in one of the biggest games of the year.
If Pitt misses out in the NCAA Tournament, it won't be because they lost to Duke, but it will rather come down to some blown chances throughout the season. Still, in a big game getting the Panthers did not show their best hand.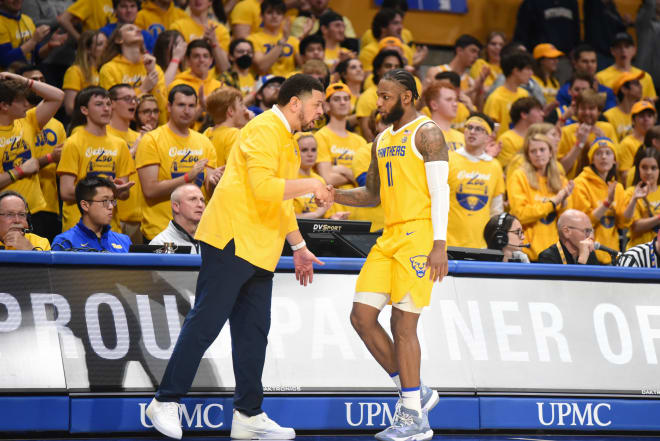 Pitt well represented with All-ACC recognition
Before the basketballs started bouncing in Greensboro this week, the ACC announced its postseason honors for the 2022-23 season. Given Pitt's lack of on-court success in recent years, this typically hasn't been much of a notable day for the program. That all changed on Monday with four members of the team receiving postseason recognition.
Jeff Capel was appropriately named the ACC Coach of the Year for the job he has put together so far this season. After being picked 14th in the preseason rankings, Capel had the Panthers as a prominent contender for the league crown all season. Pitt also played with a starting five comprised completely from transfers. His best returning player, John Hugley, only appeared in eight games after never being quite right following a knee injury. Despite the setbacks and the 1-3 start out of the gates, Pitt was one of the feel good stories in all of college basketball.
The Panthers played a fun brand of basketball this year with some spectacular outside shooting games. For a fan base down on its luck and ready to drive him out of town, Capel's team brought them some hope after some lean seasons and energized the Petersen Events Center for the first time in a while. Pitt losing three of four games sort of sours the moment, but Capel was fully deserving of the award.
Also deserving of postseason recognition was senior guard Nike Sibande, who took home the ACC Sixth Man of the Year award. Sibande has been a spark plug for this team all season. He has led Pitt in scoring in four games and also posted 16 double figure scoring efforts this season with only one start to his name.
Sibande had a turbulent journey in his first two seasons in Pittsburgh after a successful career at Miami (OH). He was ruled ineligible initially and played sparingly in 2020, then missed all of last season with an injury. Sibande came back on a revenge tour this season and was one of the main reasons Pitt secured its first 20-win season in seven years.
Jamarius Burton earned first-team All-ACC recognition, while Blake Hinson placed on second team all-conference. Burton has been the catalyst for Pitt this season and shined in some of the team's biggest wins. He had a memorable 31-point effort in a win over North Carolina back in December, posted a near triple-double in a win over Miami in January, and even in the ACC Tournament on Wednesday, he scored 21 and dished out 8 assists in a must-win game for Pitt over Georgia Tech.
Hinson topped Pitt in both scoring and rebounding during the regular season. He has been the X-factor for Pitt all season, as the team is 8-1 when he scored 20+ points in a game. Hinson's 91 made three-pointers this year is good for fourth all-time in single season Pitt history, and he's within striking distance of the record should the team play two more games.
Pitt has not taken home much postseason hardware in recent seasons, and it was understandable given the lack of success. The 2022-23 team has won a lot of games and they were recognized for it individually on Monday. The Panthers have long been an afterthought in the ACC, but this team, and those four individuals, rightfully deserved to be mentioned with the league's elite.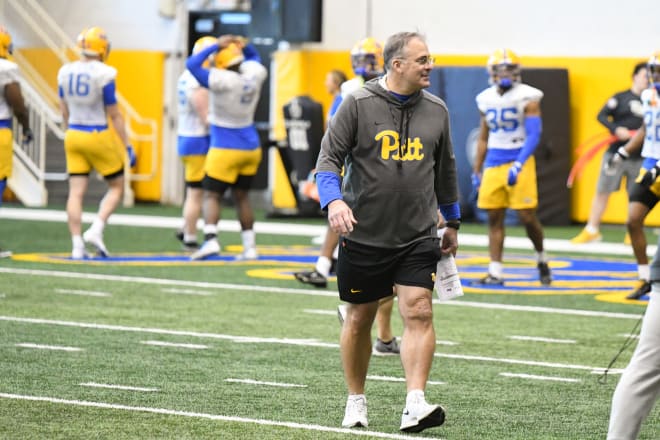 Spring football on the horizon
Hey guys, have you heard? Pitt's spring football practice starts on Tuesday. The Panthers will practice 14 times over the next two months and on the 15th session of the spring, the team will hold its annual Blue-Gold game at Acrisure Stadium on April 15th.
In the past couple of years, spring football has actually been a welcomed reprieve for Pitt fans, but with the Pitt basketball looking like a tournament team, some of the spring football excitement has gone wayward.
In the grand scheme of things, that's probably just fine.
Spring football is not all that exciting and there is not much to sugarcoat about that statement. It consists of 14 light practices and is capped off by a spring game in front of the fans. The goal of spring football is to remain healthy, so you aren't seeing players dive all over the field. The Panthers' best players are not going to be put in harm's way too much this far away from the season, so do not expect the Super Bowl to break out during the Blue-Gold game either.
If you were wondering, Gold beat Blue 10-7 last year.
Spring football is boring at times, but there are certainly some benefits to it. There are always new transfers to watch, incoming freshman to see, and also to get a look at how some of the returning players may have changed their bodies in the offseason. For any spot that is losing a starter, spring football gives a glimpse into what the position battles will look like when August rolls around as well.
There is also plenty of recruiting news to watch throughout the spring. Pitt will host prospective recruits throughout the next two months. Given that Pitt has offered over 400 prospects in the class of 2024, seeing which prospects actually visit is noteworthy. A visit in the spring confirms there is at least mutual interest as we look to piece together the puzzle of what Pitt's recruiting class will look like.
Pitt is going to have a new look this season with Boston College transfer and Pittsburgh native Phil Jurkovec coming in to lead the offense at quarterback. The Panthers must also replace key playmakers like Izzy Abanikanda and Jared Wayne on that side of the ball. The defense will have plenty of new faces in elevated roles this year. There are plenty of storylines to track about this team as it gears up for the 2023 season.
Spring football helps shorten the offseason. It opens up position battle discussions, sheds light into what the newcomers look like, and also creates some recruiting buzz. It's not the most exciting brand of football, but it's still something.
TWO QUESTIONS WE HAVE
What is the one loss Pitt would like to have back the most?
The Pitt Panthers now own a 22-11 record on the year, and let's not beat around the bush, they are pretty close to the NCAA Tournament cut line. They have been a great team in the ACC all year, but the league just is not commanding the respect it usually deserves. In a normal ACC season, a team with 22 wins, 14 in conference, and some key road wins would be enough to be a lock for the NCAA Tournament, but that resume has left Pitt on or near the bubble for weeks.
We've all seen the projections and when there is such a fine line like this, you start to wonder what they could have done differently this season to avoid this current predicament. Pitt has been very good in close games. The Panthers have won multiple one-possession games, computer rankings sometime see that a luck, but I think there is skill in closing out close games.
But when you win close games, there is the thought that it could have gone the other way. That is a totally fair way to look at things, but it's also not nearly as fun to think that way. I'm wondering about the losses that could have been wins, and not the other way around.
What is the one game Pitt would like to have back this season? There are 11 to pick from, and some bring more interesting cases then others.
In Pitt's 1-3 start, the team lost consecutive games to West Virginia, Michigan, and VCU. None of those games were resume killers, and in fairness, Pitt just wasn't clicking yet. Those results are what they are. Even the Vanderbilt game was tucked into a tough stretch of games, and it turned out the Commodores weren't that bad of a team either.
I think there are some conferences losses Pitt can point to that really have come back to bite them. At the time, Pitt's game with Clemson was a battle for first place, but as the season progressed, it turned out it was actually a meeting of bubble teams. Losing to the Tigers 75-74 in a game they were leading by 8 points with five minutes to play certainly stings.
Pitt followed that Clemson defeat with a loss at Duke, a game in which they were leading by 11 at halftime. Duke is a pretty good team, but squandering a double digit halftime lead hurts.
As you really get down to it, there are two games Pitt really dropped the ball this season and they are the two worst losses on its resume. Pitt losing to Florida State is the first candidate in this debate.
The Seminoles have been ranked in the 200s all year and have done very little to make that 71-64 loss look any better as the season has progressed. Florida State shot the ball exceptionally well in that game, and Pitt, normally a hot shooting team at home, went ice cold that day. The Panthers were a very solid 14-3 at home this season, but losing to that specific Florida State team was a big blemish when it happened and is still something this team carries with them to this day.
The other game that Pitt really would like to get back is Notre Dame, and really, this has to be the worst loss for the Panthers all season, especially given the stakes. Pitt was riding high after smoking Syracuse at an emotional senior day sendoff, they just cracked the AP Top 25, and all they had to do was beat a lowly Notre Dame team to win a share of the ACC title.
Even with a championship on the line, the Panthers came out flat. Notre Dame was celebrating head coach Mike Brey, but his final team in South Bend was not a very good one. The Irish bullied Pitt for much of the game anyway, and it took an all out desperation effort by the Panthers to even make it a respectable score of 88-81.
Pitt is close to, or is on the bubble, depending on who you want to listen to right now. The Panthers have likely done enough to make the field, but they would be in a much more comfortable position with one less loss and there are some that sting more than others.
What are the ten games to watch today?
Given that the current talk around Pitt basketball is all about making the Panthers potentially NCAA Tournament, it's worth looking at where the rest of college basketball stands just two days before Selection Sunday.
If Pitt is indeed 'on the bubble' as some are saying, then there are relevant college basketball games to keep an eye on if you are Pitt on Friday. Even if Pitt is firmly in the tournament, there are teams near that could affect their seeding with a loss. Pitt can do nothing further to enhance its own resume, but there are certain outcomes on Friday that could have an impact.
Rutgers vs. Purdue Noon B1G Network
Rutgers has been near that 'first four out' line for a while, but maybe beating Michigan yesterday was enough for them to sneak in, but it's probably close. Beating Zach Eddy and Purdue is a tall order, but the Scarlet Knights did it back in January. A second win over the Boilermakers would cement their status in the tournament.
Middle Tennessee State. vs. Florida Atlantic 12:30 CBS Sports
Florida Atlantic seems to be a lock to the tournament with a 29-3 record, but Conference USA should only a one-bid league. So any team near the bubble should be hoping the Owls win their league.
Mississippi State vs. Alabama 1:00 ESPN
Mississippi State has sort of been hovering near the cut line for some time and they are in the same tier of teams Pitt is in vying for seeding. Beating Florida may have been enough to get them in the tournament, but a win today over Alabama would vault them over some teams for sure.
Ohio State vs. Michigan State 2:30 B1G Network
The Big Ten is going to get about nine, maybe ten teams in the tournament. The Ohio State Buckeyes with their 15-18 record won't be one of them of course, but if they win the Big Ten Tournament, they could be a bid stealer. I don't expect the Buckeyes to win three more games in Chicago, and I'm sure all the bubble teams will be happier when they are knocked out.
Penn State vs. Northwestern 6:30 B1G Network
It seems the consensus is that Penn State's win over Illinois last night was enough for the Nittany Lions to get into the tournament. It's still fairly close. One of Pitt's better wins is Northwestern, so the Panthers should hope the Wildcats make a run in Chicago.
Memphis vs. UCF 7:00 ESPNU
The American seems like a two bid league with Houston and Memphis. The Tigers are in the same pool of teams as Pitt according to most bracketology projections, so a loss here may dip them below the Panthers.
Vanderbilt vs. Kentucky 9:00 SEC Network
It always seemed like Pitt's loss to Vanderbilt was a bad one, but the Commodores have won nine of their last ten and look poised to potentially sneak into the tournament. A win over Kentucky would probably do it for them.
Clemson vs. Virginia 9:30 ESPN2
Pitt and Clemson posted identical 14-6 ACC records this year, with the Tigers getting that head-to-head advantage thanks to a 1-point win back in January. For as much as the computers seemed to be down on Pitt, they've been especially harsh on Clemson. The ACC has been thought to be a 5 or 6 bid league, and with Miami, Duke, and Virginia all locks, and that kind of leaves Clemson, NC State, and Pitt all on the bubble. Virginia is also Pitt's best win, so the Cavaliers winning another game wouldn't hurt either.
Arizona State vs. Arizona 11:30 ESPN
Arizona State is in the same stratosphere as Pitt, but perhaps a little lower. The Sun Devils have been mentioned as a 'first four out' type of team for a few days now, but they are 2-0 so far in the Pac-12 Tournament. A win over Arizona tonight would probably solidify their spot, and a loss would make them a little nervous on Sunday.
Boise State vs. Utah State 11:59 CBS Sports Network
Is this a play-in game? It's very possible that is the case. Boise State is a bit better than Utah State, but nearly blew a 16-point halftime lead to UNLV last night, so they're feeling the pressure of March. Utah State definitely needs this game, where Boise State might have some room for error. It's a late one if you want to stay up and watch.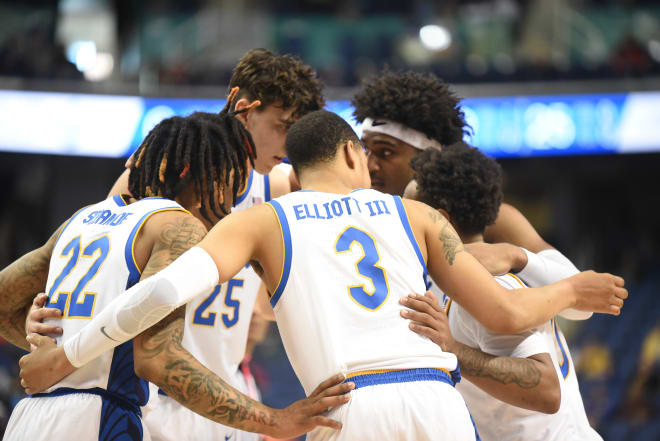 ONE PREDICTION
Pitt makes the NCAA Tournament
I think anyone reading this is at least thinking of the possibly of Pitt missing the NCAA Tournament. It's not all that hard to get yourself in that frame of mind, because there were some missed chances by this team down the stretch of the season and there are a lot of basketball games this weekend, and the results are out of Pitt's control.
And again with those NET rankings. Pitt took a nose dive on Friday morning all the way from 56 to 67. Most bracket projections have them around a 10 or an 11 seed, so yea, it's pretty close.
The Panthers' resume is set. They lost three out of four to close the regular season and with shaky computer rankings by their name all year, it certainly creates some doubt right now about their postseason status. Pitt had a chance to clinch a share of the ACC title twice last week, and let it get away both times. The Panthers followed that up with a 1-1 showing in Greensboro and had one of the most dismal performance this team has had all season against Duke on Thursday, you know, just their final audition before the big dance…
Pitt's loss to Duke on Thursday was met with immediate anxiousness by the Pitt fans and also some concern from national college basketball writers. The question from both groups was essentially the same:
Is Pitt a lock to make the NCAA Tournament?
My prediction this week is, yes, Pitt will be in the NCAA Tournament field when it is announced on Sunday.
I also see both sides to Pitt's bubble status, because there is no required criteria to earn an at-large bid for this tournament. Making the tournament has been an inexact science for as long as March Madness has been around, and every year some teams that have felt they should be in have been left waiting in the cold.
When it comes to the NCAA Tournament, there are only two things that can help you prepare for it. One, whatever actually happens on Selection Sunday, and two, whoever you want to listen to as a self-proclaimed bracket expect for the months leading up to that day.
Nobody knows what is going to happen.
Joe Lunardi and Jerry Palm do great work and they give us all something to read, but they aren't on the selection committee, they are only making projections.
Not to mention, those projections can change. Some upsets may happen over the next three days and some bids get stolen, but others may open up, it's an evolving situation that isn't quite over until Sunday evening.
In the end, Pitt has pieced together some very good wins this season, like those over Northwestern, Virginia, and Miami. There also some head-scratching losses like Notre Dame and Florida State. The Panthers started the year losing three out of four and closed the year the same way. There are very positives notes on their tournament resume, and some concerning elements as well.
I can see why there is not quite a clear answer to whether Pitt is a lock or not and they enter the weekend as one of the more polarizing teams on the bubble. I just expect Pitt will be playing somewhere, against someone, next week in the program's first NCAA Tournament game since March 18, 2016.