A fifth of teenagers watch porn frequently and some are addicted, UK study finds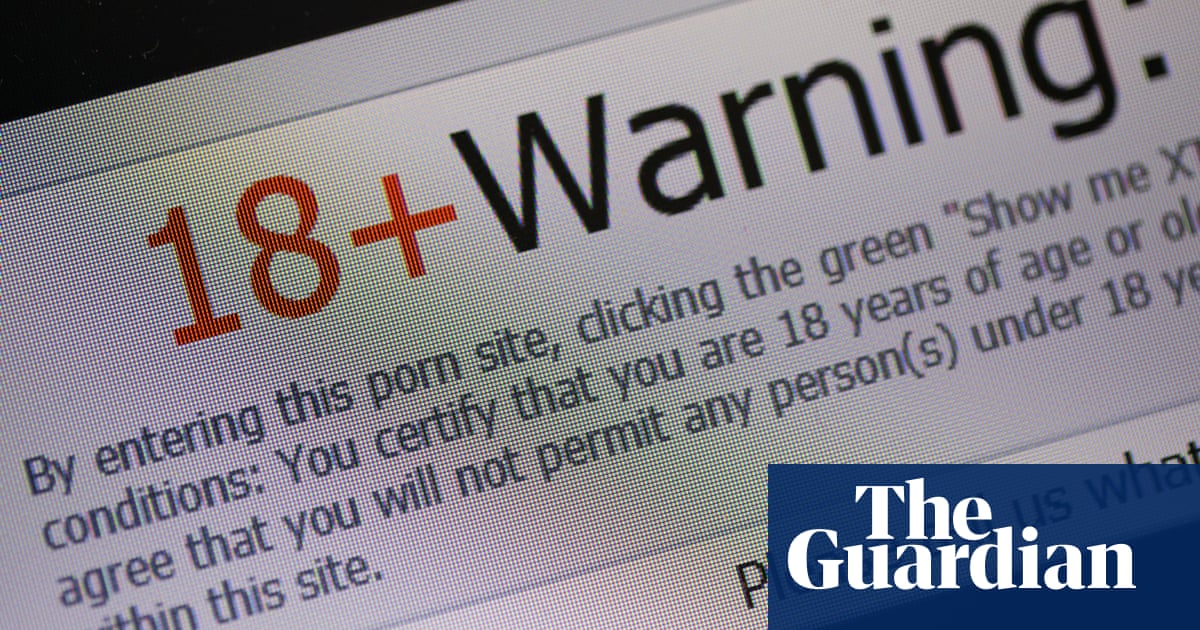 A major new survey of British schoolchildren's attitudes to pornography has found significant numbers of young people aged between 14 and 18 are watching it frequently, with some becoming addicted to sexually explicit content.
Teachers say they are being left to "pick up the pieces" from the damage pornography causes in schools, with the proliferation of adult material leading to warnings of sexually harmful behaviour among teenagers.
The headteacher of one school involved in the survey said the impact of violent pornography on her pupils is so severe that they have used special training to respond to a large rise in reports of sexual abuse.
The study by Dignify, a charity that researches sexual abuse, spoke to 4,000 children between the ages of 14 and 18 in Hertfordshire. It found that 22% of students had viewed porn on multiple occasions. Of those, one in five said they had a porn habit and one in 10 said they felt addicted. Those who watched more than once were more likely to report having acted out something they first saw in pornography videos.
Young people were asked in the survey what age they were when they first saw pornography. The youngest reported viewing was at three years old, with the average age 12. Nonconsensual image-sharing was also a huge issue. A third of young people had received a nude video or photo, and of these well over half had received a nude from a stranger.
Teaching unions said that schools across the country were struggling to meet the demands placed on them in educating children about online harm, in particular porn. But they labelled the decision by Rishi Sunak to order a review of the way sex education is taught in schools this week as "politically motivated", saying they had seen no evidence of claims by Conservative MPs that that children were being shown age-inappropriate materials in classrooms.
A headteacher of one of the schools that has worked closely with Dignify said they had seen a rise in the number of pupils reporting sexual assaults in recent years.
"Schools are picking up the pieces of the harm done by the porn industry," said the headteacher, speaking to the Guardian on condition of anonymity. "We saw the number of students reporting sexual assault start to increase seven to eight years ago and at first we didn't know why. And then working with Dignify I began to learn about the impact porn was having on our students.
"The correlation between sexual abuse and watching porn is very high. The majority of what they see is violent."
Schools are now required to respond to the problem of sexual harassment in schools after a 2021 report from Ofsted found it was a routine part of the daily lives of pupils. The report was carried out after the Everyone's Invited campaign published testimony from thousands of victims of sexual abuse in schools.
Helen Roberts, the CEO of Dignify, said: "It is impossible to tackle the embedded behaviours of sexual harassment in schools without talking about the harmful impact pornography is having on children and young people. We are particularly concerned by how many children are telling us they are addicted to porn."
A report from the children's commissioner for England last month also highlighted the violent nature of much of the pornography that children are reporting seeing at a young age.
The survey found that a third of children had seen porn by the age of 10, with over two-thirds of young adults aged 18-21 saying they had seen violent pornography before turning 18. The report also highlighted correlations between early exposure to porn and the development of harmful attitudes.
Groups who work with adult sex offenders are also now trying to focus their work in schools to stop young people developing sexually harmful behaviour.
The Lucy Faithfull Foundation, an organisation working with men who have been arrested for watching child abuse material online, is warning that heavy porn habits are frequently cited by male callers to its helpline as a reason why they were viewing sexual images of children.
The foundation is now speaking to young people in schools about porn to try to stop sexually harmful behaviour developing later in life.
Laura Nott, who is coordinating the foundation's schools work, told the Guardian:
"We want to talk openly with young people about porn without moralising. As a society we have dropped the ball with this issue. Kids are going down dangerous paths out of curiosity."
"You have 12-year-olds who think choking is normal as part of kissing someone. There was one school where they have had to get continence nurses in because older teenage girls are being injured by acting out what they see in porn."
Measures to deal with pornography are included in the online safety bill, which is due to become law this year. It will require legal pornography sites to ensure that children cannot access their services, and will also contain provisions to shield children from harmful content – such as pornography – on mainstream services such as social media sites and search engines. However, some campaigners and peers believe the legislation does not go far enough and want stringent age-checking introduced more rapidly for pornography sites as well as stricter measures to cover other platforms including social media.
A government spokesperson said: "No child should be exposed to pornography online. These troubling findings illustrate why we've stepped in with our online safety bill to force websites to put in place robust measures, such as age verification, to stop under-18s accessing inappropriate and harmful material, such as pornography."