Undercooked Emma Raducanu beats Danka Kovinic at Indian Wells
A year and a half on from her US Open triumph, few things have come easily for Emma Raducanu on the court. The prospect of her body being able to handle the rigours of the tour still seems far away and the injuries continue to pile up.
But on Thursday afternoon in Indian Wells, Raducanu gave an impressive demonstration of her resilience and intelligence as she shrugged off her poor preparation, adapted to the gusty desert conditions and found a way through to the second round of the BNP Paribas Open with a 6-2, 6-3 win over Danka Kovinic of Montenegro.
The first few months of the season have been far from ideal for Raducanu. After starting her year with an ankle sprain in New Zealand and then taking time off after the Australian Open, she was forced to withdraw from the ATX Open in Austin two weeks ago after contracting tonsillitis. In Indian Wells, while still recovering from her illness, Raducanu revealed that she is now suffering with the wrist problems that affected her at the end of last season, and as a result had spent minimal time on the practice court. "When it rains, it pours," she told the BBC.
Even the match-up with Kovinic was a reminder of her physical frailty. In her only other meeting with the world No 62, at last year's Australian Open, Raducanu was reduced to slicing her forehand for two hours after suffering from bad blisters, eventually losing in three sets.
In the typically windy, slow conditions of Indian Wells, Raducanu started the match trying to take enormous cuts at the ball and offering up ample unforced errors. She immediately fell 2-0 down, but quickly adapted to the wind by opting to play with more margin, throwing up loopy topspin balls, grinding out errors from her opponent and limiting her own mistakes.
Across the net, Kovinic completely lost control. She dumped forehands into the bottom of the net, shanked backhands at the back fence and missed easy volleys by feet. Kovinic refused to adjust to the conditions and they overwhelmed her. She finished the set with just five winners and 18 unforced errors.
Even as Raducanu rolled through the opening set, it was clear she was far from her optimal physical form. She spent numerous changeovers coughing into her towel while sharing frustrated gestures with her camp, and was unusually out of breath even after short points.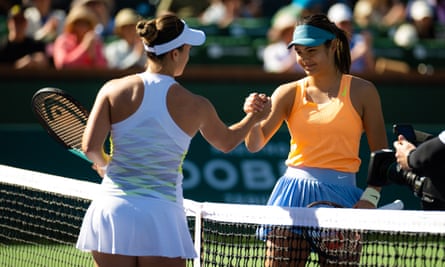 But she kept on fighting. Ahead of the second set Kovinic took a toilet break, and she emerged from it striking the ball far more cleanly, finally landing big blows from inside the baseline. After trailing 2-0 again, Raducanu recovered by returning well and pressuring Kovinic throughout the set with her depth. Even as Raducanu increased her pace of shot in the second set, she continued to play high percentage tennis, lengthening points and refusing to miss in the wind, and was rewarded with a positive victory.
"I'm happy I stuck in," said Raducanu. "Being a break down is difficult, of course, but I think mentally I just took it a point at a time and didn't deep it too much."
In the second round on Saturday, Raducanu will face Magda Linette, the 20th seed, in a challenge that will be a massive step up from the first round. Linette reached the semi-finals of the Australian Open in January.
"She's had a great season so far," said Raducanu. "Her results proved that. I know that from the match we played in Seoul [last year], it was quite physical. I'm looking forward to the match and just so happy to be playing in another round here."
Raducanu is not the only British player struggling to get their body right. Jack Draper's physical condition has also been the biggest obstacle in his young career, and after suffering from cramp during his Australian Open first round match against Rafael Nadal, the 21-year-old withdrew from all tournaments planned in February.
However, in his first round match against Leandro Riedi of Switzerland, Draper played brilliantly. He served extremely well and dominated from inside the baseline, winning 6-1, 6-1 in just 55 minutes on his Indian Wells debut. An intriguing all-British second round tie awaits for Draper as he faces Dan Evans, the 24th seed, for the first time on Saturday.