BBC turns down chance to show PGA Tour golf highlights for free
The attitude of the BBC towards golf has been further emphasised with news the broadcaster has turned down multiple opportunities to televise highlights of PGA Tour events which would be given to them for free.
This weekend's Players Championship is among high-profile tournaments in the United States which are not available to a UK terrestrial audience. Via the live broadcast deal the PGA Tour has with Sky, highlights could be shown by another channel on, for example, a Monday evening magazine show.
However, industry insiders have revealed the BBC has continually shown no interest in taking up such an option. That stance is believed to have caused frustration in the upper echelons of the PGA Tour, where the importance of the UK market is known.
The BBC essentially gave up on live rights to the Open Championship – and a year earlier than had been originally planned – from 2016. There is currently no deal in place for BBC television highlights for this year's Masters. That scenario could change at the 11th hour but, for now, there are no plans for the BBC to send their television golf talent to the first major of 2023 in Georgia.
Eyebrows were also raised when Sheffield's Matt Fitzpatrick failed to make the shortlist for the most recent BBC Sports Personality of the Year award despite being the reigning US Open champion. Fitzpatrick made it known he had no interest in attending the ceremony.
The BBC has declined to comment on their PGA Tour stance but the demographic of golf followers has been widely cited as the reason for their attitude towards the sport. Yet golf participation boomed during the Covid pandemic, with figures released by the R&A last week confirming further growth in 2022.
The R&A's data showed that there were 5.6m on-course adult golfers in Great Britain and Ireland last year. Of that number, 20% were female; a rise of 5% from 2019. Against this backdrop, many within golf are perplexed by the BBC's television apathy.
Speaking at Sawgrass this week, the PGA Tour's commissioner Jay Monahan emphasised the strength of his business's broadcast deals. Netflix will screen a second series of the Full Swing documentary at the conclusion of a year which includes a Ryder Cup.
"Our streaming partner, ESPN+, brings its 25m subscriber-base to golf and 60% of those subscribers are between the ages of 18 and 44," Monahan said. "PGA Tour Live bookends perfectly with our linear partnerships with NBC, Golf Channel and CBS. Together our collaboration has resulted in mic'd-up players, more golf shots, more technology, new camera angles, new cameras, and some familiar voices in new roles.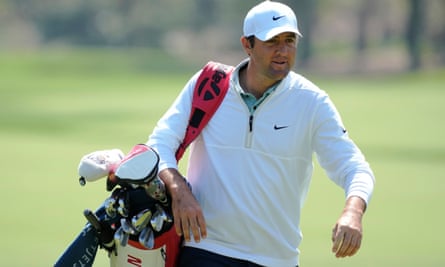 "We've relaunched both the PGA Tour app and website this year and we've averaged 88m video views each week across our social platforms. Those numbers were nearly doubled at the Phoenix Open and Genesis Invitational earlier this year."
This week's tournament, the marquee event on the PGA Tour's calendar, will take place without 31 golfers who competed at Sawgrass in 2022 but have since joined LIV Golf. Last year's champion, Cameron Smith, is among that number. Smith, who lives close to the Players venue, has suggested he may drop by to watch the class of 2023 but those close to the Australian believe he made the comment only in jest.
In Smith's absence, attention will largely focus on the star grouping of Jon Rahm, Scottie Scheffler and Rory McIlroy, the top three in the world respectively. McIlroy won here in 2019. This time, $4.5m (£3.8m) is on offer to the winner. "The model is succeeding for sure," said Scheffler. "We have had a lot of great finishes this year with the best in the world going up against each other. That's what you look forward to, being up there at the end against another player who is right at the top of his game."
Scheffler admitted he is "50-50" on the PGA Tour's plan to have eight designated events in 2024 which feature no cuts. The change has proved controversial with some golfers and fans on the basis that jeopardy is being removed from some of this tour's largest competitions. "I'm not the guy running the business," Scheffler added. "I'm just out here trying to play."