Sex worker, survivor, Māori TV star: world's first transgender MP remembered as trailblazer
Believed to be the world's first transgender person to become a member of parliament, Georgina Beyer is remembered in New Zealand for her courage, sharp, ribald humour and fierce advocacy of the communities she represented.
The trailblazing MP – a former sex worker, sexual assault survivor, Māori woman and television star – entered parliament in 2005. She won the Wairarapa seat – once considered a rural, conservative stronghold – with a resounding victory and a 32% swing to Labour. Having served her community as mayor for five years, Beyer won over constituents with a straight-talking, upfront style and a constant presence at community events. In parliament, she became a force on behalf of the rainbow community, helping push forward progressive law reform on sex work and civil unions, often despite fierce opposition.
When New Zealand sought to legalise civil unions between same-sex couples, conservative religious groups organised a mass "enough is enough" march to oppose the legislation. Beyer was on parliament steps to meet the chanting crowd. "I'm happy to stare you in the eye," she said. "Why do you hate people like us?"
"You're not going to win – you haven't," she said. "I have trust in New Zealanders that they will be fair minded, as they always have been – that the democracy that I live in made it possible for somebody like me to be here, in this place."
"I will always remember her courage," finance minister and former deputy prime minister Grant Robertson said on Monday. "I was with her on the steps of parliament when … [the] mob arrived to oppose civil unions, and then followed her when she went to confront them. With a mixture of awe and genuine fear for her safety, I saw the very best of Georgina that day."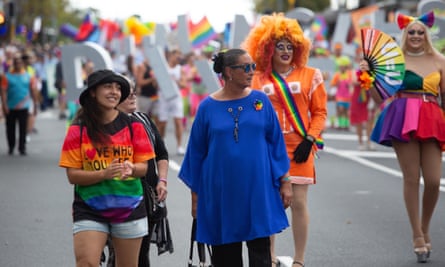 Former prime minister Helen Clark said on Monday that Beyer "showed tremendous courage" stepping into public life and "the public warmed to her honesty".
Her speech on sex work was credited with tipping the balance in favour of the prostitution reform bill, which passed by a narrow one-vote margin in 2003. The laws decriminalised sex work in New Zealand, aiming to create a safer environment in which sex workers could take exploitative employers to employment court, not gain a criminal record, and access support if they experienced violence. She spoke candidly about entering the sex industry as a young teenager, and being raped by a group of men.
"I support this bill for all the prostitutes I have ever known who have died before the age of 20, because of the inhumanity and hypocrisy of a society that would not ever give them the chance to redeem whatever circumstances made them arrive in that industry," she said.
The law "provides people like me at that time with some form of redress for the brutalisation that might happen when a client pulls a knife," she said. "It would have been nice to know that … I might have been able to approach the authorities-the police in this case-and say: "I was raped, and, yes, I'm a prostitute, and, no, it was not right that I should have been raped, because I said no."
New Zealand Prostitutes' Collective grieved her passing on Monday, saying the collective "cannot put into words how deeply we mourn the passing of Georgina Beyer – an extraordinary woman who served her communities fearlessly".
An ex-screen actor, Beyer was also known for her sharp, sometimes bawdy humour. In her maiden speech to parliament, she joked: "I was quoted once as saying: "This was the stallion who became a gelding, and now she is a mayor.'' I suppose I have to say that I have now found myself to be a member! I have come full circle, so to speak," she said, as the house erupted into laughter. "Not that I wish that to be degrading in this House in any way, but I understand that a sense of humour is welcome."
She quipped that the skills of sex work and of political fundraising were essentially overlapping. In a 2018 interview with the Spinoff, she recalled strutting parliament's halls, telling colleagues to "get out on the streets and sell their butts". "Look, honey, you're soliciting yourself either way," she said. "One's just for votes, the other for money. One advertises on billboards, the other advertises in the back pages of The Dominion Post."
While she sometimes downplayed the milestone in interviews, Beyer was also aware of the significance of her status as the first trans person to stand in the house. "This is a first not only in New Zealand, ladies and gentlemen, but also in the world. This is a historic moment," she said in her maiden speech. "This country of ours leads the way in so many aspects. We led the way for women getting the vote, we have led the way in the past, and I hope we will do so again in the future – in social policy and certainly in human rights."
Beyer died on Monday, age 65, after a long illness. Announcing that she had died in hospice care, friends said "she was cracking jokes and had a twinkle in her eye, right until the final moment".