Results posted of Michigan's DJ Turner at the NFL Combine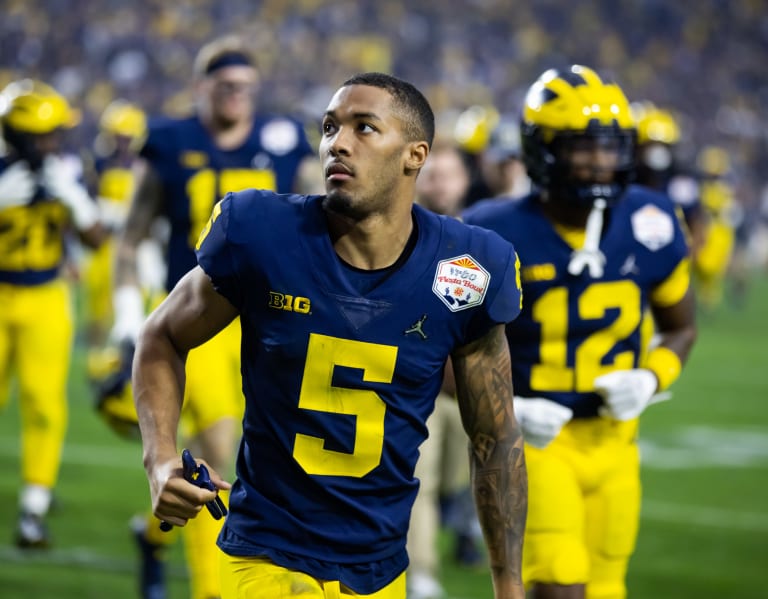 Defensive backs continued the event portion of the NFL Draft Combine on day 2.
Michigan Wolverines had only one participant with DJ Turner. Gemon Green declared for the NFL Draft but was surprisingly not invited to Indianapolis for the combine.
CB DJ Turner
HEIGHT: 5'11"
WEIGHT: 178 LBS
ARM: 30 3/4″
HANDS: 9 5/5″
Turner is going to wish he could have used the measurements Michigan posted on their roster because 6 foot 180 lbs sounds a lot better than 5'11" 178 lbs. Turner's size was already a concern heading into the combine and his struggles in deep passes against bigger receivers. He is above average to elite in press coverage with incredible pursuit speed, so with these new height and weight numbers you'd imagine his future in the NFL is as a slot corner.
Turner lit up stop watches with his speed on a 4.27 40 yard dash. Turner leaped for a 38.5″ vertical which put him tied for 9th in a large group and .5″ behind Iowa's Riley Moss and 3.5″ in front of Penn State's Joey Porter. His 10'11" broad jump was also tied for 9th, and he also finished ahead of Porter again by 2″.
In the tweet embedded below, here are Turner's results from the combine.
—
Discuss this article with our community on our premium message boards
Not a subscriber to Maize & Blue Review? Sign up today to gain access to all the latest Michigan intel M&BR has to offer
Follow our staff on Twitter: @JoshHenschke, @Berry_Seth14, @TrevorMcCue, @DennisFithian, @BrockHeilig, @JimScarcelli, @lucasreimink, @JaredHalus
Subscribe to our podcasts: Apple Podcasts, Google Podcasts and Spotify
Check out Maize & Blue Review's video content on YouTube
Follow Maize & Blue Review on social media: Facebook, Twitter, TikTok, and Instagram