Arsenal keep on dreaming after Nelson seals epic comeback over Bournemouth
When they are winning games like this it is hard not to conclude that Arsenal will be Premier League champions. They were toiling at two goals down to Bournemouth and, even though they clawed back to parity admirably, leaving with a point would surely have tipped the title race in Manchester City's favour. Then, with the final action of six minutes' added time, the substitute Reiss Nelson ripped an 18-yard half-volley past a full-stretch Neto and Emirates Stadium erupted, the home bench piling onto the pitch in delirium. Philip Billing's opener after 9.11 seconds, the second-fastest goal in Premier League history, could hardly have felt more distant.
Until such a climactic finish it seemed this game would primarily be remembered for its astonishing start. Goals have been scored within seconds of kick-off before but the ingenuity of this one had little precedent. Bournemouth lined up to begin the game with five players stationed to the left of the centre-circle; they were feinting as if to play a long diagonal that way but instead the ball was instantly clipped right, to an open Dango Ouattara, and Arsenal were in trouble. Outtara was able to advance towards the penalty area but his low cross should still have been cut out; instead it skidded under Gabriel Magalhães' foot and Billing, anticipating the error, swept in from six yards.
Had Bournemouth scored too early? That felt like a redundant question given a struggling side, depleted by injuries to three starters, was already braced for a backs-to-the-wall effort. It would still take a gargantuan one to hold out and that became apparent almost immediately when Neto, having sprawled left to deny Martin Ødegaard, stood tall to deny Bukayo Saka from the follow-up. Bournemouth were defending with eight in the box, not always with conviction, but survived a succession of crosses and minor scrambles.
There was always the possibility they could expose Arsenal again. In the 20th minute a Saka shot was charged down and Bournemouth sprung upfield, Dominic Solanke sending Billing striding down the inside left. His centre gave Ouattara, coming in from the other side, a clear chance to double the lead but Aaron Ramsdale flung himself out to block. He should have scored and a tense home crowd raised the volume.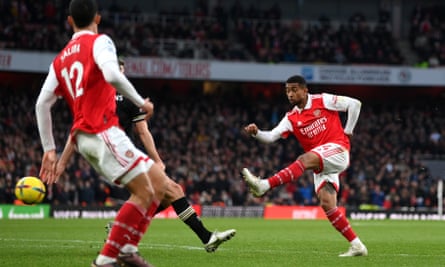 They soon had to acclaim the introduction of Emile Smith Rowe after Leandro Trossard, pivotal to their recent form, pulled up. Arsenal were already missing Eddie Nketiah while Arteta had chosen to shuffle his pack by resting Ben White and, for the first time since January 2022 for a league game, Granit Xhaka. The risk of disjointedness did not need spelling out.
Arsenal completely dominated possession for the rest of the half without manufacturing another clear chance. Bournemouth hardly oozed composure but swiped, slashed and scuffled almost everything clear. Solanke was given two further chances on the break but could not get a shot away from either and, at the interval, Arteta had a problem.
He sought to solve it by introducing White for Takehiro Tomiyasu, whose most memorable contribution had been to scuff an attempted cross out of play near the byline. There were no immediate dividends: the ball kept coming back at Bournemouth, who were unable to string more than two passes together, but the route through a packed penalty area was unclear and Arsenal's attempts on goal were largely speculative. A sliced shot by Gabriel Martinelli, who had shuttled between the boxes, was one example.
When Bournemouth finally launched an attack, they made it tell. Arsenal had dealt messily with a free-kick from the right and the visitors' height advantage was visible as Joe Rothwell ambled over to deliver a corner on the other side. From the set piece, Marcos Senesi ran off a dozing Thomas Partey and flashed his header clinically to Ramsdale's left.
Arsenal had not been two down all season and would have to draw on untapped reserves. They quickly found something: there was always a sense something would drop kindly in the box and, after Neto had punched a corner high but not far, Smith Rowe looped a header towards the far post. Partey had been left unattended and could convert emphatically.
Ramsdale instantly denied Solanke but the dial had shifted now, the volume high and the passions raw. Smith Rowe, who has struggled for fitness, was replaced by Nelson and the change bore instant fruit. Found by Partey, the substitute delivered from the left and White, meeting his cross sweetly, went for goal. Neto batted his shot away but, as the referee Chris Kavanagh's watch quickly indicated, from behind the line.
Cue pandemonium. Arsenal could not afford to falter and everyone knew it. To scenes of unbridled delight, Nelson ensured they did not.