The Atlantic Announces "The Future of Democracy" Event at SXSW on March 12
Including interviews with Nancy Pelosi, Chris Sununu, Brad Raffensperger, Janai Nelson, Francisco Aguilar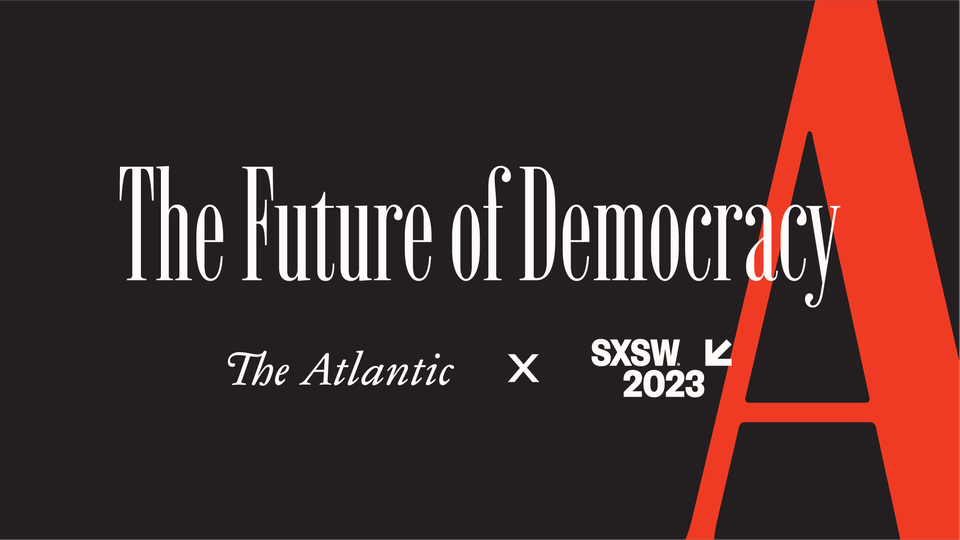 March 2, 2023, 12:57 PM ET
As part of SXSW 2023, The Atlantic is announcing a full day of interviews on Sunday, March 12, that will bring elected officials and other national leaders to the festival for conversations about the future of democracy. The official SXSW sessions, produced by The Atlantic and led by its journalists, will focus on the state of democracy in America and around the world; the evolution of the nation's political parties; challenges to voting rights and the urgent need to ensure free and fair elections; civil rights; and the state of immigration.
In recent years, The Atlantic has led the way in covering the fragility of democracy at home and globally, the rise of authoritarianism and extremism, and the related crises of disinformation and misinformation. During the day's events, The Atlantic will also discuss its April 2023 cover story by executive editor Adrienne LaFrance; and preview a forthcoming podcast, Holy Week (listen to the trailer here), hosted by Vann R. Newkirk II, exploring the uprisings that followed the assassination of Martin Luther King Jr. in 1968, and how those seven days in America diverted the course of a social revolution. Both LaFrance and Newkirk are also leading sessions at SXSW.
Additionally, on March 8, staff writer Adam Harris is moderating a SXSW EDU keynote interview with Ruth Simmons, president at Prairie View A&M University. Staff writer John Hendrickson will talk about the making of his memoir, Life on Delay, on March 11.
The Atlantic's SXSW speakers and schedule for March 12 are detailed below and here. All sessions will take place at The Line Hotel Austin (2nd Floor), and require a SXSW badge to attend.
Sunday, March 12, 10 a.m. to 5 p.m.
The Line Hotel Austin
10 a.m.: The Future of Global Democracy
Nancy Pelosi, Speaker Emerita of the U.S. House of Representatives
with Adrienne LaFrance, Executive Editor, The Atlantic
11:30 a.m.: The Future of Elections
Francisco Aguilar, Secretary of State, Nevada
Brad Raffensperger, Secretary of State, Georgia
with Andrea Valdez, Managing Editor, The Atlantic
1 p.m.: The Future of American Conservatism
Chris Sununu, Governor of New Hampshire
with Evan Smith, Senior Advisor, Emerson Collective
2:30 p.m.: The Future of the Civil Rights Movement
Hasan Jeffries, Associate Professor, The Ohio State University
Janai Nelson, President and Director-Counsel, Legal Defense Fund (LDF)
with Vann R. Newkirk II, Senior Editor, The Atlantic
4 p.m.: The Future of Immigration Reform
Representative Tony Gonzales of Texas
Oscar Leeser, Mayor of El Paso, Texas
with Caitlin Dickerson, Staff Writer, The Atlantic
Please reach out to Anna Bross with any questions. If you'll be in Austin, we hope to see you at The Atlantic's events on March 12.
Press Contact:
Anna Bross, SVP of Communications
anna@theatlantic.com