SNP leadership rivals likely to tear up Nicola Sturgeon's main policies
Many of Nicola Sturgeon's major policies are under threat after deep divisions emerged in the SNP leadership contest, with rivals attacking key pieces of legislation.
In the last 24 hours, Scottish ministers have announced they are postponing a bill setting up a new multibillion pound national care service until after the contest, and controversial plans to impose a 20p deposit on all drinks bottles and cans is likely to be changed after attacks from small producers and shops.
Both policies have been criticised by candidates competing to replace Sturgeon as Scottish National party leader and first minister later this month after she suddenly announced her resignation in February.
Other policies championed by Sturgeon, including the faster closure of North Sea oilfields to protect the climate and using the next UK election as a de facto independence referendum, have come under attack as the three candidates try to appeal to different groups within the party before voting opens on 13 March.
In further evidence of generational shift in the party following Sturgeon's departure, the widely respected deputy first minister John Swinney announced on Thursday afternoon that he would leave the Scottish government after nearly 16 years and return to the backbenches once a new first minister had been appointed next month.
The divisions dominated first minister's questions on Thursday. "This contest is an absolute bin fire," said Douglas Ross, the Scottish Conservative leader. "The SNP is so split and divided that they even wanted to ban the media from hustings."
Anas Sarwar, the Scottish Labour leader, said all three candidates were "trashing her record". The SNP, he added, had "turned in on itself [with] all three candidates falling over themselves to distance themselves from the Scottish government's flawed policies".
Sturgeon retorted that since both the Tories and Labour had been riven by divisive leadership battles they were in no place to condemn the SNP.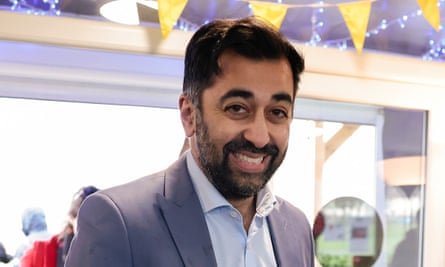 Even so, this contest marks the first time that the SNP's flagship policies have been under sustained and public attack from within the party after decades of exceptional discipline under Sturgeon and her predecessor, Alex Salmond.
Only Humza Yousaf, the health secretary, has promised to support Sturgeon's commitment to challenge the UK government's decision to block the gender recognition bill, which was passed at Holyrood with cross-party support last December.
Both female candidates oppose the principle of self-identification at the heart of the bill. Kate Forbes, the finance secretary, has said challenging Westminster was "not a priority" for the Scottish public, while Ash Regan, a former community safety minister, believes a court challenge would probably fail and "we are going to be throwing probably hundreds of thousands of pounds of public money into something that the public don't support".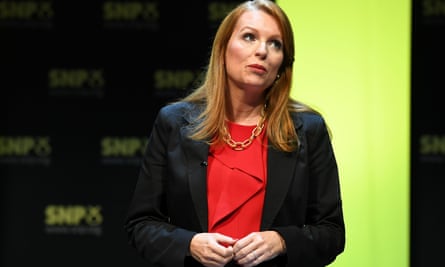 Meanwhile, Forbes has predicted the deposit scheme could cause "economic carnage" for Scottish drinks firms, with Regan saying the scheme itself needed to be "recycled". Yousaf has promised to exempt small businesses from the scheme for a year if he wins.
Speaking to reporters after a visit to Ukrainian families in Glasgow on Thursday, Forbes said she remained "very supportive" of the deposit scheme and that her concerns were "purely about implementation".
Regan and Forbes have also attacked Sturgeon's wish to accelerate the transition from North Sea oil and gas to increase their appeal to SNP members around Aberdeen, the UK's oil capital. In an implicit attack on Sturgeon's leadership, Forbes told the Guardian last week: "There's a perception that decisions have been made by too few people in the SNP."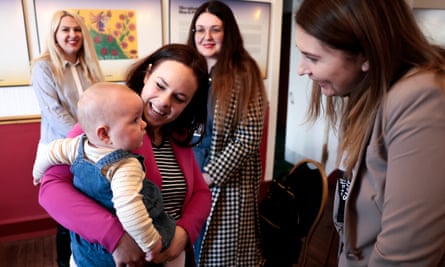 Sturgeon has said she will not back a specific candidate but it is widely believed Yousaf is her preferred successor.
About 100,000 SNP members are entitled to vote, with the result expected on Monday 27 March.
The divisions raise significant questions about the future of another strategy central to Sturgeon's time in office: her coalition deal with the pro-independence Scottish Green party under which the Greens' co-leaders became government ministers in September 2021.
The deposit return scheme, gender recognition reforms and action on climate were central to their power-sharing deal, which also cemented a pro-independence majority at Holyrood that would fracture if the Greens resigned from government.
The leadership contest has delayed the consultation on a comprehensive ban on conversion practices, another SNP-Green commitment, with equalities campaigners concerned both Forbes and Regan will water down proposals.